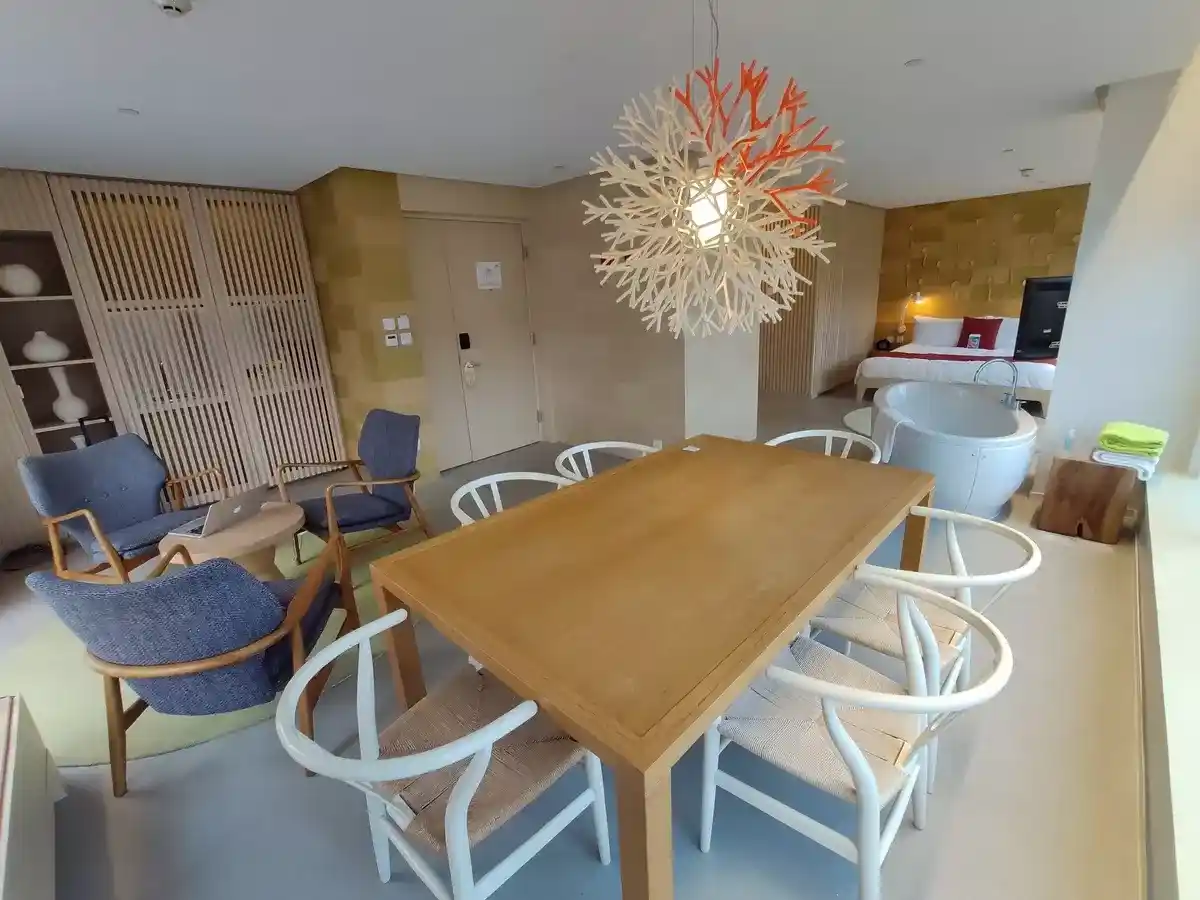 Check-in, Please
Hotel Madera Hong Kong is located in a quiet side street along the main thoroughfare of Nathan Road. It is conveniently located in Jordan, about 3 mins walk from Jordan MTR station. Tsim Sha Tsui shopping area is about a 10ish mins walk away. Kowloon High-Speed rail station is also within walking distance.
Lobby
Behind the doors, a modernish and cosy hotel lobby and front desk awaits you.
Lush Suite
This suite is huge. At 101 sqm, this is larger than most apartments in Hong Kong.
It has a living room, dining room, bedroom, standalone bathtub, separate shower and toilet compartments, and even a large outdoor terrace.
In short, this is how life should be – absolutely enjoyable! I'm loving it!

Full disclosure: This is a complimentary room upgrade by the hotel.
The living room has 3 comfortable armchairs and a small coffee table, where you can sit back and relax over a drink or two.
The dining room has a table for 6. You can easily host a dinner gathering with some friends.
Hidden behind the doors at the wall closet and you will find a well stocked pantry kitchen with snacks and a coffee maker.
By the side of the living room is a glass door that leads out to this large outdoor terrace. On a cool quiet night, you can just hangout and chill under the stars. Or you can ask some friends over for a BBQ party. It is nice!
How nice can a suite be without a good entertainment system? This suite comes with a TV with blu-ray disc player and a Bang & Olufsen sound system in the living room area. The Bang & Olufsen CD rack is filled with Miles Davis CDs. Awesome!
Taking centrestage in the suite is a bathtub. It can't be missed. It is right in the middle of the room, like an art installation. Imagine taking a dip in the tub, soaking up in the moment with Miles Davis playing in the background. Crabtree & Evelyn toiletries included.
The bedroom comes with nice large comfy King size bed. There is a large wardrobe on the side with a safe box inside. On the opposite end of the bed, there is a TV. It can be swirled towards the bathtub, making it accessible on either side.
Large bathroom area comes with double wash basins and separate stalls for toilet and shower.
Facilities
There is supposed to be a gym room and an art gallery, but unfortunately both were under renovations during my stay.
Check Out, Please
It is a truly enjoyable stay at Hotel Madera Hong Kong. It radiates a very relaxing vibe like a calm oasis among the bustling city. This is definitely a hidden gem and an excellent choice!
It costs $418.00 HKD in direct product costs to create this post, done over 1 anonymous visit for 1 night. All expenses involved in this post are fully paid for by the.fat.guide.
This stay was booked on Trip.com.
Over here at the.fat.guide, we believe that content should be free. However it takes real money to create content. The expenses incurred in creating this content should ideally be paid for by third party services like advertising and affiliate links, etc and not be borne by you, me or the featured merchant. Please help us to recover our costs involved in the creation of this content by using our affiliate links and advertisers.

If you wish to show direct support, you can buy us a meal or two.
Disclaimer. As unique individuals, we have our own personal preferences and likings. Your experiences and perspectives may vary from mine.
| | | | | | | |
LOCATION
Hotel Madera Hong Kong