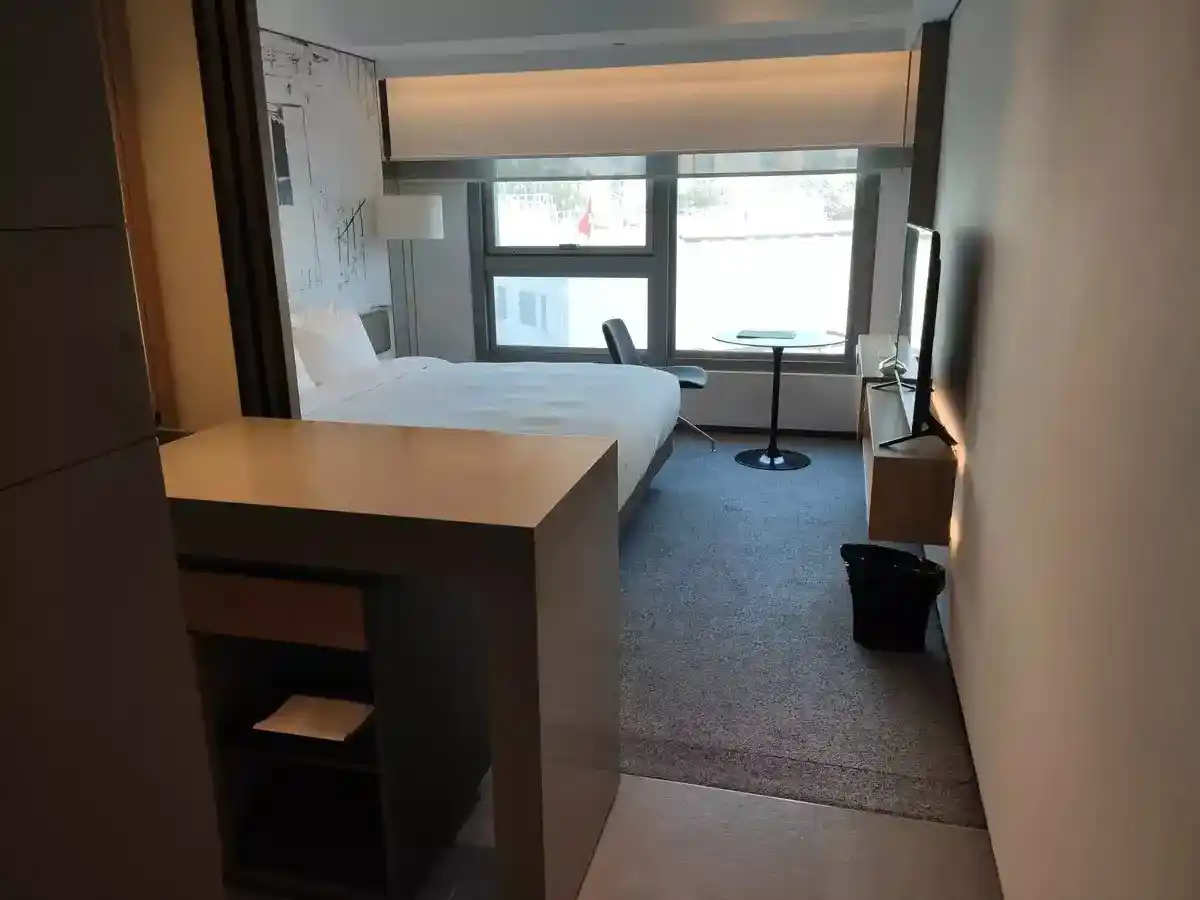 Check-in, Please
Hotel Stage is a smallish boutique hotel located in between Jordan and Yau Ma Tei MTR stations in a quiet street. Both MTR stations are within walking distance between 5-10 mins away. Located in the neighbourhood are eateries and supermarkets. There are no shopping malls in the vicinity though.
Lobby
The hotel lobby is on street level with full height windows letting in natural lighting. There are deco pieces shattered throughout the hotel lobby area.
Deluxe King Room
The deluxe king room is fairly large in size with a street view and distant view of PolyU. There is a bar counter table containing a pantry partitioning the bathroom and bedroom area.
The pantry area comes with the usual coffee, tea bags and bottled water.
Slide open the wardrobe door and there is a full length mirror. Slide it completely and it becomes a sliding door partitioning the bathroom area and bedroom area. Inside the wardrobe is a safe box. An umbrella is provided as well in case for rainy weather.
A king bed is provided in the bedroom. By the windows are a round table and chair.
On one side of the bed is a bedside table with a usb hub for you to charge your devices, and a remote control that allows you to control the room's lightings. On the other side is a mini fridge drawer under the bedside table.
Along the wall opposite the bed is a cabinet with a TV. On the shelf is a stationery box with a notepad, pen and even a scissors. Near to the table are a row of sockets that you can use to power your devices.
The bathroom has separate shower and toilet compartments. You can pull the bar counter table and slide it open, revealing a hidden sink underneath. It is more like a pantry sink than a bathroom sink. The vanity mirrors of a regular bathroom at the sink area are missing.
The toilet roll holder has a flat surface, giving you a place to put your phone on while doing your business.
There is a regular shower head as well as a double shower head that you a position into a full body spa shower.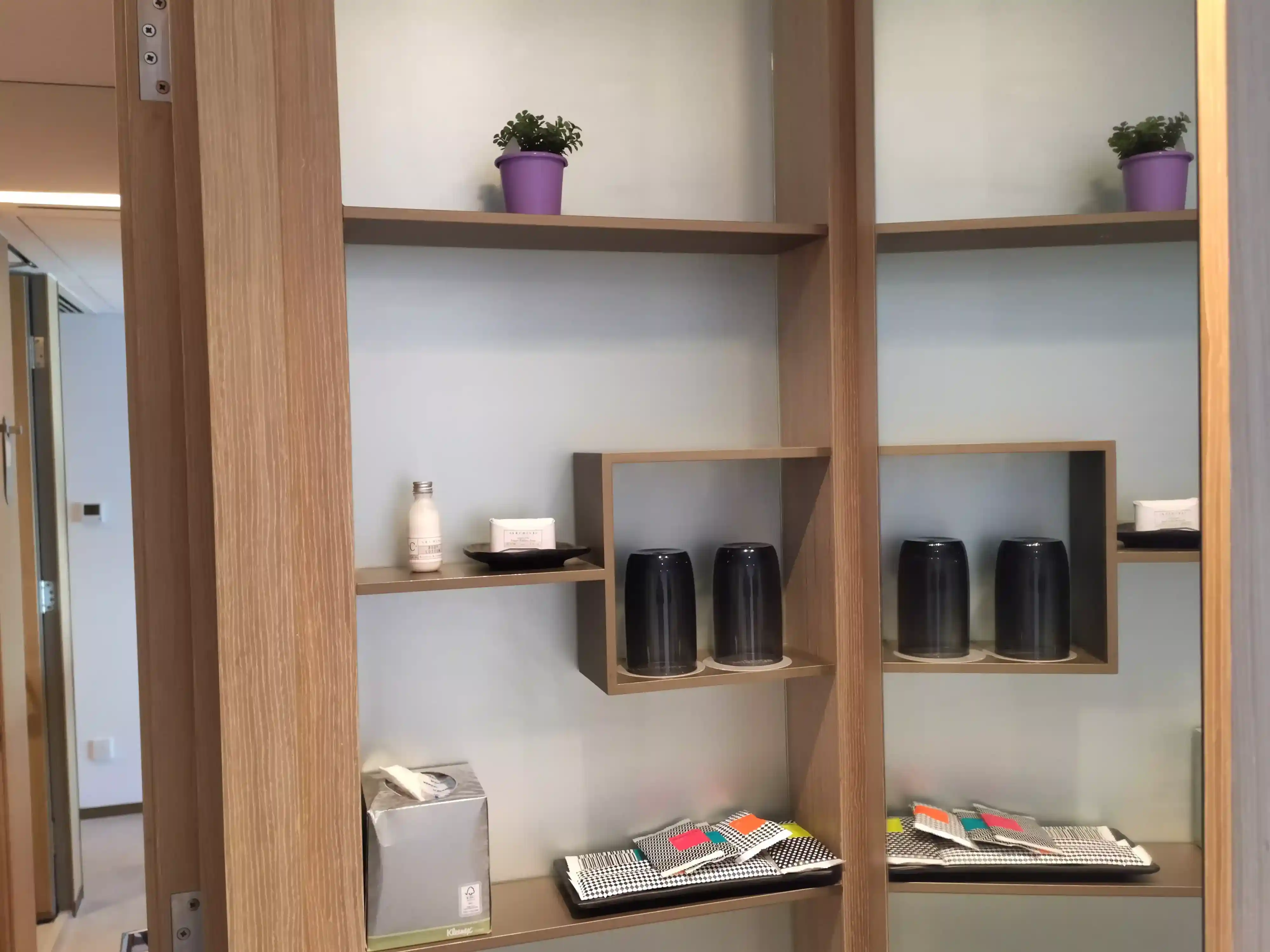 At the sink area is a small cabinet that contains some amenities and toiletries. There is a mirror as well, that you can use as a not-so-ideal vanity mirror. You can find a couple of hand towels at the shelf underneath the bar counter table.
The bathroom toiletries provided are from Archive.
Facilities
Located on 2nd floor of the hotel is a gym room. Tap your room key card to access it.
Check Out, Please
Hotel Stage is a nice comfy hotel in a quiet street, yet within a short walking distance to both Jordan MTR and Yau Ma Tei MTR stations. There are quite a number of eatries and supermarkets around the neighbourhood. Tsim Sha Tsim is a little further away but still walkable, about a 15 mins walk away.

In short, Hotel Stage is a rather likeable place to stay at.
It costs $798.63 HKD in direct product costs to create this post, done over 1 anonymous visit for 1 night. All expenses involved in this post are fully paid for by the.fat.guide.
This stay was booked on

Agoda.
Over here at the.fat.guide, we believe that content should be free. However it takes real money to create content. The expenses incurred in creating this content should ideally be paid for by third party services like advertising and affiliate links, etc and not be borne by you, me or the featured merchant. Please help us to recover our costs involved in the creation of this content by using our affiliate links and advertisers.

If you wish to show direct support, you can buy us a meal or two.
Disclaimer. As unique individuals, we have our own personal preferences and likings. Your experiences and perspectives may vary from mine.
| | | | | | | |