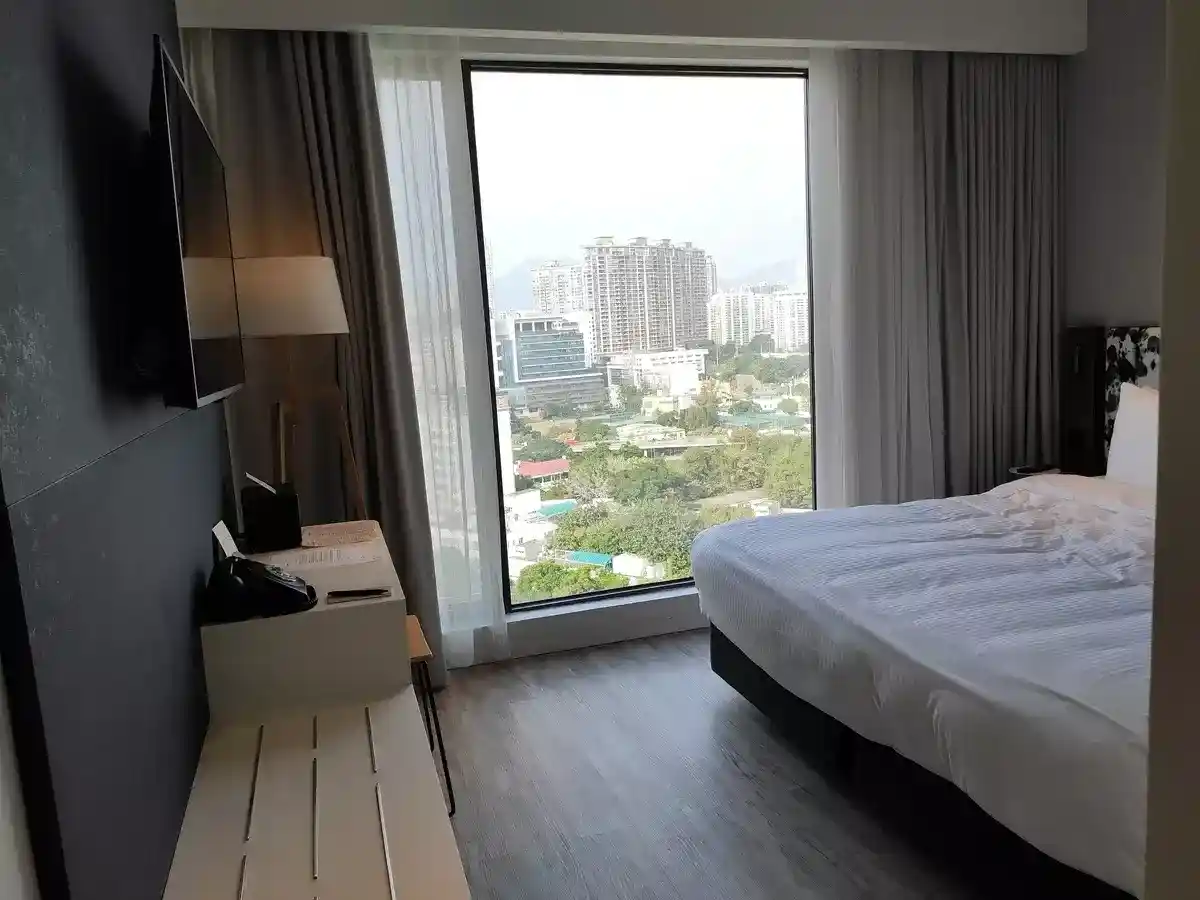 Page148
is located at the edge of Tsim Sha Tsui in a quiet neighbourhood with a lovely greenery view. A short walk to MTR and shopping area.
Check-in, Please
Page148 is a hotel that is located at the edge of Tsim Sha Tsui in a quiet neighbourhood. Although it is in Tsim Sha Tsui, it is closer to Jordan MTR and is about a 10 min walk away. The shopping are in Tsim Sha Tsui is also about a 10 min walk away.

Go beyond the glass doors is the hotel lobby and front desk.
Lobby
The hotel lobby shares the space with a cafe. There are quite a few tables and chairs around. On the other side lining the wall is a store by Kapok.
Opposite the front desk is the lift lobby. Tap your room key card in the lift to access the floor your room is located.
Deluxe Greenery Room
The room is of fairly decent size. Large floor-to-ceiling windows lets in natural lighting. The view opens up to lots of greenery with Mongkok skyline in the background.
Immediately next to the room door is a small pantry area. Comes stocked with the usual coffee, tea and bottled water. Hidden inside one of the drawers is a fridge drawer.
Along the wall is a small writing desk with a retro-looking phone, a bluetooth speaker, a small notepad and a pen. Hanging on the wall is a large TV screen. Do note that, as far as I can tell, there is no AC socket and USB socket at the writing desk.
A king size bed is provided in the room, and it is rather comfy.
A small bedside table is provided on each side on the bed. Both comes with an AC socket and a USB port.
By the side on the bed, along the wall, is a small wardrobe area. You can find a air purifier and a drawer containing a safe box.
Most of the amenities like toothbrush, toothpaste, etc are provided in the bathroom.
For those of us that like to sit on the toilet with our phones, the toilet roll holder here has a flat surface where you can put your phone on. It is a nice touch.
Another nice touch, there is a tray in the shower compartment that you can put your own stuff on.
The bathroom toiletries are from Appelles.
Check Out, Please
It is definitely a lovely stay at Page148. It is in a quiet neighbourhood in Tsim Sha Tsui and yet is within a 10 min walking distance to Jordan MTR and Tsim Sha Tsui shopping area. The view from the room is fantastic and this hotel radiates a nice relaxing kind of vibe.

One downside though. It appears that there is no heating in the room and it can get a bit cold during winter season. It would have been a good rating if they can up the cosiness level.

This is definitely a lovely place to stay at when the warmer months. I like it!
It costs $556.34 HKD in direct product costs to create this post, done over 1 anonymous visit for 1 night. All expenses involved in this post are fully paid for by the.fat.guide.
This stay was booked on

Agoda.
Over here at the.fat.guide, we believe that content should be free. However it takes real money to create content. The expenses incurred in creating this content should ideally be paid for by third party services like advertising and affiliate links, etc and not be borne by you, me or the featured merchant. Please help us to recover our costs involved in the creation of this content by using our affiliate links and advertisers.

If you wish to show direct support, you can buy us a meal or two.
Disclaimer. As unique individuals, we have our own personal preferences and likings. Your experiences and perspectives may vary from mine.
| | | | | | | |