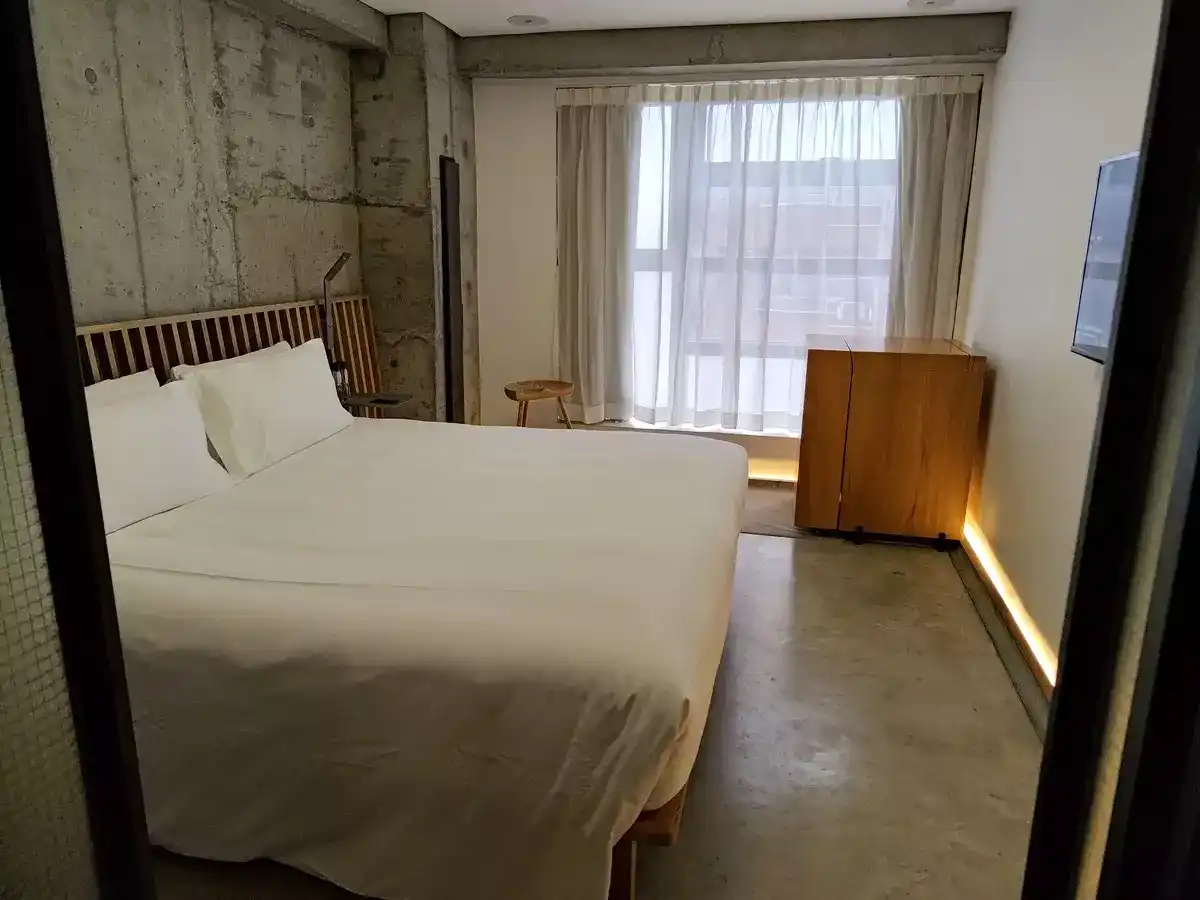 Check-in, Please
TUVE is very low key. There are no signages showing the building is a hotel and no signboards showing its entrance. I had to do a double take to make sure that I have arrived at the hotel instead of some private residence.

The hotel entrance is has a closed metal gate in its doorway, and on its side is an access panel where you are supposed to tap your key card to unlock the gate. As a new arrivial, I had to press the call button to get someone inside to unlock the gate for me. It feels more like some kind of exclusive members only private club rather than a publicly accessible hotel.

Behind the gates are a couple of lifts that you can take to the first floor where the hotel front desk is located for checking-in.
Lobby
On the first floor is the hotel lobby. It is not much of a hotel lobby in the traditional sense. Taking up the floor space is an art installation, a large block of wood with hanging pieces of wood. This piece of artwork is the centrepiece focal point in this space and also doubles up as the front desk. Nice concept.

There is not much of seating in this lobby, just a long bench by the wall. No sofa, no lounge charis. At the side near the lifts is a small area used as a shop to showcase products from collaboration partners. During my visit, it is showcasing products from Le Labo.
The room key card is done in a minimalist style with a black theme and matching minimalist black envelope.
Deluxe King Room
The Deluxe King Room has a minimalist industrial design with bare concrete walls, concrete floorings and mostly metal room furnishings accented by some wooden elements to warm up its coldness level a notch higher.

First impression. This hotel and the room looks good, like some posh designer place.
Just beside the room entrance is a metal cabinet housing a wardrobe. A safe box can be found here.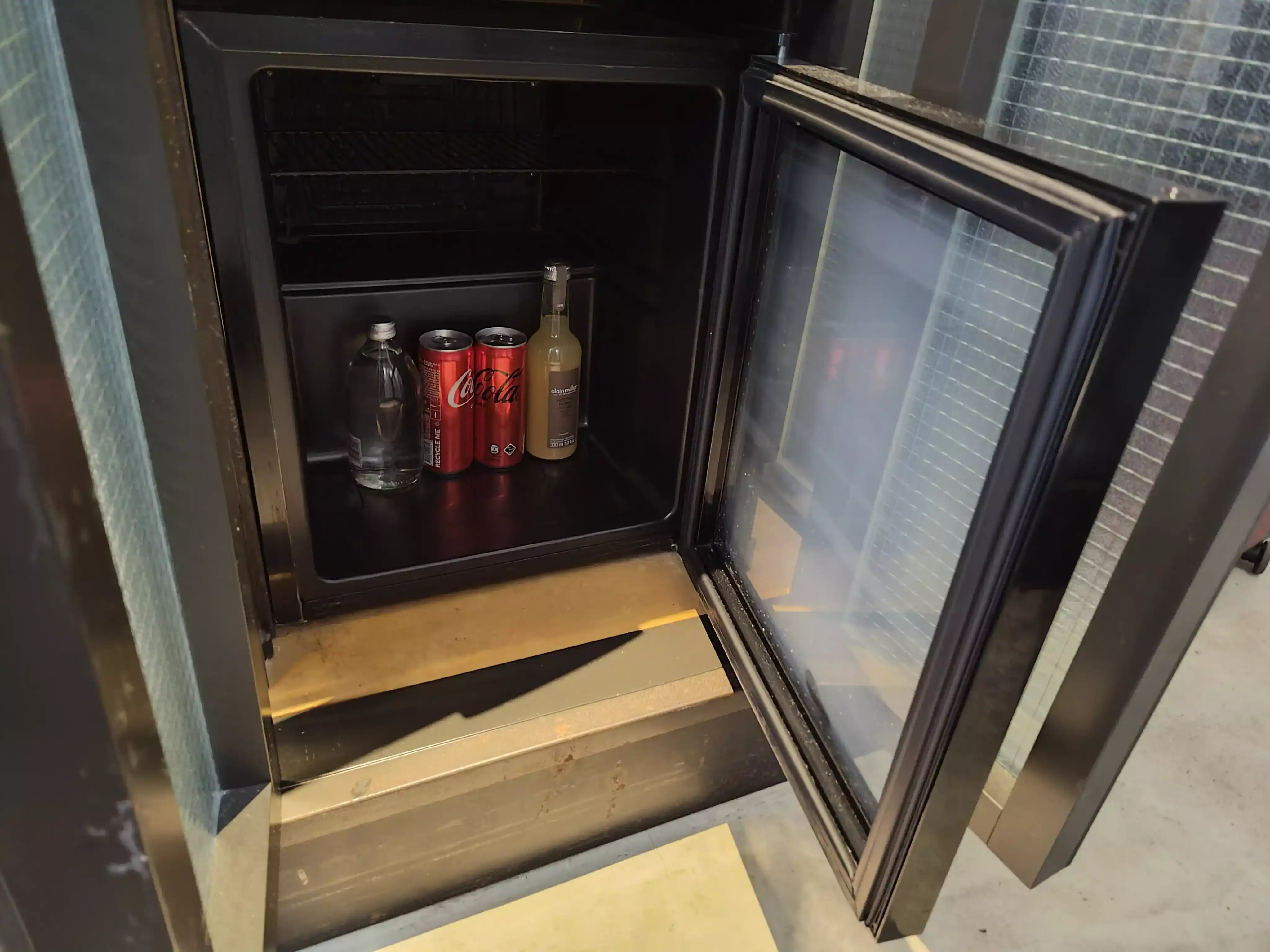 Also in the metal cabinet is a mini fridge stocked with some drinks, and by the side of the cabinet is a standing heater.
The bathroom is also located near the entrance area. Basic bathroom amenities are provided.
There is a separate shower comparment. Bathroom toiletries are from La Labo Santal 33.
On to the bedroom area. A king size bed with a wooden headboard sits in the room against the bare concrete wall. A TV hangs on the concrete wall opposite the bed.
Even the bedside table and lamp are made of metal. On the side near the window is a wooden stool to add some warmth
At the concrete pillar behind the wooden stool is a metal panel. Open it, and it reveals a full length mirror. Even the aircon control has a metal cover to it. It is all industrial styling in this room.
Now, where is the pantry and desk? At far corner of the room sits a wooden box. Watch magic unfold…
You can literally unbox this wooden box. Unfold it hidden inside is a tiny desk, a metal chair and a pantry stocked with the usual coffee, tea, mugs and glasses. Ta-da! Magic.

It is a very interesting piece of furniture. However after the inital euphoria fades, it is some what of an inconvenience. The desk is tiny and there isn't much space to put your things out. Even utilising the pantry top space does not help much. High marks for uniqueness, low on practicality.

Also, do take note. As far as I can tell, there are no USB sockets at both bedside and desk side. You will need your own USB power plug for charging your gadgets.
Facilities
There are no facilities in this hotel.
Check Out, Please
TUVE is definitely a very nicely designed boutique hotel that is conveniently located in Tin Hau area where there are lots of shops and food places. It is a short walk away from both Tin Hau and Fortress Hill MTR stations, and walkable to Causeway Bay shopping area too.

TUVE scores high in terms of design, with its clean minimalist vibes. Unfortunately after the initial excitement wears off and reality sinks in, you will find its usability and liveability quite underwhelming and subpar. The concrete flooring may give a clean look, but is physically cold especially during the winter months. The transformative box maybe clever, but it is too tiny for a proper working and living space.

If you like industrial chic, TUVE maybe fine for a short stay. However it is not for me. I like my room comfy and cosy for a good night's rest.
It costs $734.47 HKD in direct product costs to create this post, done over 1 anonymous visit for 1 night. All expenses involved in this post are fully paid for by the.fat.guide.
This stay was booked on

Agoda.
Over here at the.fat.guide, we believe that content should be free. However it takes real money to create content. The expenses incurred in creating this content should ideally be paid for by third party services like advertising and affiliate links, etc and not be borne by you, me or the featured merchant. Please help us to recover our costs involved in the creation of this content by using our affiliate links and advertisers.

If you wish to show direct support, you can buy us a meal or two.
Disclaimer. As unique individuals, we have our own personal preferences and likings. Your experiences and perspectives may vary from mine.
| | | | | | | |