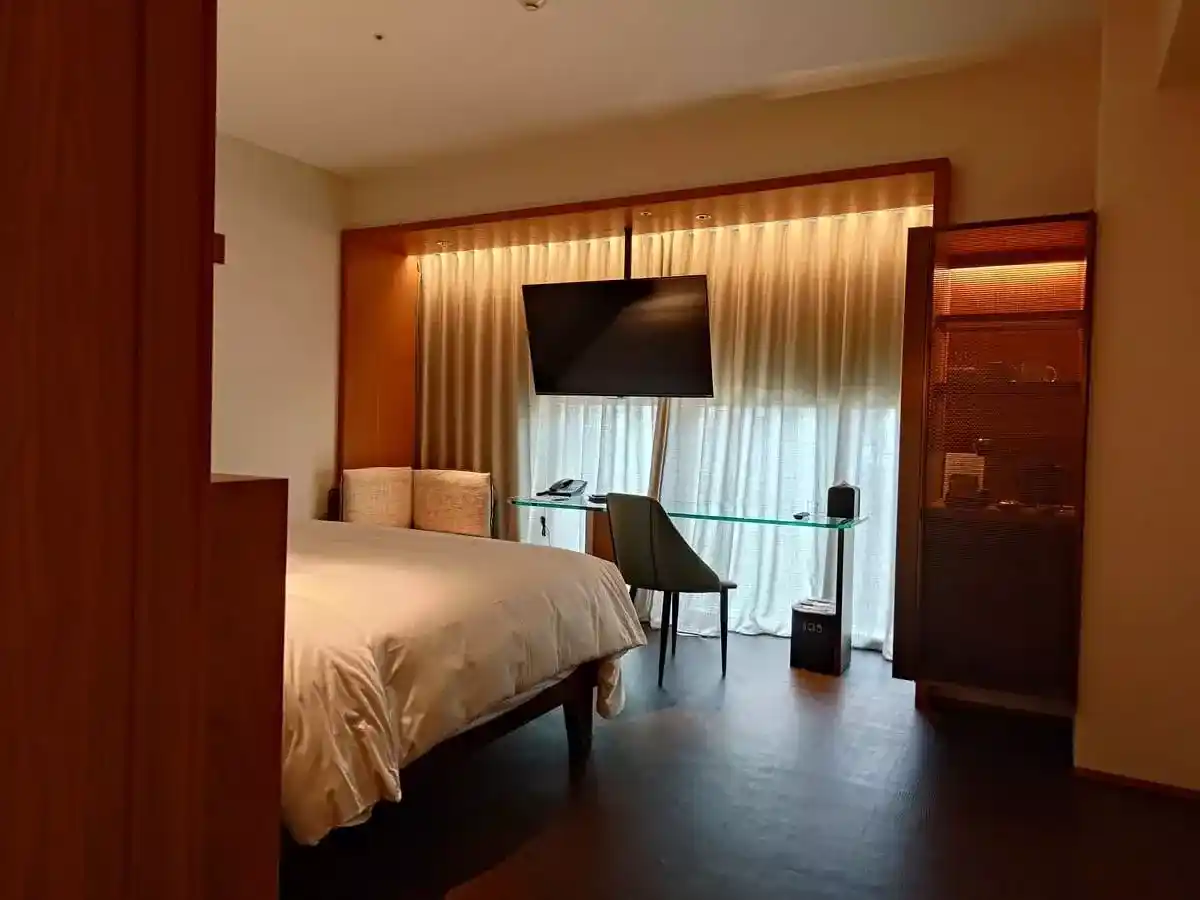 Humble Boutique Hotel
is a boutique hotel located in an office area of Zhongshan District near Songjiang Nanjing Station. Smallish room with a terrible layout.
| | | | | | | |
Check-in, Please
Humble Boutique Hotel is located near an exit of Songjiang Nanjing Station in an office area located in Zhongshan District.

Behind the front door is a smallish hotel lobby area with a front desk and some armchairs next to it.
Lobby
There are some decorative pieces in the hotel lobby.
At a corner of the hotel lobby are a couple of lifts leading up to the guest rooms above.
Corner King Room
Yes, the images above shows the real layout when you first open the door and step into the room. There is a corridor with a locked door at the far end, and a passageway on the right that leads to the guest room. Turn right and there is a long passageway with a toilet and a bathroom on the left side, and an empty wall on the right. What a terrible layout and waste of space!
The actual guest room itself is small. Probably about the same size as a regular guest room. Beware: Do not pay extra for the corner room and expect a larger space. It is all wasted on the useless corridor and passageway.
There is a king size bed occupying most of the room. Along the window is a writing desk and a TV is mounted on the ceiling. A single sofa sits in the corner of the room.
AC, USB and LAN sockets can be found on the writing desk. A couple of fask masks and alcohol wipes are also provided.
Draw the curtains behind the writing desk and outside is a view of the street and surrounding buildings.
There are no bedside tables next to the king size bed, there is simply not enough space of them due to its poor layout. However there is a headboard with AC and USB sockets, as well as light switches. An alarm clock and a couple of earplugs are also placed on top of the headboard.
At one corner of the room is a small cupboard that houses a pantry. There are some snacks and drinks provided, and these are complimentary. Do note that Humble Boutique Hotel does not provide any bottled water, instead a glass container is provided where you can get your own water from a water dispenser located outside near the lift lobby. Both still water and sparkling water are available.

There is absolutely nothing wrong with foregoing bottled water for some treehugging eco-friendliness. However, Humble Boutique Hotel is not exactly a budget hotel where you need to get out of your room to getting drinking water from the lobby. If other hotels can provide in-room coffee machines, how about putting a water dispenser in each room instead?
The toilet is housed in a small compartment separate from the bathroom. It has a Japanese style bidet. However there is a faint note of urine smell in this toilet cubicle. The housekeeping is doing a really poor job.
The bathroom is decent size with a bathtub and separate shower area.
The regular bathroom amenities are provided. Toiletries used are from Omnisens.
Now, where is the wardrobe? It is actually located within the bathroom, next to the bathtub. A safe box is located in the drawer. What a strange location for a wardrobe!
Facilities
Located on each level of the hotel near the lift is a water dispenser. On the 7th floor is a vending machine. The fitness centre and indoor swimming pool is located on the 10th floor of the hotel.
The water dispenser serves both still water and sparkling water. On the 7th floor, the vending machine sells snacks, drinks and some small items like USB cables and swimming cap, etc.
On 10th floor is the hotel's indoor pool and fitness centre. Due to its limited space, prior reservations is required to use the facilities.
The gym room has some basic gym equipment.
There is an indoor swimming pool with some lounging chairs on the side. Do note that the hotel requires you to wear a swimming cap in order to use their pool, which is available for sale at their vending machine. It is their house rule.
There are also a couple of sauna rooms by the pool, with separate rooms for men and ladies.
Check Out, Please
Humble Boutique Hotel is located in an office area of Zhongshan District and conviniently located near an exit of Songjiang Nanjing Station. Since it is in an office area, most of the shops are closed during the weekends. You will need to travel out for shopping and food. Not exactly an issue if you are out there exploring Taipei.

The complimentary snacks and drinks as well as face masks, alcohol wipes and earplugs are nice touches. However the deal-breaker for me is, the room has a terrible layout and housekeeping is poor. Thumbs down.

Perhaps their regular rooms are better, but don't spend extra money on getting their Corner King Room. Also, they charge extras by the hour for late check-outs. There is no luxe and comfy vibes either. Very honestly, I do not have a good impression of this place. There are way better options out there at similar prices.
| | | | | | | |
It costs $6019.00 TWD in direct product costs to create this post, done over 1 anonymous visit for 1 night. All expenses involved in this post are fully paid for by the.fat.guide.
This stay was booked on Trip.com.
Over here at the.fat.guide, we believe that content should be free. However it takes real money to create content. The expenses incurred in creating this content should ideally be paid for by third party services like advertising and affiliate links, etc and not be borne by you, me or the featured merchant. Please help us to recover our costs involved in the creation of this content by using our affiliate links and advertisers.

If you wish to show direct support, you can buy us a meal or two.
Disclaimer. As unique individuals, we have our own personal preferences and likings. Your experiences and perspectives may vary from mine.
LOCATION
Humble Boutique Hotel