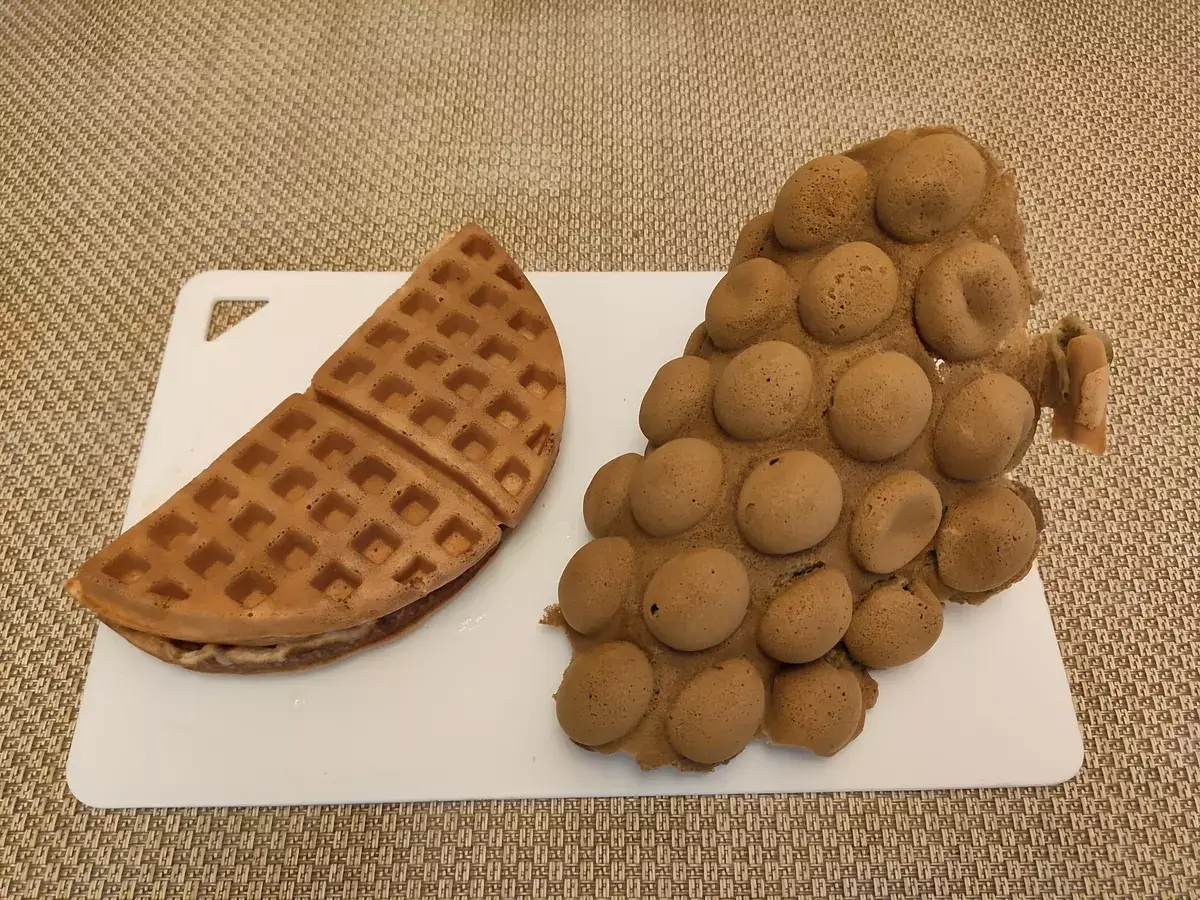 Eggs Bakery
serves an assortment of flavours for their egg waffles and waffles. Rather likeable.
Egg Waffle
Eggs Bakery does egg waffles with an assortment for flavours. According to their signage, the egg waffles are made using a mixture of fresh thai eggs, american flour, new zealand butter, holland evapourated milk and korean sugar. The batter is poured into a metal mould and heated until the waffle is cooked.

The original egg waffle has a very nice fragrant scent. Each egg ball is crispy outside and soft, fluffy and chewy inside. It has a sweet flavour.

The matcha green tea waffle is similar with crispy outsides and soft, fluffy and chewy insides. It has matcha green tea flavours and is not as sweet as the original ones.

Both are rather likeable.
Waffle
Besides egg waffles, the regular type of flat waffles is available. This regular Hong Kong style waffle is spread with butter, peanut sauce and condensed milk. It has a very fragrant scent, tastes sweet and has a firm and chewy texture. Nice.
It costs $66.00 HKD in direct product costs to create this post, done over 2 anonymous visits. All expenses involved in this post are fully paid for by the.fat.guide.
Over here at the.fat.guide, we believe that content should be free. However it takes real money to create content. The expenses incurred in creating this content should ideally be paid for by third party services like advertising and affiliate links, etc and not be borne by you, me or the featured merchant. Please help us to recover our costs involved in the creation of this content by using our affiliate links and advertisers.

If you wish to show direct support, you can buy us a meal or two.
Disclaimer. As unique individuals, we have our own personal preferences and likings. Your experiences and perspectives may vary from mine.
| | | | | | | |