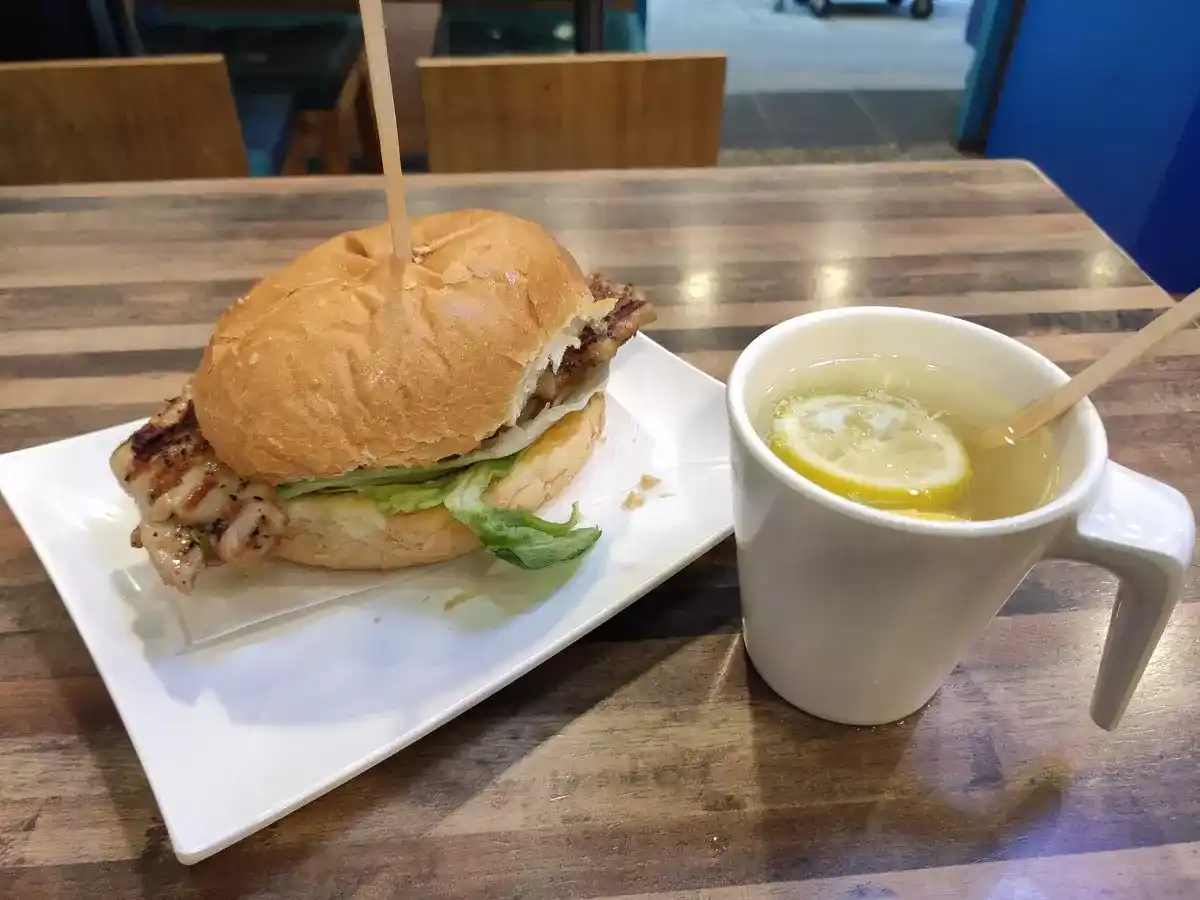 Wing Si
is known for their delicious grilled chicken chop. Fried chicken chop and other meats too. A personal favourite!
Grilled Chicken & Salted Fried Chicken Rice
Wing Si is well known for their delicious grilled chicken chop. The salted fried chicken chop is a latter add-on to their menu. This plate of rice comes with both their signature grilled chicken chop and salted fried chicken chop.

The grilled chicken chop has tender and juicy meat with a nice crispy layer of skin. It has very tasty seasoning flavourings with a hint of pepper. This is really good!

Instead of grilling their chicken chop, the salted fried chicken chop is deep fried with a crispy batter coating. Its meat is tender and juicy, with a crispy and airy chicken skin. Very nice seasoning flavours too. The fried version of their chicken chop is lovely!

The chicken chops are served with plain white rice. Some soya sauce seasoning is added to the rice. A serving of cruncy mixed vegetables and chye poh is provided on the side.

This plate of mixed chicken chop rice is good! Recommended!
Chicken Chop Bun
The chicken chop bun is part of their tea time menu. It has a piece of their signature grilled chicken chop sandwiched in between a toasted bun.

The grilled chicken chop is soft and tender with juicy meat and nice crispy skin. The toasted bun is crispy outside and soft inside with a layer of butter. Some lettuce and onions are added to this sandwich.

This chicken chop bun is definitely a good choice for a light meal or in-between meals snack. Good!
It costs $95.00 HKD in direct product costs to create this post, done over 2 anonymous visits. All expenses involved in this post are fully paid for by the.fat.guide.
Over here at the.fat.guide, we believe that content should be free. However it takes real money to create content. The expenses incurred in creating this content should ideally be paid for by third party services like advertising and affiliate links, etc and not be borne by you, me or the featured merchant. Please help us to recover our costs involved in the creation of this content by using our affiliate links and advertisers.

If you wish to show direct support, you can buy us a meal or two.
Disclaimer. As unique individuals, we have our own personal preferences and likings. Your experiences and perspectives may vary from mine.
| | | | | | | |