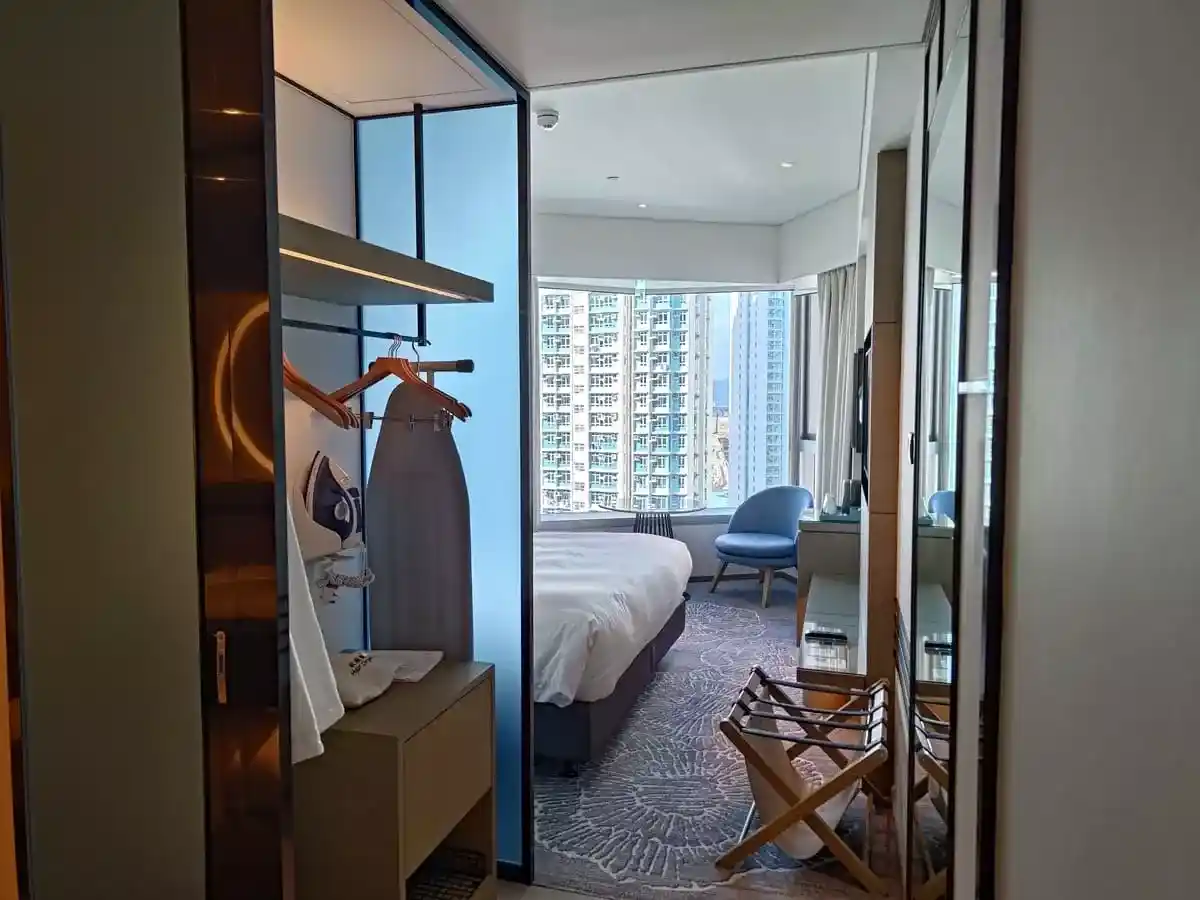 Four Points by Sheraton Hong Kong, Tung Chung
is situated in Tung Chung near Hong Kong International Airport with free shuttle bus service going between the hotel and airport.
| | | | | | | |
Check-in, Please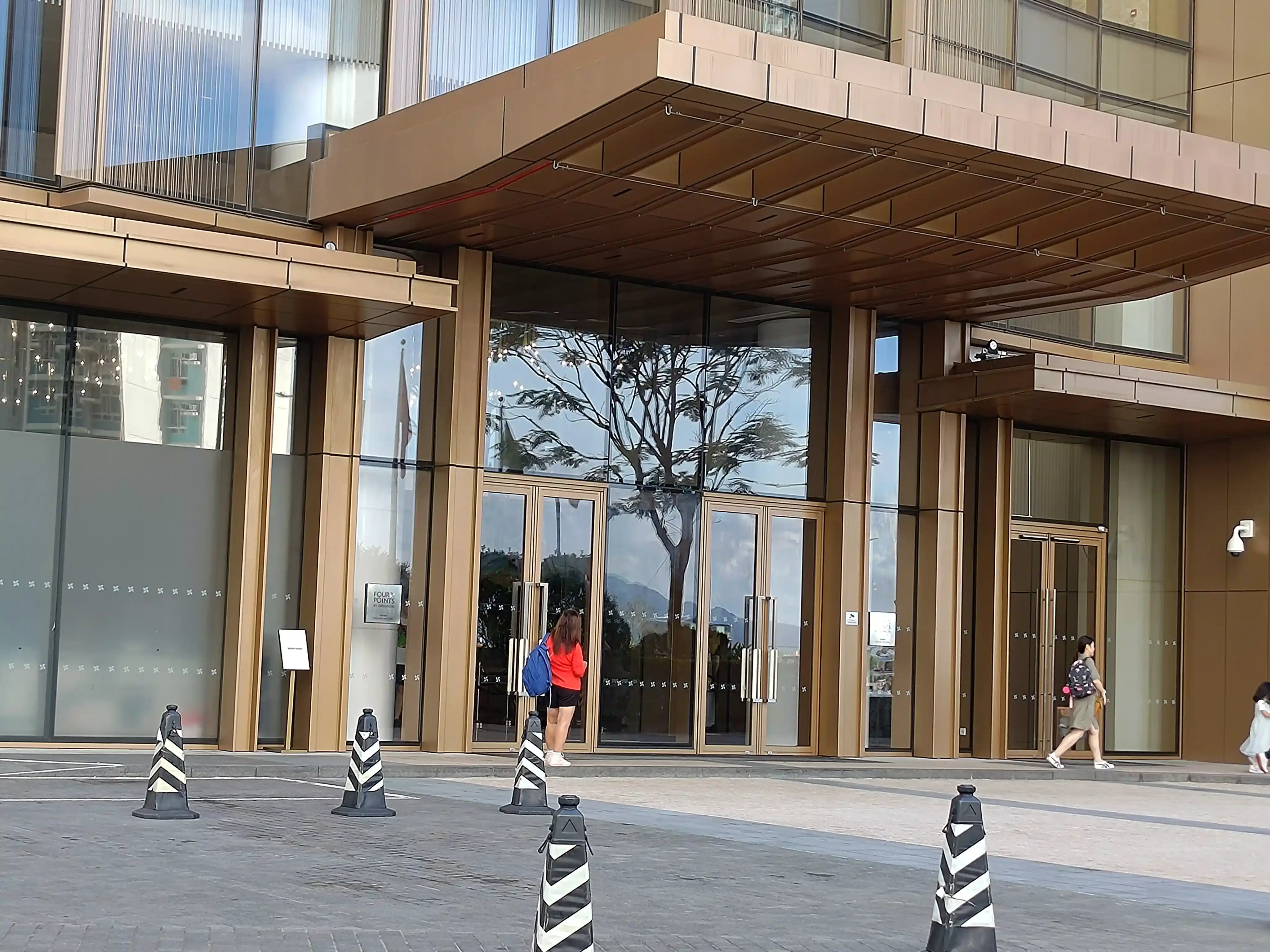 Four Points by Sheraton Hong Kong, Tung Chung is located in a quiet corner of Tung Chung close to the airport. If you are coming from the airport, there is a free hotel shuttle bus heading directly to the hotel. Otherwise, Tung Chung MTR station is about a 15 mins walk away.

There is a long front desk running along one side of the hotel lobby. It can get crowded with a long queue, especially when a shuttle bus from the airport pulls up.
Lobby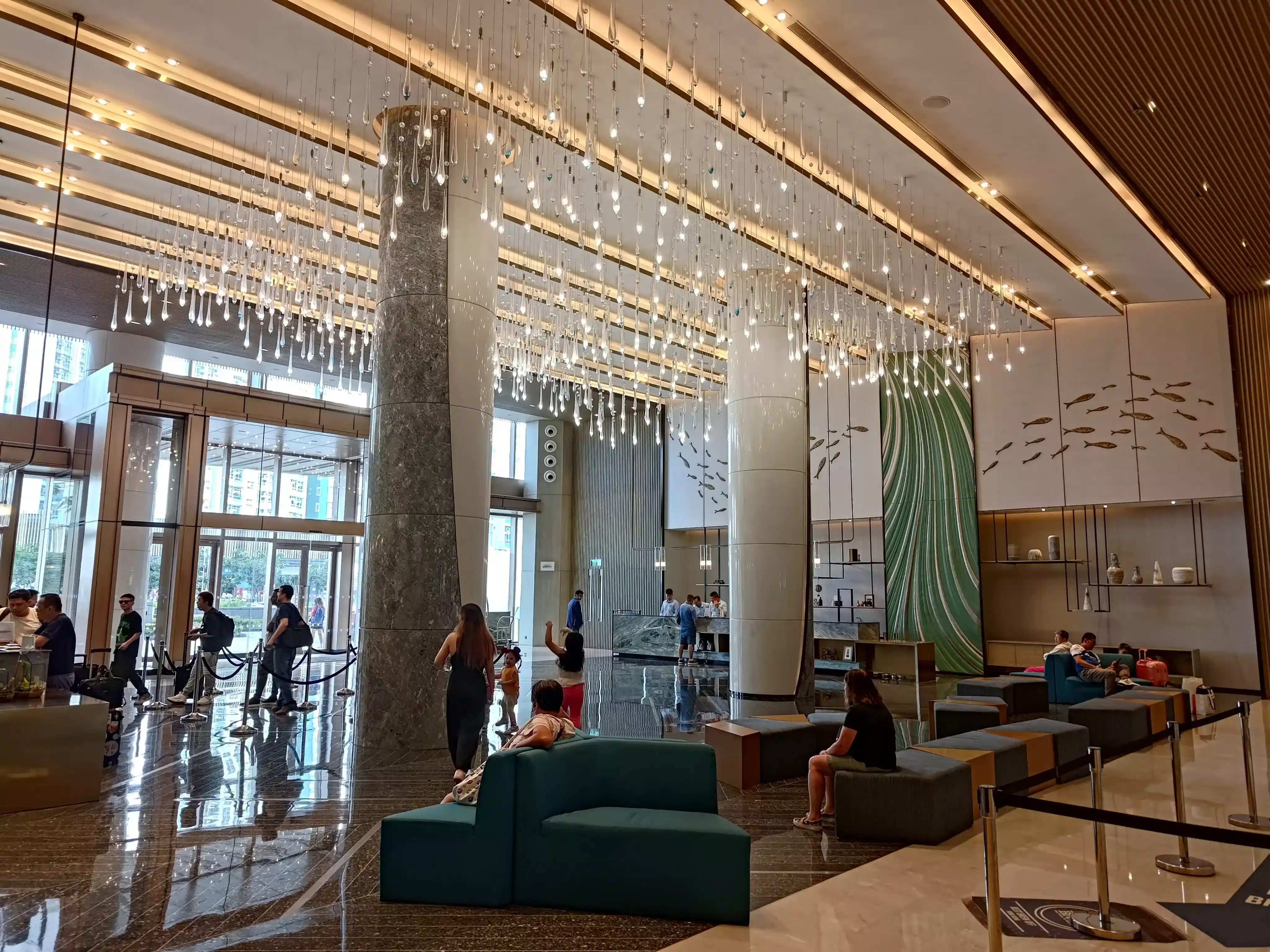 There are plentiful of sofas and seats in the spacious hotel lobby.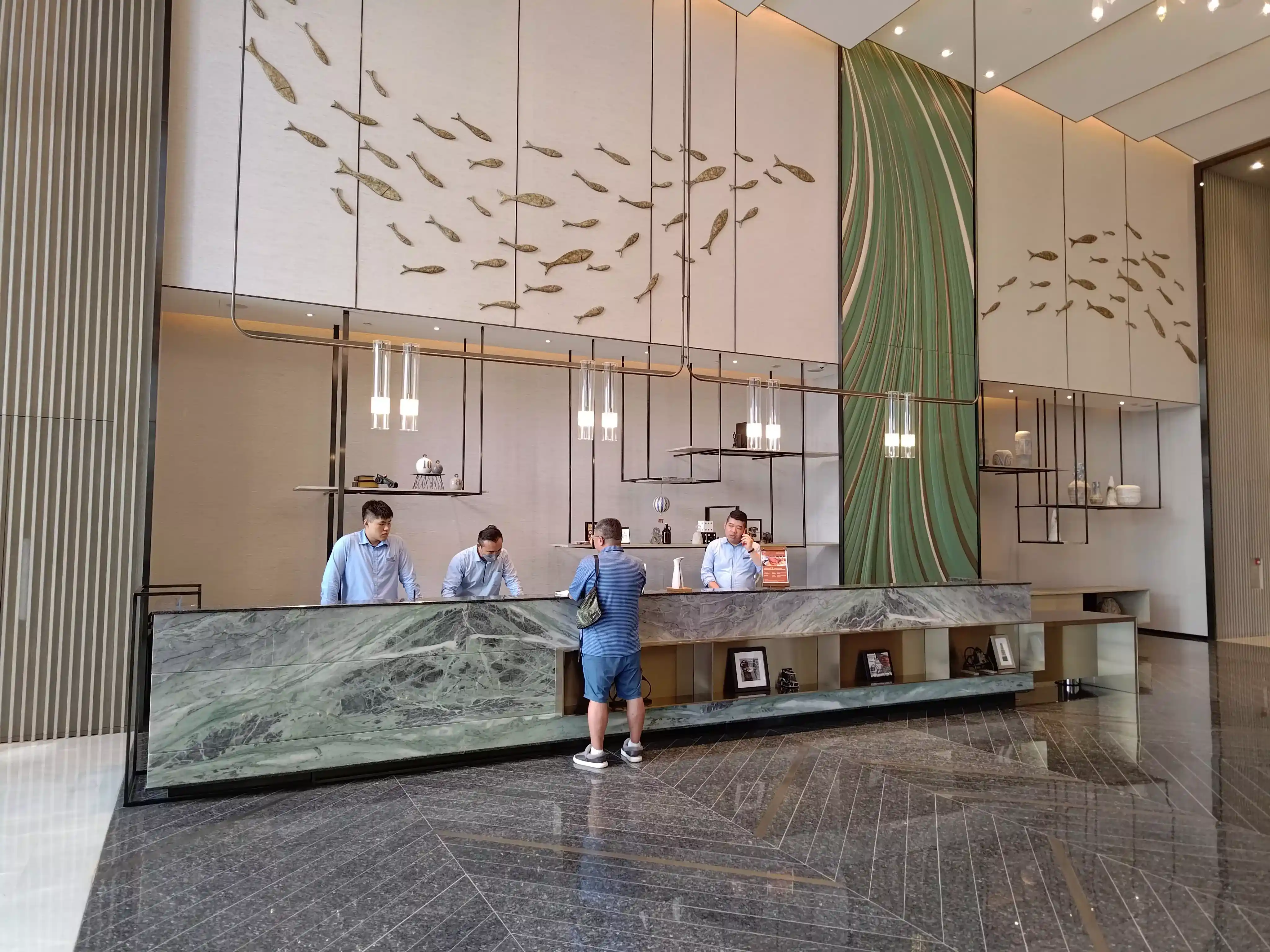 The concierge desk can be found on the opposite side from the front desk. Next to the concierge desk is a shelf filled with some decorative pottery pieces.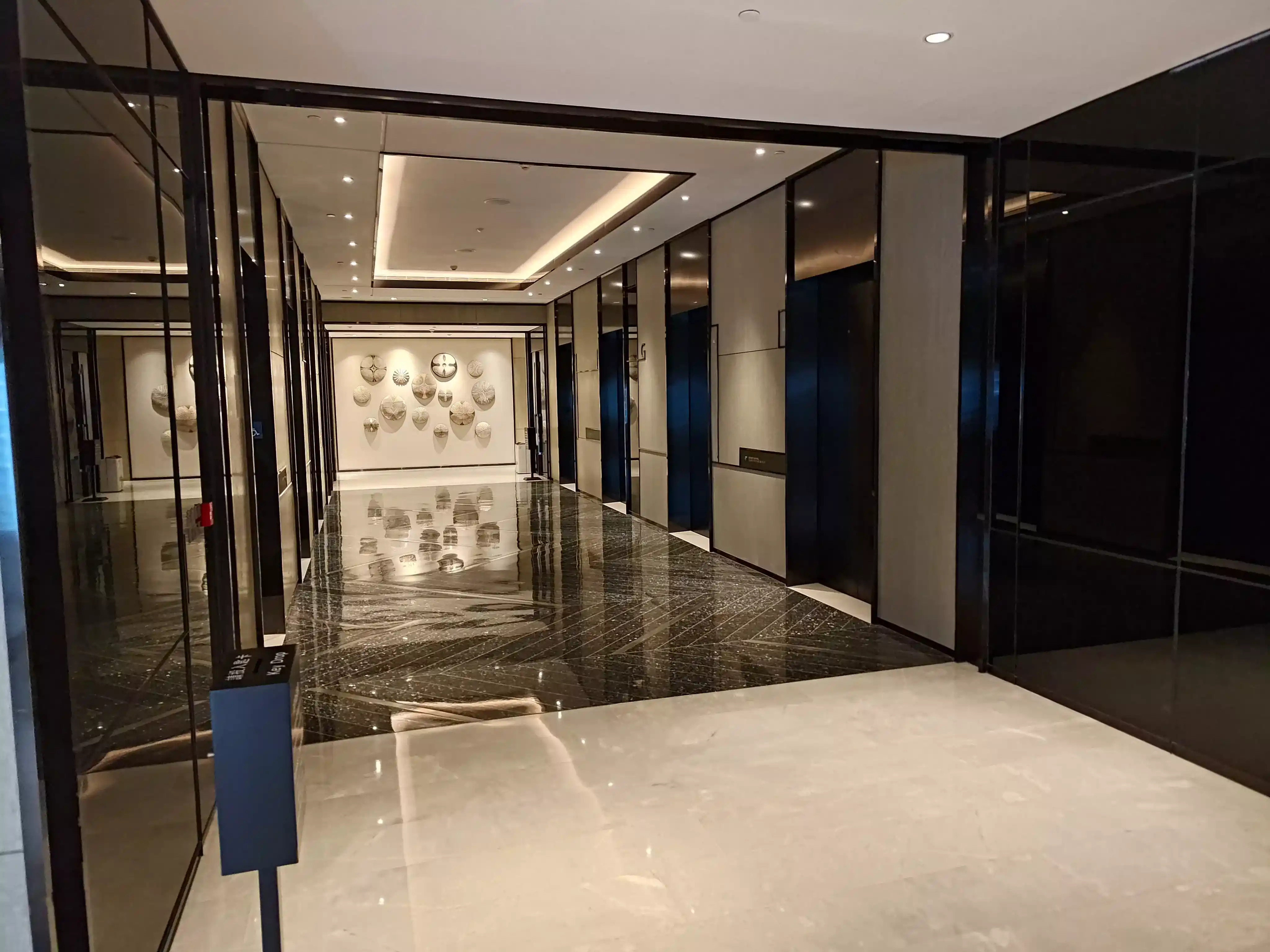 The lift lobby is located at the area behind the front desk. There are two rows of lifts heading up to the guest rooms above. Tap your room key card in the lift and it automatically selects the floor your room is located on.
Traditional King Room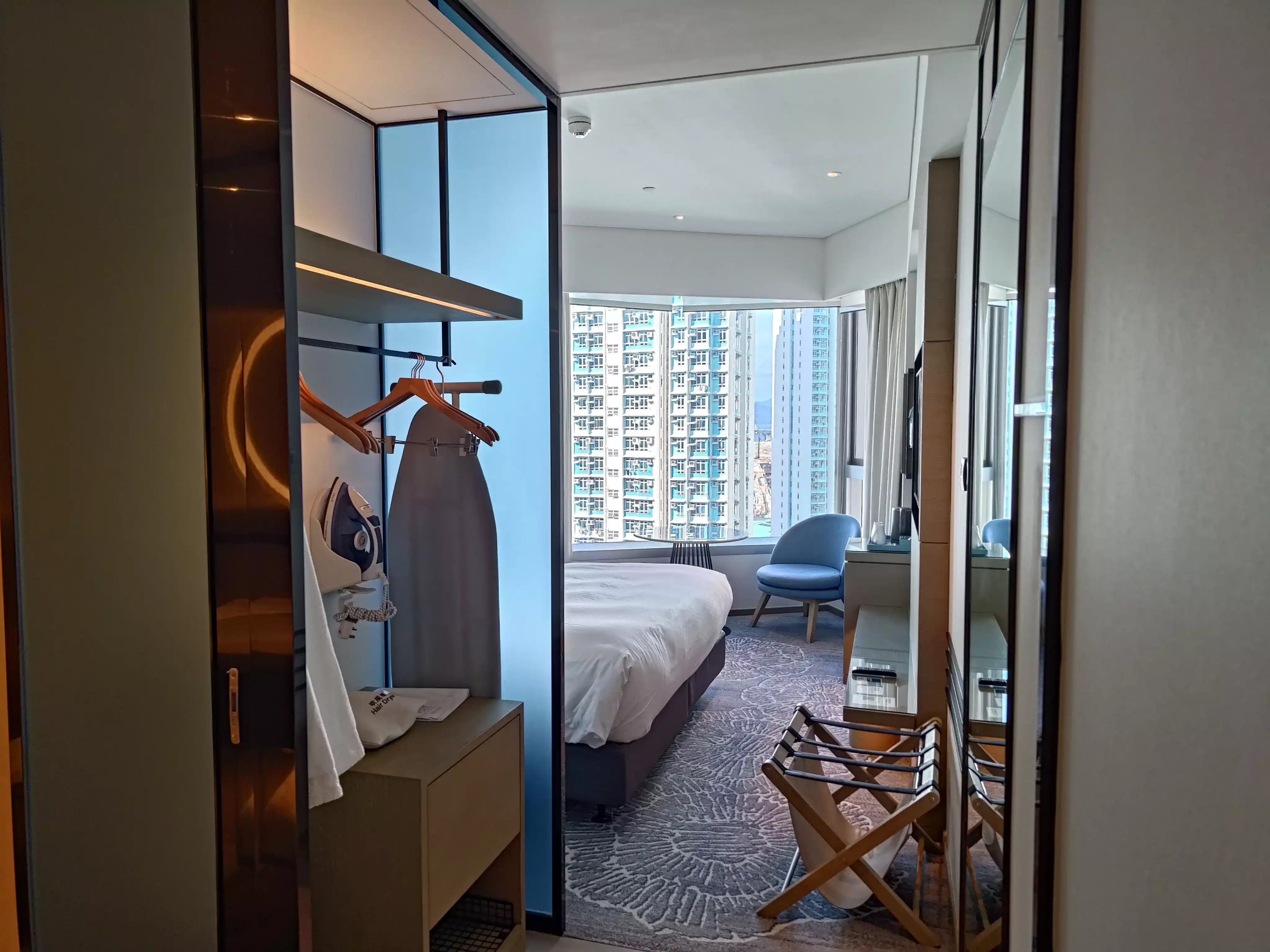 The Traditional King Room is quite decently sized.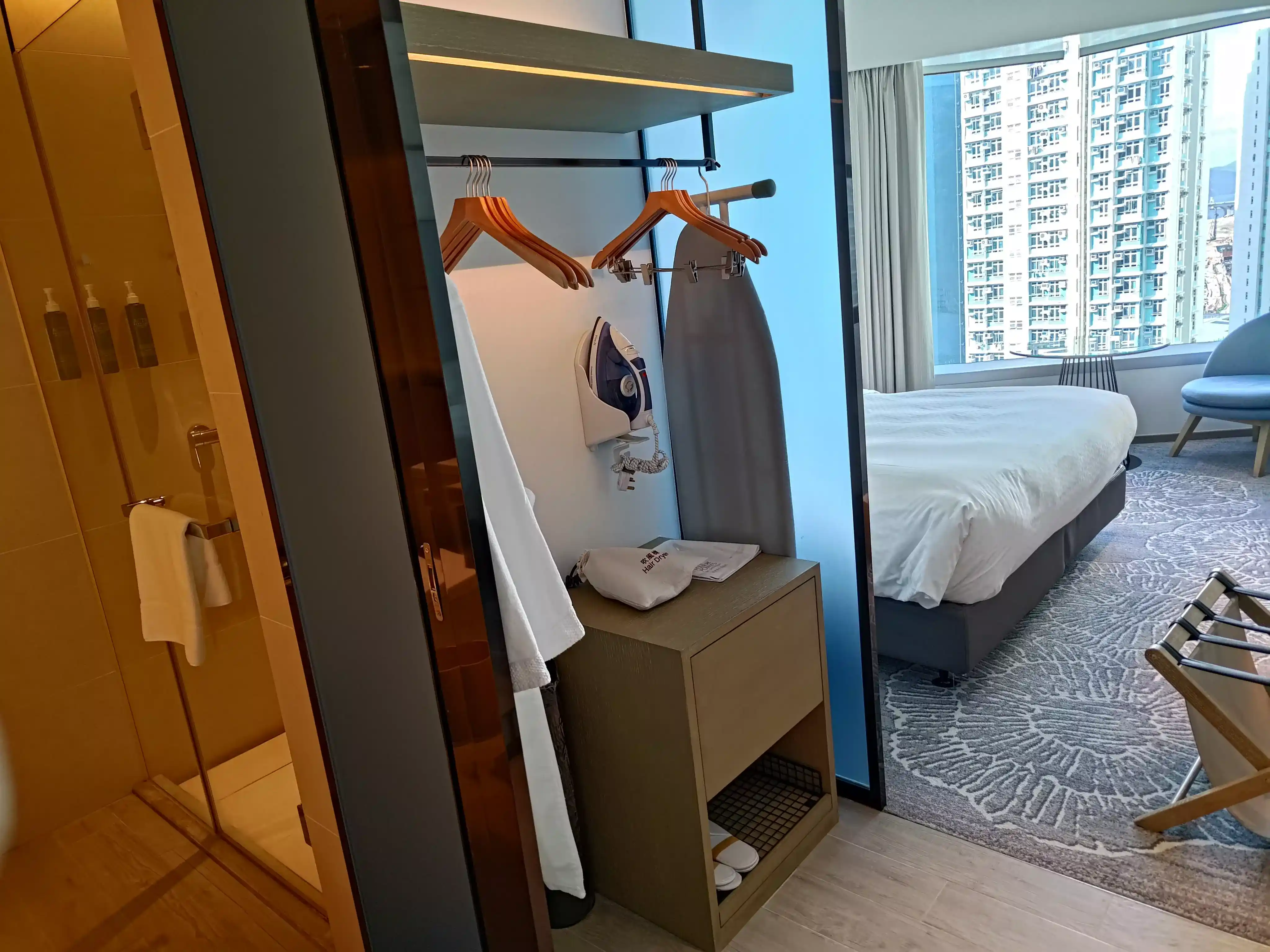 Once inside the room, there is an open wardrobe on the side with the usual robes, iron and safe box. There is even an exercise mat here.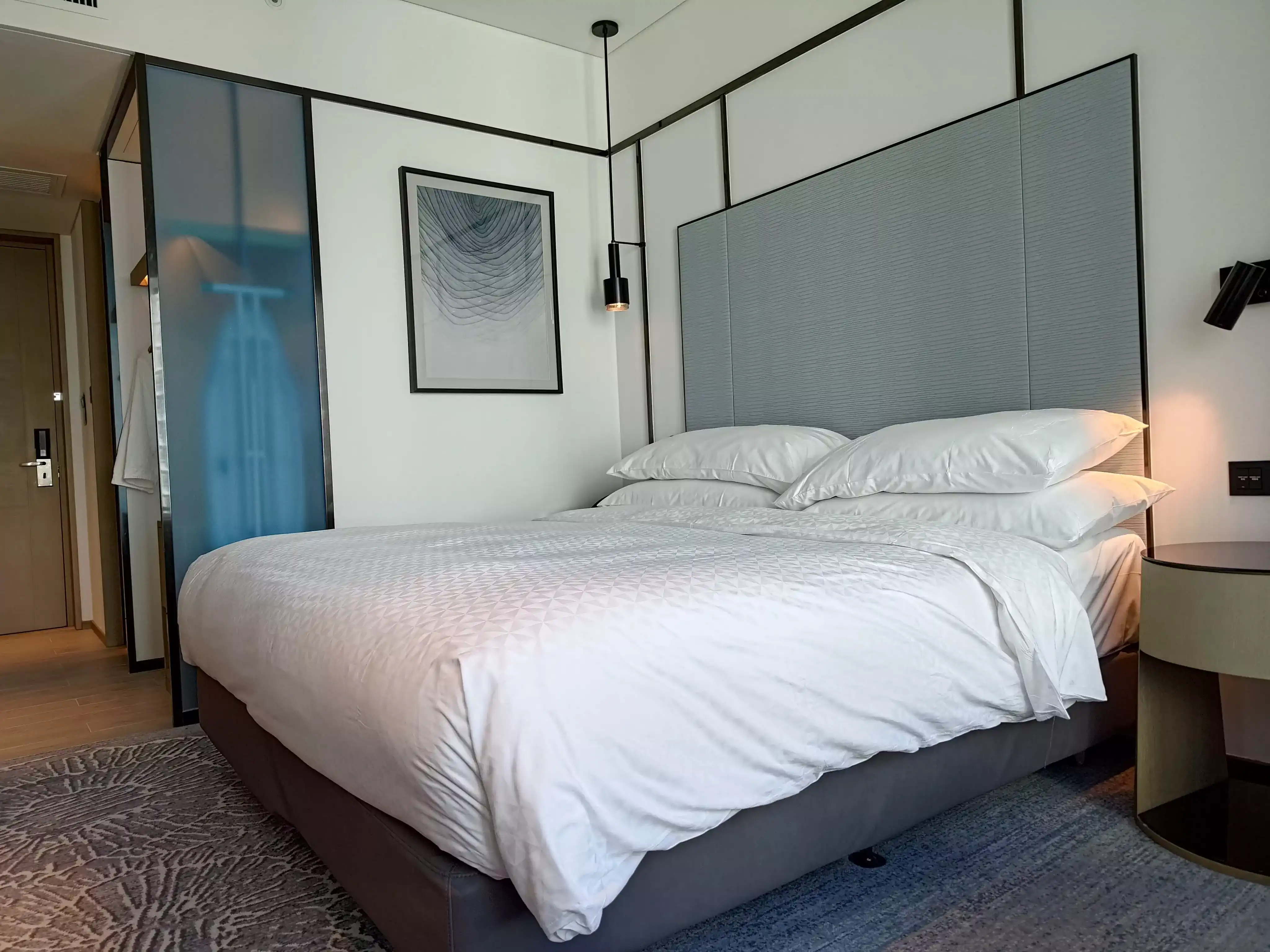 A king size bed fills the room, and a piece of artwork hangs on the wall next to it.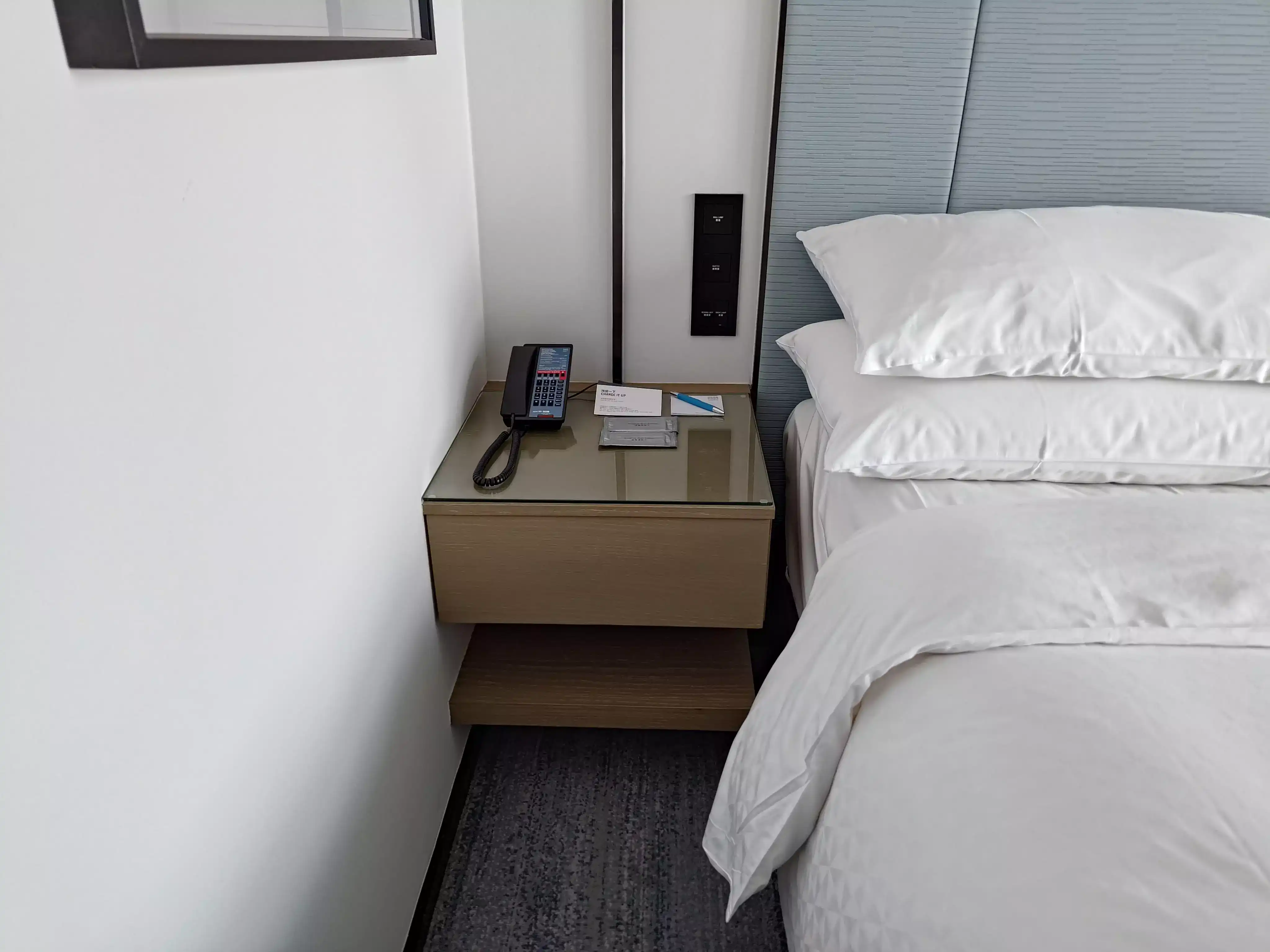 On each side of the bed are a bedside table. On one side, the bedside table has a phone, writing pad and wet wipes. On the other bedside table are a couple of light switches, power and USB sockets.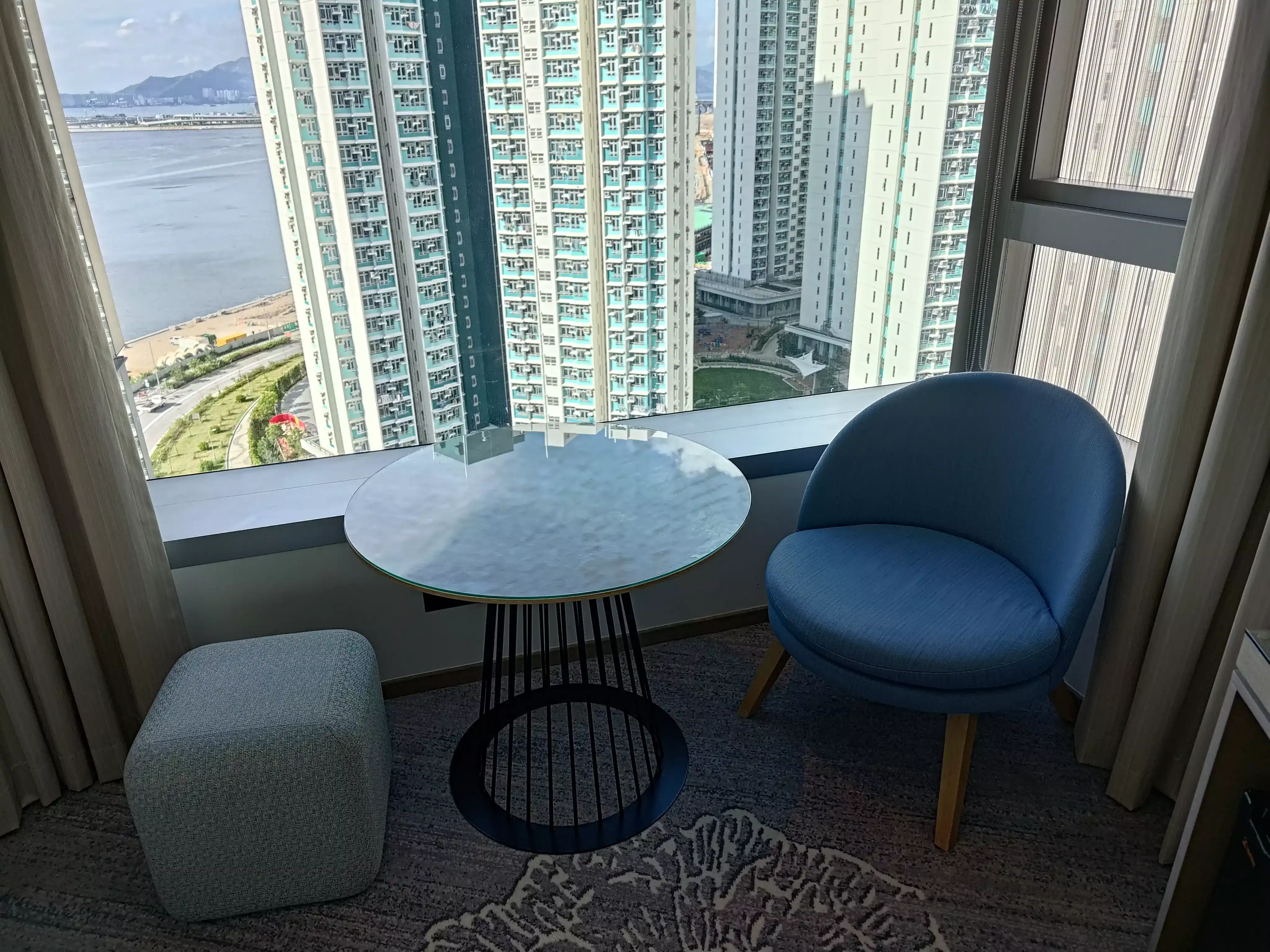 By the window is a table, a stool and a chair. From the window, you can see the surrounding neighbourhood with a patch of sea between the buildings and Tuen Mun the in background.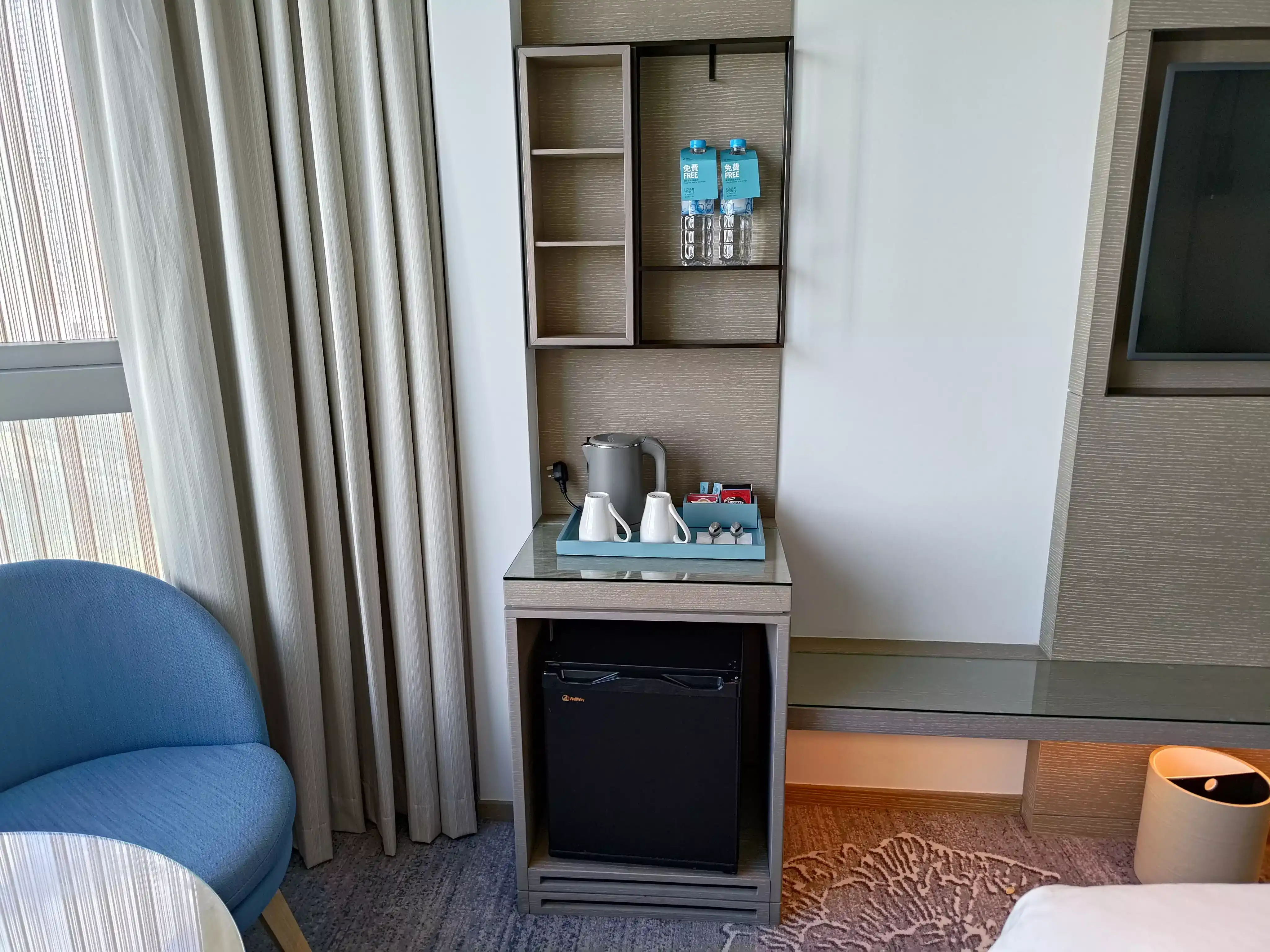 At a corner of the room is a small pantry with the usual mini fridge, kettle, tea bags, etc. Along the wall next to it, is a TV.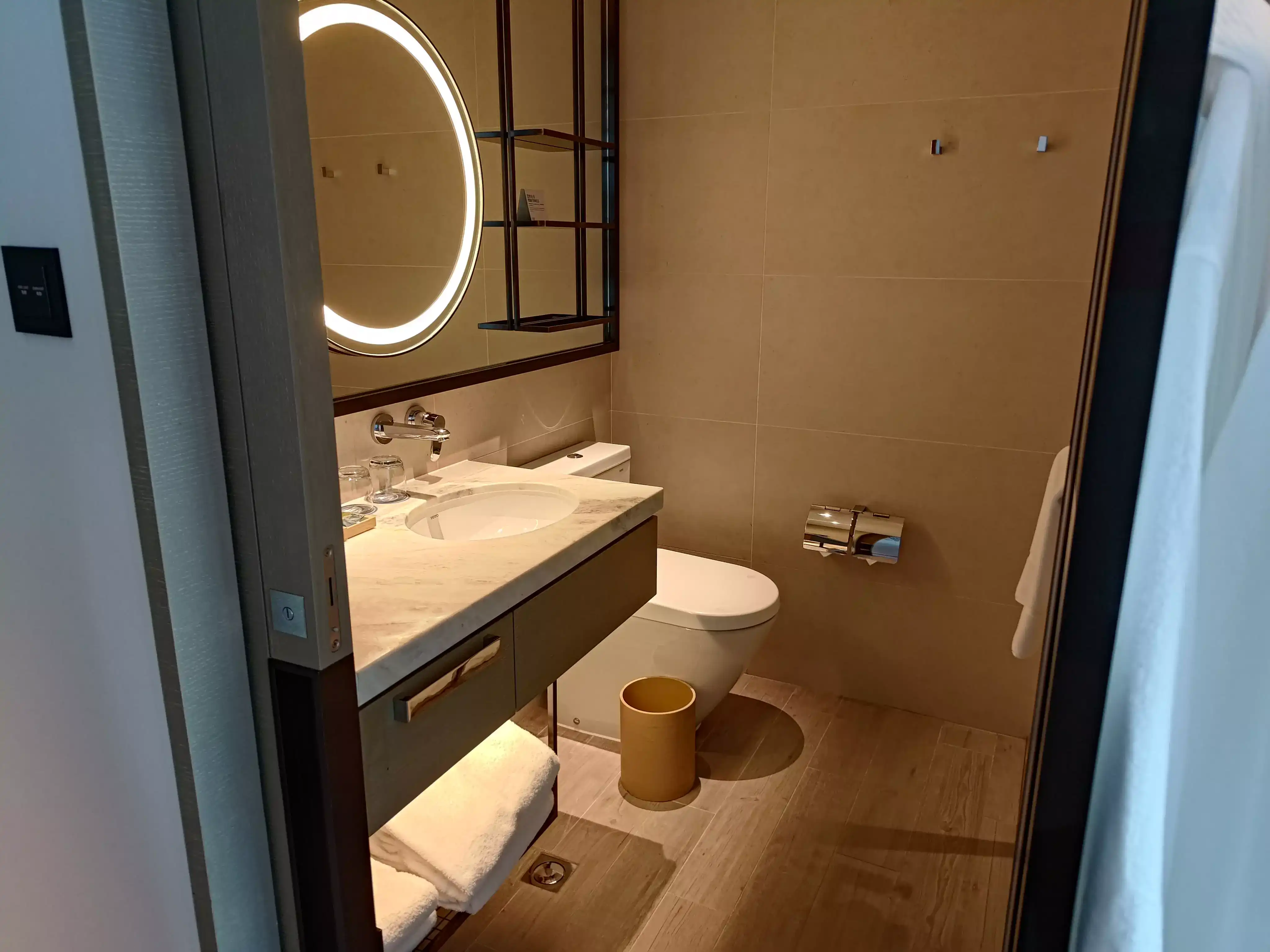 The bathroom is located right next to the room's entrance.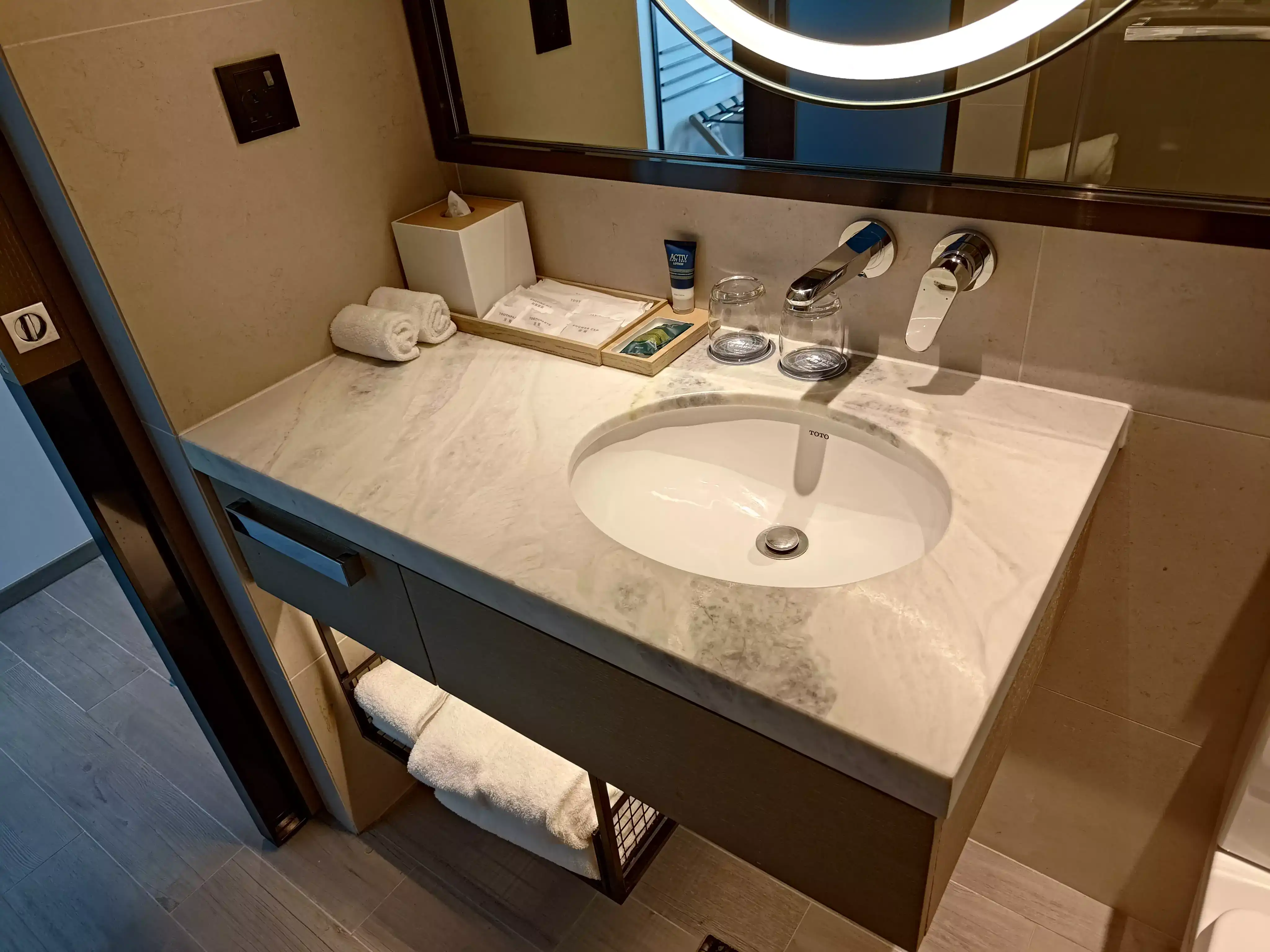 The bathroom is fairly decent size with a shower cubicle. There is no bathtub.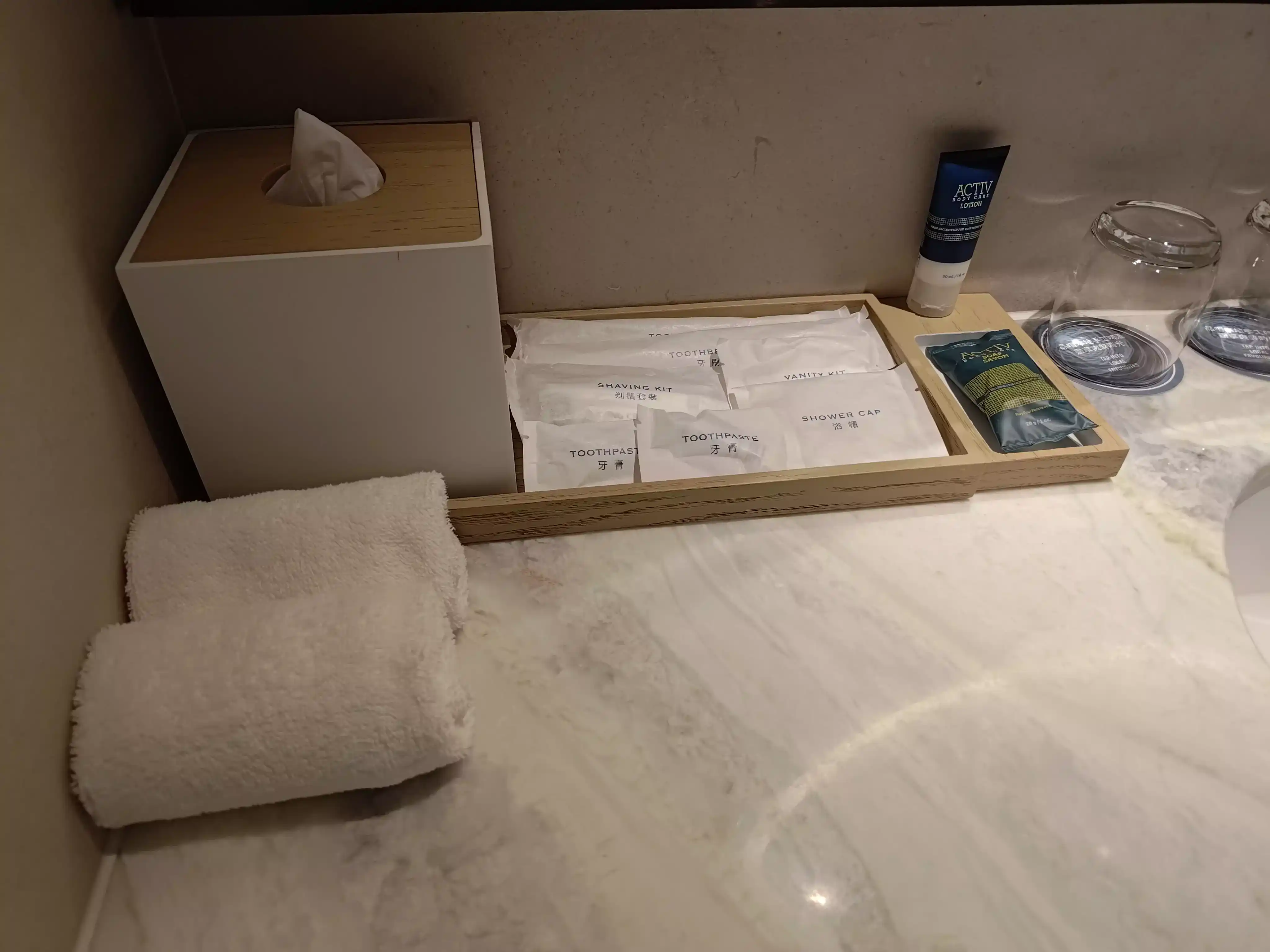 The standard amenities like toothbrush, tooth paste, etc are provided. Bathroom toilets provided are from Activ.
Facilities
As for as I can tell, there isn't the usual gym and swimming pool in this hotel. However there are a couple of services.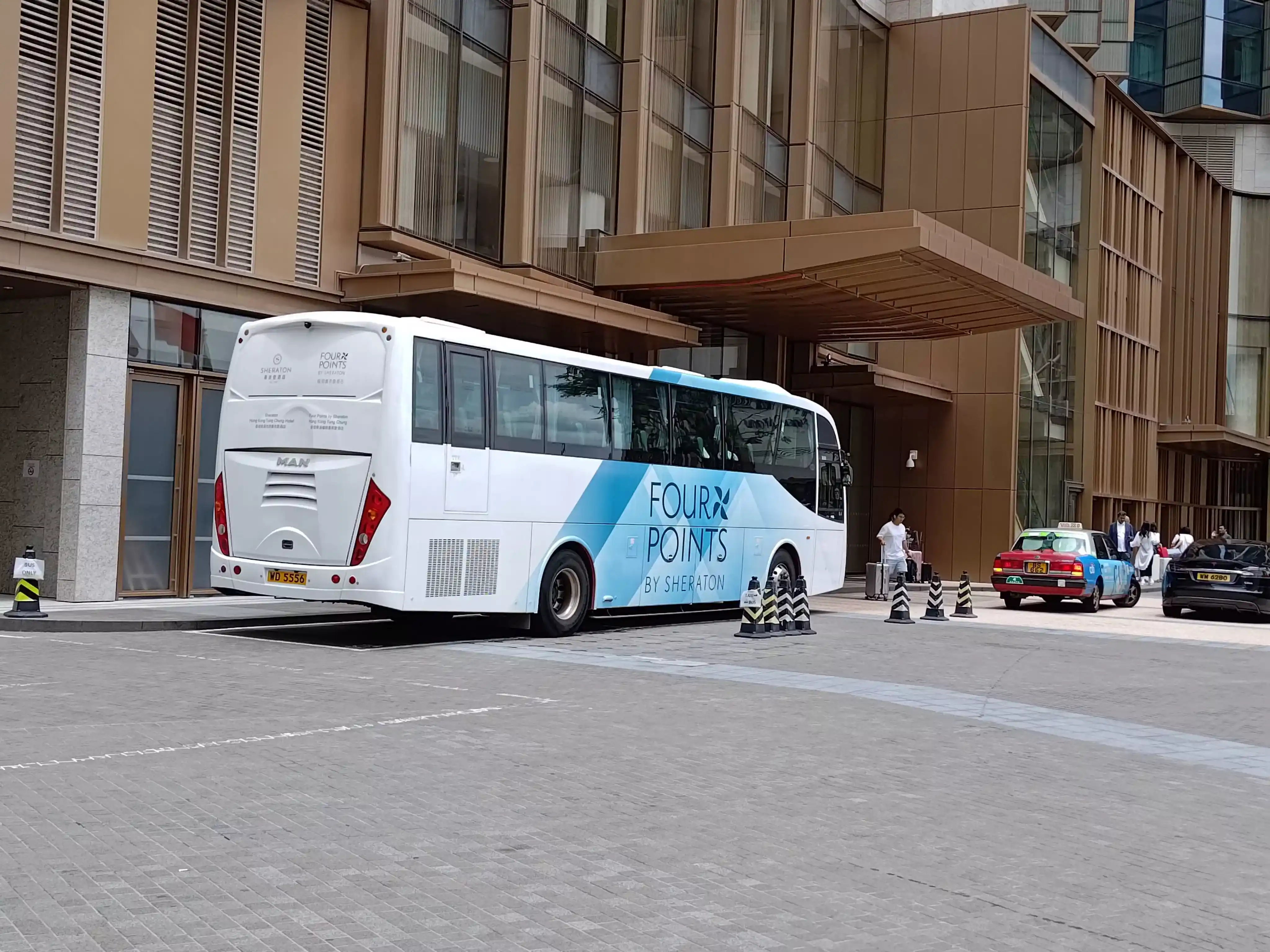 First off, there is a shuttle bus service running between Hong Kong International Airport and Four Points by Sheraton Hong Kong, Tung Chung. This shuttle bus service runs at regular intervals and is free for hotel guests. The hotel is situated near to the airport and it is convenient for those doing a layover.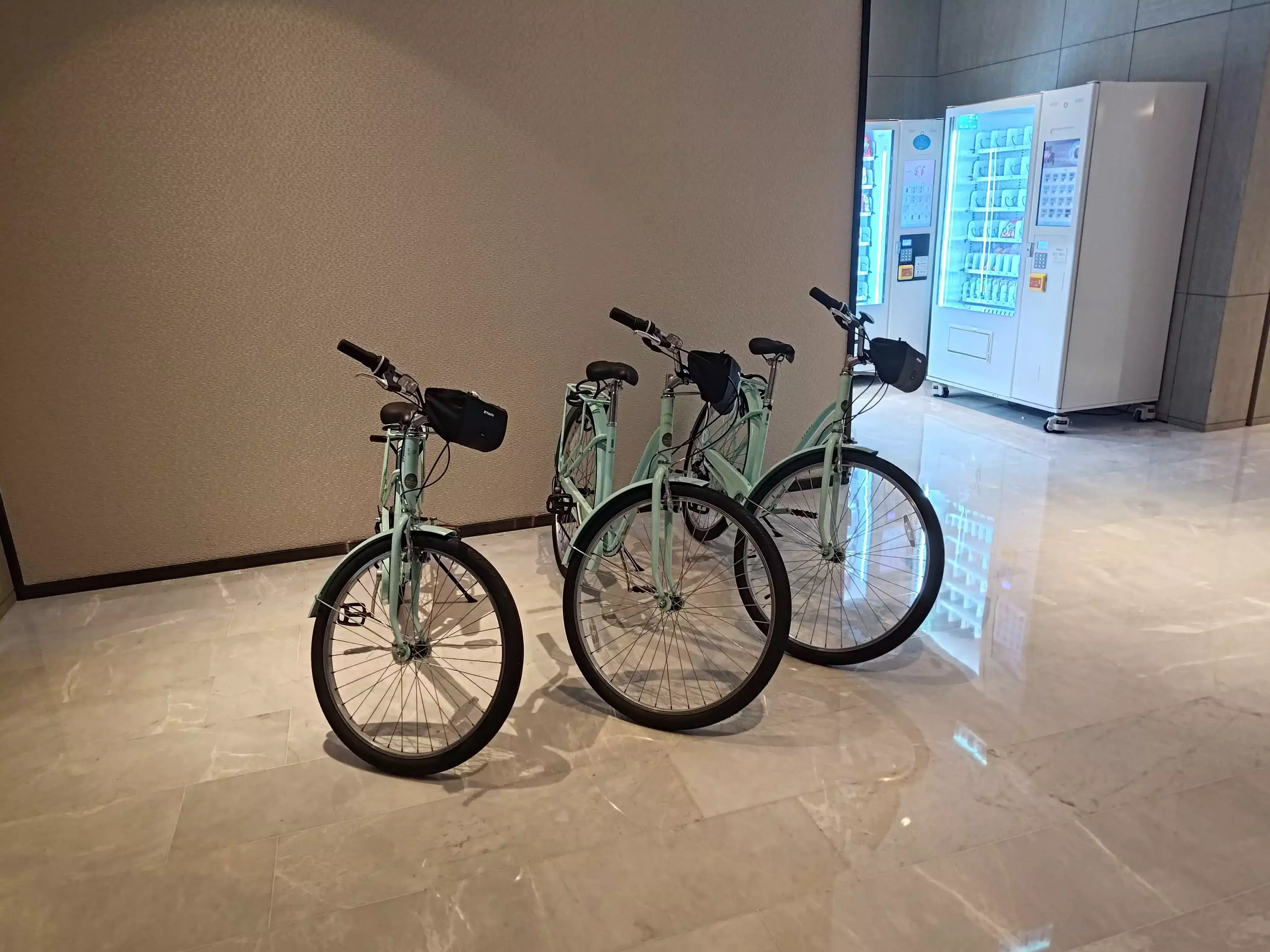 Placed near to the hotel lift lobby are some bicycles. These bicycles are available for rental to hotel guests at $60 HKD for a half-day period of around 4-5 hours. As there are cycling paths located throughout Tung Chung and Lantau Island, the bicycles are a good way to explore the surrounding areas.
Check Out, Please
Although Four Points by Sheraton Hong Kong, Tung Chung is located in a quiet corner of Tung Chung, it is still quite a comfy stay. There are some shops and eating places in the housing estate located just across the road. There is also a small mall with a handful of dining options located next to the hotel. For more shopping and food options, Citygate Mall is about a 10 mins walk away by cutting through a park. Tung Chung MTR station is about 15 mins away..

Four Points by Sheraton Hong Kong, Tung Chung is quite a nice stay for a layover, especially with the hotel shuttle bus going to and from the airport at regular intervals. However, it is a bit inconveniently located for longer stays exploring other parts of Hong Kong.

Depending on your travel requirements, Four Points by Sheraton Hong Kong, Tung Chung can be a rather decent choice.
| | | | | | | |
It costs $970.20 HKD in direct product costs to create this post, done over 1 anonymous visit for 1 night. All expenses involved in this post are fully paid for by the.fat.guide.
This stay was booked on

Agoda.
Over here at the.fat.guide, we believe that content should be free. However it takes real money to create content. The expenses incurred in creating this content should ideally be paid for by third party services like advertising and affiliate links, etc and not be borne by you, me or the featured merchant. Please help us to recover our costs involved in the creation of this content by using our affiliate links and advertisers.

If you wish to show direct support, you can buy us a meal or two.
Disclaimer. As unique individuals, we have our own personal preferences and likings. Your experiences and perspectives may vary from mine.
Four Points by Sheraton Hong Kong, Tung Chung