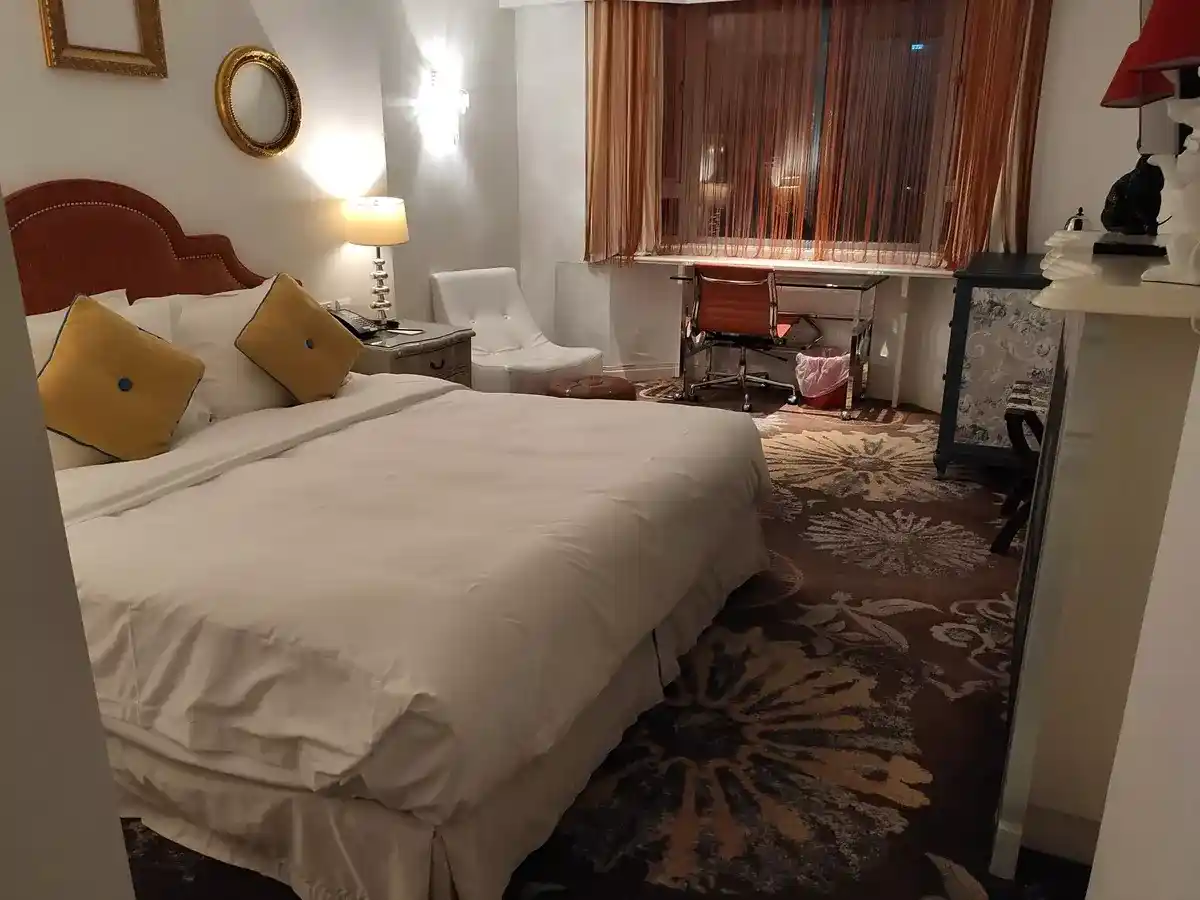 The Luxe Manor
is a boutique hotel fashioned like an European manor. It is conveniently located among the bustling Tsim Sha Tsui area.
Check-in, Please
The Luxe Manor is located on a busy side street among the bustling Tsim Sha Tsui area. It is fashioned in the likeness of a luxury European manor.
Lobby
The hotel lobby is decorated in a classic European style, with classic European sofas and chairs. The lift lobby is plastered with reflective mirrors like transported from some fantasy movie scene. In the lift, tap your room key card and your floor is automatically selected.
Studio Room
The Luxe Manor uses classic looking doors for their hotel rooms.
Behind the door, it opens up to their Studio Room. It is decently large in size compared to a regular hotel room in Hong Kong.

An often overlooked point to note, in-room heating is available and can be controlled in the aircon panel. This is something that is not commonly found in Hong Kong due to its mild winter weather.
A king size bed is provided in the room. A TV hangs on the wall opposite the bed.
A bedside table is located on both sides of the bed. Comes with a wall socket with both AC and USB sockets.
Next to the king bed is a lounge chair with a footrest. A writing desk with an office chair is placed by the window.
At the corner of the room is a vintage looking cabinet, and this is where the pantry is.
It comes with the usual coffee and tea bags, as well as a stocked up mini fridge.
Some liquor and snacks are available as well. Wine glasses are provided too.
Behind this pair of retro looking doors is a wardrobe and a safe box.
The bathroom is regular sized. Comes with a separate shower compartment with a rainforest shower head.
Basic bathroom amentities are provided.
The bathroom toiletries are hotel branded ones.
Facilities
At the basement is a smallish gym room. Tap your room key card to access it. The usual gym equipment is available.
Check Out, Please
If you like the busyness and bustling of the city, The Luxe Manor is conveniently located among Tsim Sha Tsui shopping area with lots of food and shopping options. Transportation is convenient as well, with Tsim Sha Tsui MTR nearby and regular buses going to-and-from the airport as well as different parts of Hong Kong.

The room is decent and rather comfy for a good night's rest. If you are going to be out most of the time, The Luxe Manor is worth considering.
It costs $617.73 HKD in direct product costs to create this post, done over 1 anonymous visit for 1 night. All expenses involved in this post are fully paid for by the.fat.guide.
This stay was booked on

Agoda.
Over here at the.fat.guide, we believe that content should be free. However it takes real money to create content. The expenses incurred in creating this content should ideally be paid for by third party services like advertising and affiliate links, etc and not be borne by you, me or the featured merchant. Please help us to recover our costs involved in the creation of this content by using our affiliate links and advertisers.

If you wish to show direct support, you can buy us a meal or two.
Disclaimer. As unique individuals, we have our own personal preferences and likings. Your experiences and perspectives may vary from mine.
| | | | | | | |