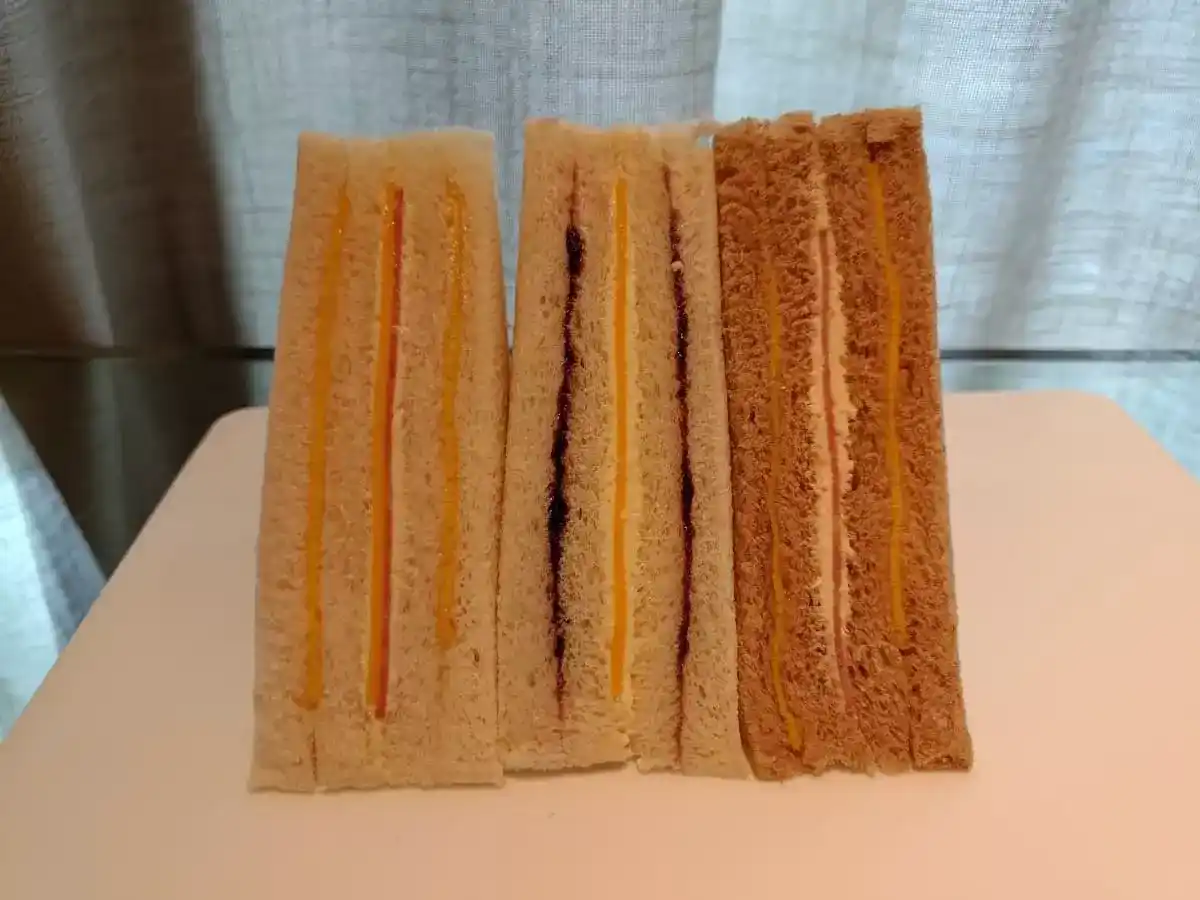 Hung Rui Chen Sandwich
is one of Taiwan's most famous sandwich stores, founded in 1947. Its sandwiches are soft and tasty.
| | | | | | | |
Sandwiches
Hung Rui Chen Sandwich is one of the most famous sandwich stores in Taiwan, founded in 1947. Its soft and tasty sandwiches are popular especially among Japanese, Koreans and HongKonger tourists who often buy them back as gifts.

There is something unique about Hung Rui Chen Sandwich that makes them different from your regular sandwiches. Several variations of their ham, cheese and jam sandwiches with classic white bread or whole wheat bread are available.
Classic Ham & Cheese Sandwich
This is their classic ham and cheese sandwich which comes with a slice of ham, a slice of cheese and a slice of thin egg omelette, all sandwiched in between 3 slices of really soft white bread. Instead of butter, a mildly sweet tasting and creamy mayonnaise is used as its spread. Its sweet taste blends really well with the savouriness of the ham and cheese. This is really good! Recommended!
Ham with Whole Wheat Sandwich
This is their ham sandwich using whole wheat bread instead of white bread. A slice of ham and a thin slice of egg omelette is sandwiched in between 3 layers of soft whole wheat bread with a creamy and mildly sweet tasting mayonnaise spread. The sweetness of the mayonnaise spread pairs really well with the savoury taste of ham. This is good too.
Blueberry Jam & Cheese Sandwich
The blueberry jam and cheese sandwich replaces the slice of ham with blueberry jam. The blueberry jam has a mild note of sweetness and contains some tony blueberry bits. The same mildly sweet tasting mayonnaise is used as a spread with a slice of cheese, giving this sandwich a bit of creaminess. Its sweetness and savouriness of the cheese blends well. I like this too.
It costs $123.00 TWD in direct product costs to create this post, done over 1 anonymous visit. All expenses involved in this post are fully paid for by the.fat.guide.
Over here at the.fat.guide, we believe that content should be free. However it takes real money to create content. The expenses incurred in creating this content should ideally be paid for by third party services like advertising and affiliate links, etc and not be borne by you, me or the featured merchant. Please help us to recover our costs involved in the creation of this content by using our affiliate links and advertisers.

If you wish to show direct support, you can buy us a meal or two.
Disclaimer. As unique individuals, we have our own personal preferences and likings. Your experiences and perspectives may vary from mine.
| | | | | | | |
LOCATIONS
Hung Rui Chen Sandwich