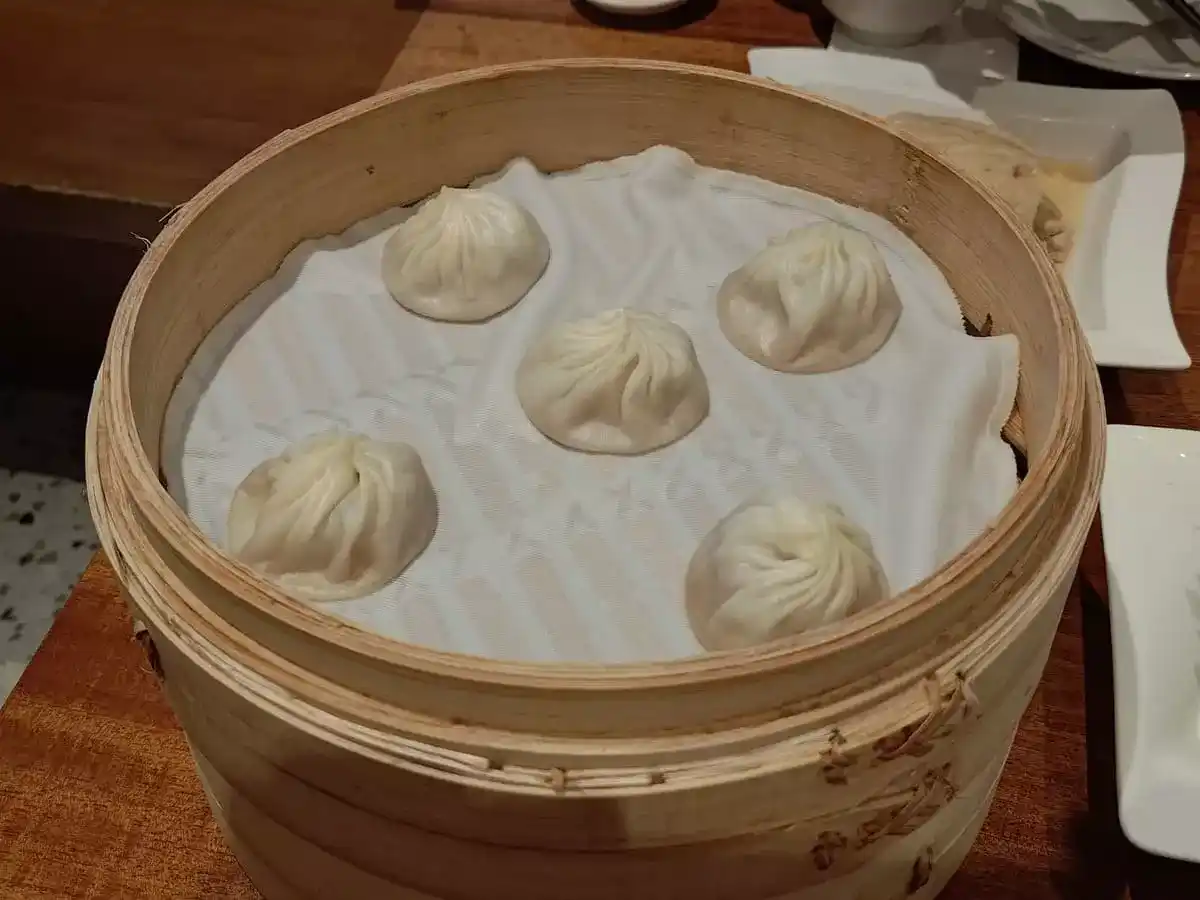 Din Tai Fung
is world renown for their xiao long bao with thin delicate skin and juicy filling. Other dishes are good too! Very likeable.
| | | | | | | |
Pork Xiao Long Bao
This is the traditional xiao long bao that made Din Tai Fung famous. It comes with a juicy and flavourful pork filling wrapped in a thin delicate skin. It is so juicy that it literally bursts in your mouth. It is good!
Green Squash and Shrimp Xiao Long Bao
This xiao long bao is a variation of their traditional pork filling ones, using Taiwanese green squash and shrimp as filling. It has the same thin and delicate skin, and its filling has a light crunchiness and freshness to it. Its juice filling literally explodes in your mouth too. Nice.
Red Bean Xiao Long Bao
This is a sweet tasting xiao long bao that uses red bean paste as its filling, and is usually served as a dessert. The red bean paste has a mildly sweet taste and its skin is slightly chewy. This one is just decent.
House Special
The house special is a cold appetiser dish the contains bean sprouts, glass noodles, seaweed strips and dried bean curd. It has a nice crunch and tastes refreshing. Definitely a nice way to start off a good meal!
Sauteed String Beans with Minced Pork
The string beans are sauteed with dried shrimps, chilli and minced pork. It is flavourful with a slightly savoury, slightly spicy, and a nice note of fragrance. It is nice.
Shaohsing Wine Marinated Chicken
This cold dish uses bonesless chicken thigh marinated with a blend of seasoning sauce and shaohsing wine. The chicken has tender meat and smooth skin. It is flavourful with a nice hint of shaohsing wine. It is good!
House Steamed Chicken Soup
This soup is one of Din Tai Fung's signature dishes. It uses free-range black feather chicken that is steamed for 2 hours resulting in soft and flavourful chicken meat. The clear golden soup is flavourful with a herbal note. Nutritious and nice!
Vermicelli with Bean Curd Puff and Pork Roll
This flavourful bowl of soup comes with bean curd puff and pork roll with glass noodles. The glass noodles is really smooth and soft, yet springy. The bean curd puff is soft by soaking up the goodness of the broth and tastes nice. The pork roll has nice meaty flavours. This is good too. I like it!
It costs $1562.00 TWD in direct product costs to create this post, done over 1 anonymous visit. All expenses involved in this post are fully paid for by the.fat.guide.
Over here at the.fat.guide, we believe that content should be free. However it takes real money to create content. The expenses incurred in creating this content should ideally be paid for by third party services like advertising and affiliate links, etc and not be borne by you, me or the featured merchant. Please help us to recover our costs involved in the creation of this content by using our affiliate links and advertisers.

If you wish to show direct support, you can buy us a meal or two.
Disclaimer. As unique individuals, we have our own personal preferences and likings. Your experiences and perspectives may vary from mine.
| | | | | | | |
No. 194, Sec. 2
Xinyi Road
Np. 277, Sec. 2
Xinyi Road