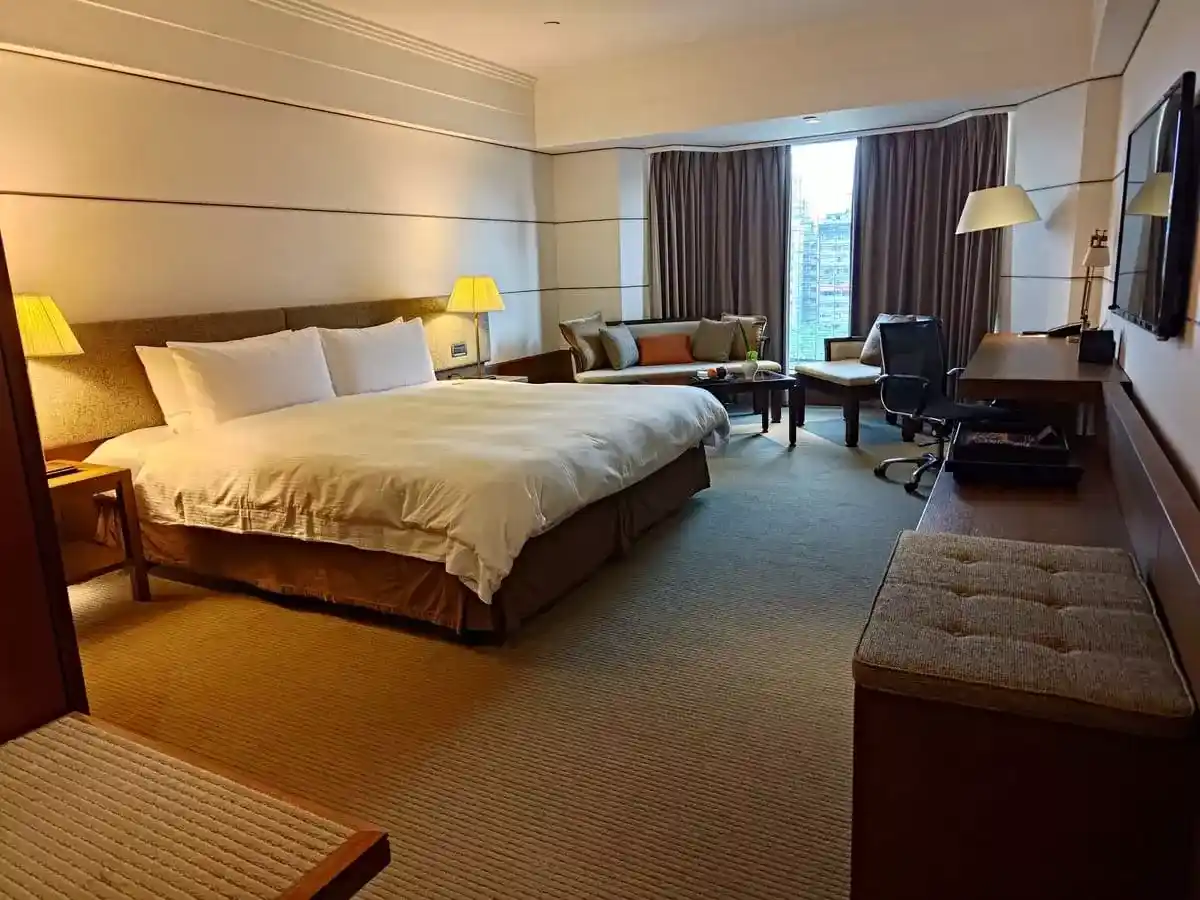 Regent Taipei
is a 5 star hotel located in the shopping district of Zhongshan. It is within walking distance to Zhongshan Station. Enjoyable.
| | | | | | | |
Check-in, Please
Regent Taipei is located a short walk away from Zhongshan Station. Its main entrance is on a elevated driveway, giving an impression that the hotel is located on elevated ground. Behind the hotel doors is a huge spacious lobby with front desks on both sides of the lobby.

There is also a side entrance at the street level leading into the hotel's mall area, where you can take a lift to the hotel lobby area.
Lobby
Head further in after the front desk area, is a seating area with sofas and chairs.
Beyond the seating area is where the lift lobby is. There is a row of lifts on both sides. No room key card to tap for gaining access too, as traditional keys are used.
Deluxe King Room
Step behind the front door and there are two inner room doors. One leads to the bathroom, and the other leads to the bedroom. This room is spacious!
A king size bed with bedside tables on each side sits in the middle of the bedroom. The usual power and USB sockets are available above the bedside tables. A TV hangs on the wall across from the bed.
Along the wall next to the king bed is a 4-door wardrobe. Inside are the usual bathrobes, safe box, etc.
By the window is a sofa set with a coffee table. Pull open the curtains and you can see greenery from a nearby park and Taipei 101 in the distance. Nice view!
There is a long writing desk along the wall next to the sofa with the necessary power, USB and network sockets.
Besides the bedroom door is a pantry stocked with the usual bottled water, tea bags, etc. There is also a well stocked mini fridge but not complimentary though.
The bathroom comes with a bathtub and separate compartments for shower and toilet.
The washbasin area is stocked with the usual bathroom amenities.
There is a bathtub and separate compartments for shower and toilet. The toilet uses Japanese style bidet.
As far as I can tell, the bathroom toiletries provided comes from the hotel's spa – Wellspring Spa.
Facilities
There are several facilities in Regent Taipei,
On B3F is a health club and sauna. Inside is a gym room, a fitness corner and sauna facilities. During my time of visit, there is some fitness class ongoing in the fitness corner, and there are people using the sauna rooms. Due to privacy reasons, only the gym area is shown. It contains the usual gym equipment.
Located on 20F is the entrance to Wellspring Spa.
There is a staircase on 20F heading up to 21F rooftop swimming pool. There are tables and chairs and lounging chairs around the pool. It has a scenic view of the surroundings too.
Check Out, Please
Regent Taipei has large spacious rooms with nice views of the neighbourhood, including Taipei 101 in the background. The hotel has facilities befitting a true 5 star hotel.

Regent Taipei is located in the neighbourhood of Zhongshan District where there are lots of shopping and dining options. It is a short walk away from Zhongshan Station, which is linked by an underground mall to Taipei Main Station. From Taipei Main Station, there is a MRT line going to Taoyuan International Airport. It is convenient!

It had been an enjoyable stay for me at Regent Taipei. I like it!
| | | | | | | |
It costs $5825.00 TWD in direct product costs to create this post, done over 1 anonymous visit for 1 night. All expenses involved in this post are fully paid for by the.fat.guide.
This stay was booked on Trip.com.
Over here at the.fat.guide, we believe that content should be free. However it takes real money to create content. The expenses incurred in creating this content should ideally be paid for by third party services like advertising and affiliate links, etc and not be borne by you, me or the featured merchant. Please help us to recover our costs involved in the creation of this content by using our affiliate links and advertisers.

If you wish to show direct support, you can buy us a meal or two.
Disclaimer. As unique individuals, we have our own personal preferences and likings. Your experiences and perspectives may vary from mine.