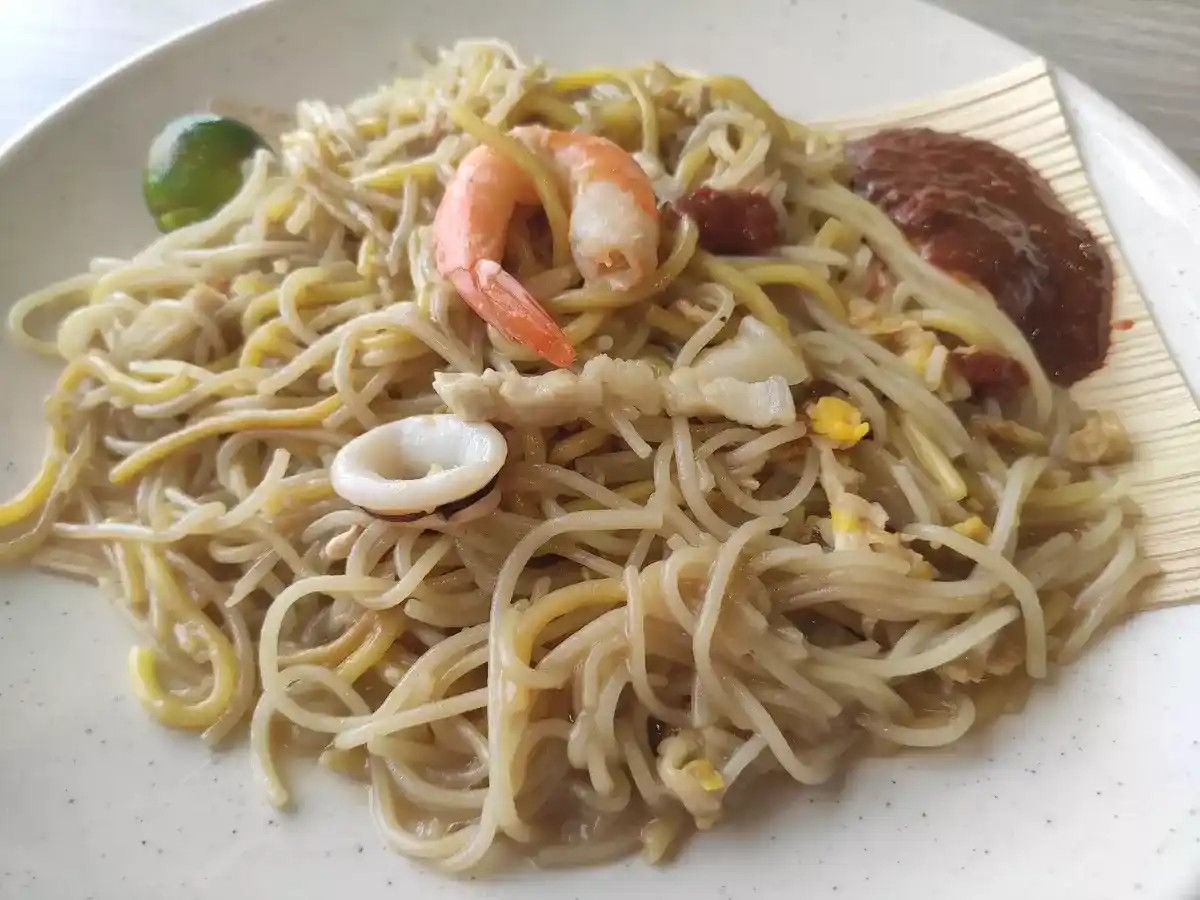 Changi Village Fried Hokkien Mee
is famous for their fried Hokkien mee. However it is just average tasting and overrated. They have several outlets located throughout Singapore.
Fried Hokkien Mee
The unique thing about Changi Village Fried Hokkien Mee is that they serve their fried Hokkien mee on a piece of opeh leaf (from betel nut palm leaf stalk).

This fried Hokkien mee has a larger portion of mee hoon used in their mee hoon and yellow noodles mixture, resulting in a taste that is skewered more towards mee hoon. It is more on the wetter side with the fried mee hoon mee still wet with the stock gravy used. It comes with prawn, sotong and slices of fatty pork belly. The sambal chilli paste has a slight sweet taste and matches well with the fried Hokkien mee.

Everything looks good, but the taste is just average. There are definitely better tasting fried Hokkien mee around.
It costs $5.00 SGD in direct product costs to create this post, done over 1 anonymous visit. All expenses involved in this post are fully paid for by the.fat.guide.
Over here at the.fat.guide, we believe that content should be free. However it takes real money to create content. The expenses incurred in creating this content should ideally be paid for by third party services like advertising and affiliate links, etc and not be borne by you, me or the featured merchant. Please help us to recover our costs involved in the creation of this content by using our affiliate links and advertisers.

If you wish to show direct support, you can buy us a meal or two.
Disclaimer. As unique individuals, we have our own personal preferences and likings. Your experiences and perspectives may vary from mine.
| | | | | | | |