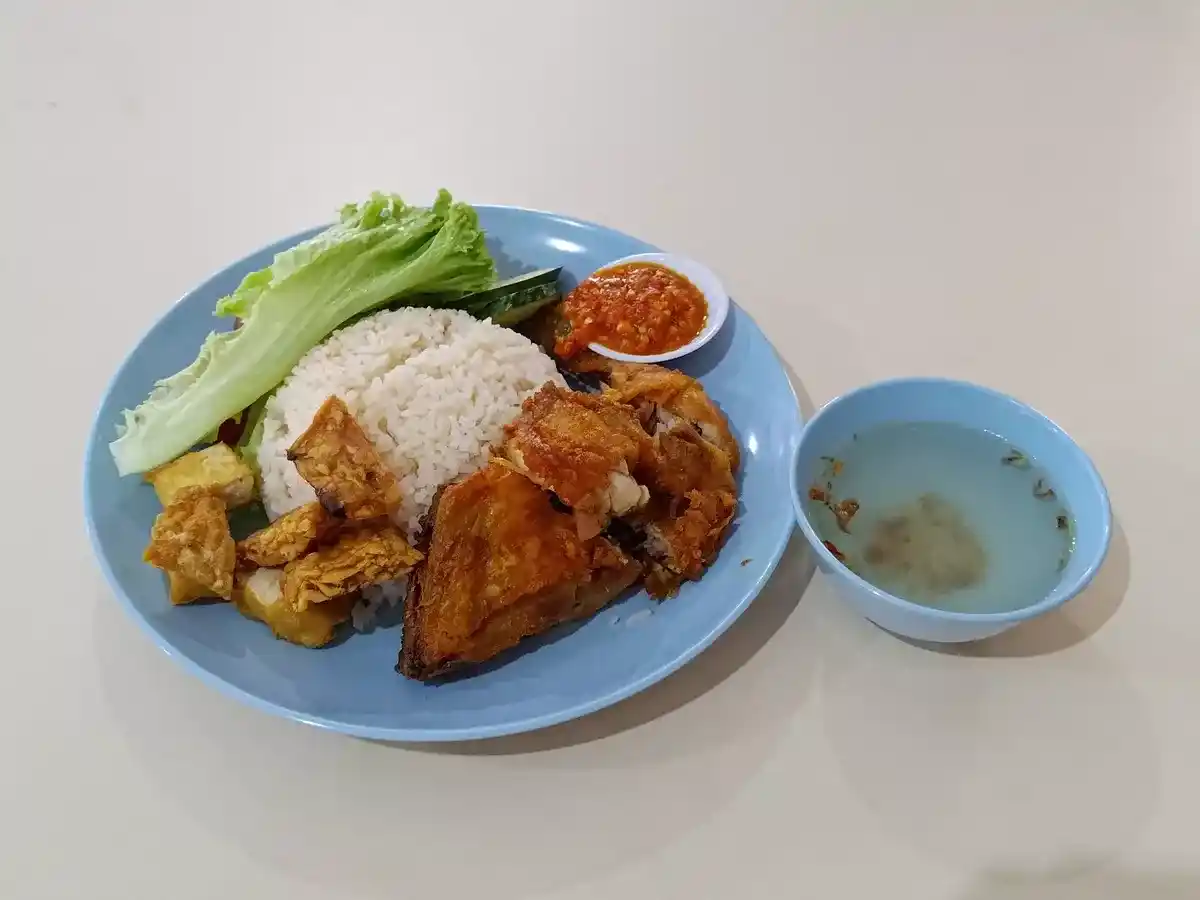 ChickaBoom
serves a range of ayam penyet options, accompanied by a variety of sauces and chilli. Likeable and enjoyable.
Nasi Ayam Penyet
ChickaBoom serves a range of ayam penyet options, accompanied by a variety of sauces and chilli. Shown above is their nasi ayam penyet, which is served with a dose of sambal chilli.

This nasi ayam penyet is served with a delectable mix of fried tofu, fried tempeh and a fried chicken drumstick. Some lettuce, cucumber, cherry tomatoes and a small dish of sambal chilli are provided on the sides of the plate alongside with a serving of rice. Accompanying the plate of nasi ayam penyet is a small bowl of soup.

The nasi ayam penyet has a generous serving of rice that is well cooked, with a firm texture and a fragrant flavourful taste. The soup that comes alongside the dish is nicely seasoned, with just the right balance of saltiness. The tofu is mild and savory, with a layer of chewy fried skin. Then there is the tempeh, it is firm and crispy.

The main dish here is the fried chicken drumstick. Moist and meaty, with a flavorful skin that unfortunately is no longer crispy. It is still a delight to savour though. The accompanying sambal chilli is fresh and spicy. You can literally taste of freshness of the chillis used. The chilli complements the fried chicken really well.

This serving of nasi ayam penyet has likeable flavours. It would have been even better if the fried chicken is crispy, but it is still a rather satisfying and enjoyable meal.
It costs $6.30 SGD in direct product costs to create this post, done over 1 anonymous visit. All expenses involved in this post are fully paid for by the.fat.guide.
Over here at the.fat.guide, we believe that content should be free. However it takes real money to create content. The expenses incurred in creating this content should ideally be paid for by third party services like advertising and affiliate links, etc and not be borne by you, me or the featured merchant. Please help us to recover our costs involved in the creation of this content by using our affiliate links and advertisers.

If you wish to show direct support, you can buy us a meal or two.
Disclaimer. As unique individuals, we have our own personal preferences and likings. Your experiences and perspectives may vary from mine.
| | | | | | | |