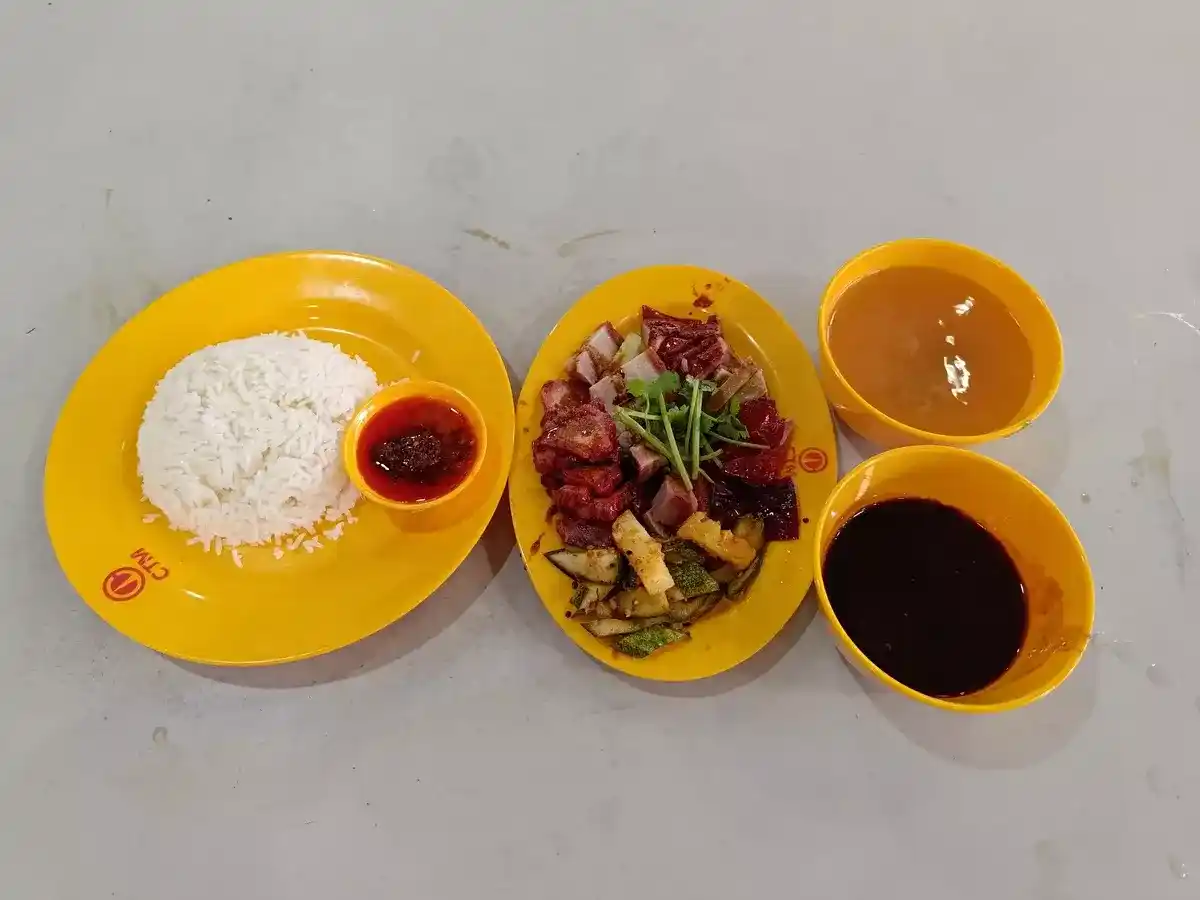 Ho Bee Roasted Food
is a popular siu mei stall selling the usual roasted meats. Popular probably due to lack of competition rather than tasty food. Tastes decent though.
Char Siew, Siu Mei, Roast Duck
Ho Bee Roasted Food is a popular stall selling the usual siu mei roasted meats. Above is their meal with char siew, siu yuk and roast duck served with a plate of plain white rice, a bowl of soup and a couple of dipping sauces.

The char siew is the lean meat type. It is soft and meaty with a sweet taste. The siu yuk is savoury tasting with soft meaty meat and a crispy skin. As for the roast duck, it is moist and meaty with fat juicy skin. All 3 choices of meats are rather decent.

Served on the sides: a plate of firm textured plain rice, a vegetable flavoured soup with a hint of dang gui, a braised sauce is slightly sweet taste and a dried shrimp flavoured chilli sauce.

This stall is popular probably due to lack of competition rather than tasty food, though it is still a rather decent tasting meal.

Also worth noting, they seem to have a strange way of doing business. I had wanted to add extra roast sausages to my meal but they refused my extra add-on request, saying that only 3 choices of meats is allowed. For 4 choices of meats, I have to pay $16.00 which is almost double the price of my 3 meats meal. It is weird, as buying an extra plate of roast sausage rice costs just $3.50 more. It is no biggie to me, as they are the ones losing out on some extra business. Just be aware of this.
It costs $8.50 SGD in direct product costs to create this post, done over 1 anonymous visit. All expenses involved in this post are fully paid for by the.fat.guide.
Over here at the.fat.guide, we believe that content should be free. However it takes real money to create content. The expenses incurred in creating this content should ideally be paid for by third party services like advertising and affiliate links, etc and not be borne by you, me or the featured merchant. Please help us to recover our costs involved in the creation of this content by using our affiliate links and advertisers.

If you wish to show direct support, you can buy us a meal or two.
Disclaimer. As unique individuals, we have our own personal preferences and likings. Your experiences and perspectives may vary from mine.
| | | | | | | |
LOCATION
Ho Bee Roasted Food