Skirt & Dirt
is a gourmet burger stall with a small selection of burgers and sides. Some are pretty unusual.
| | | | | | | |
Burgers
At the time of writing, the menu of burgers is still evolving. There are three four burgers available, in which one changes every month as burger of the month.
Cheese Skirt Beef Burger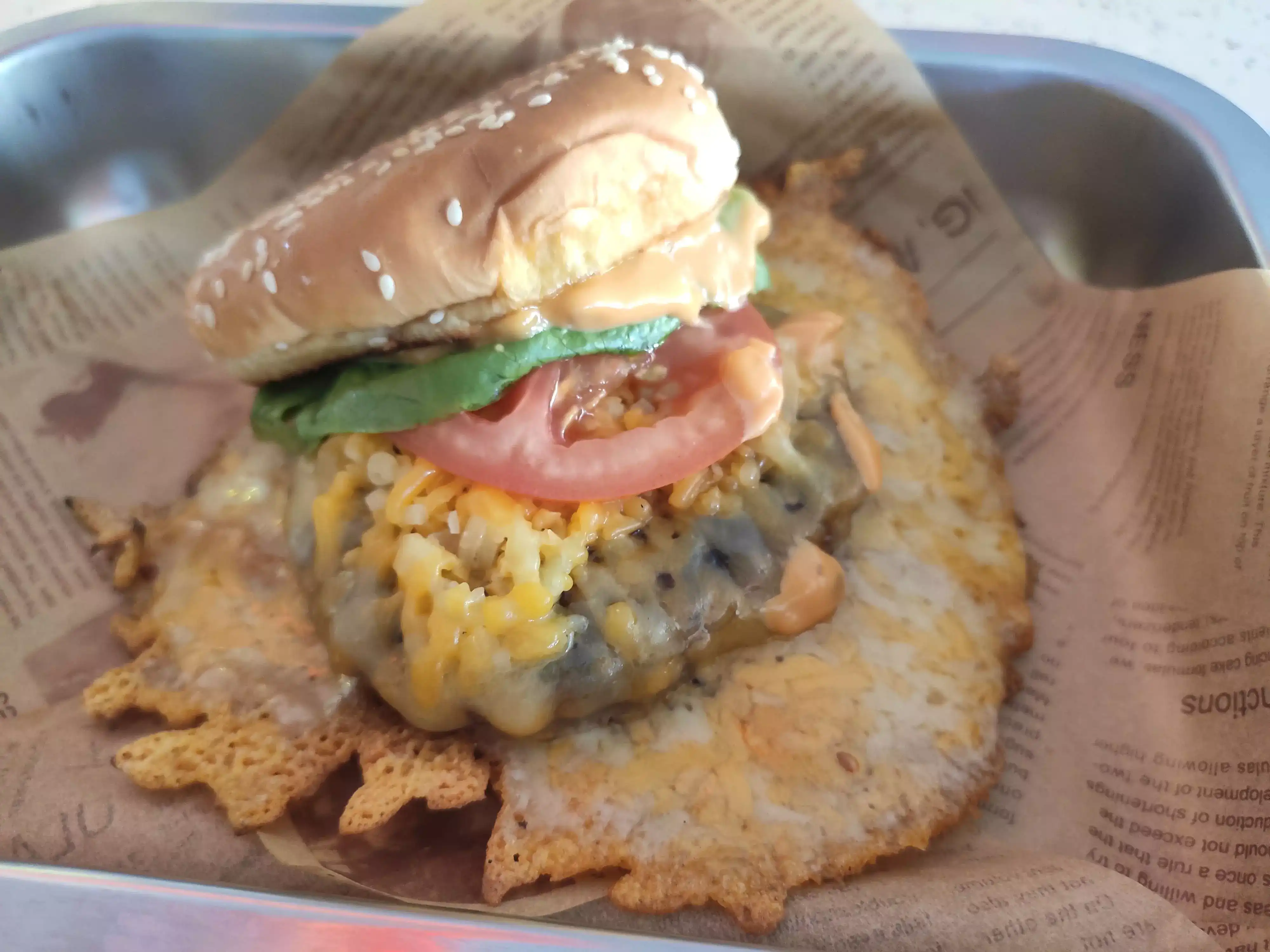 Cheese Skirt Beef Burger is something unique. Their signature burger has a juicy beef patty with a piece of crispy cheddar cheese crust skirting around it. A piece of lettuce, a slice of tomato and tangy thousand island sauce tops it off. You get the textures of juicy meat with crispy cheese and soft bun all in one, and tastes really good.

This is so good that I had the dudes at Skirt & Dirt customise a supreme edition of this burger for me, which comes with an extra slice of American cheese and bacon. The additional flavours of savoury bacon and cheese brings this up yet another level. This is way too good. Highly recommended.

When you go for this sinfully delicious Cheese Skirt Beef Burger Supreme Edition, tell them you've read about this first at the.fat.guide.
Big Bad Wolf's Pork Burger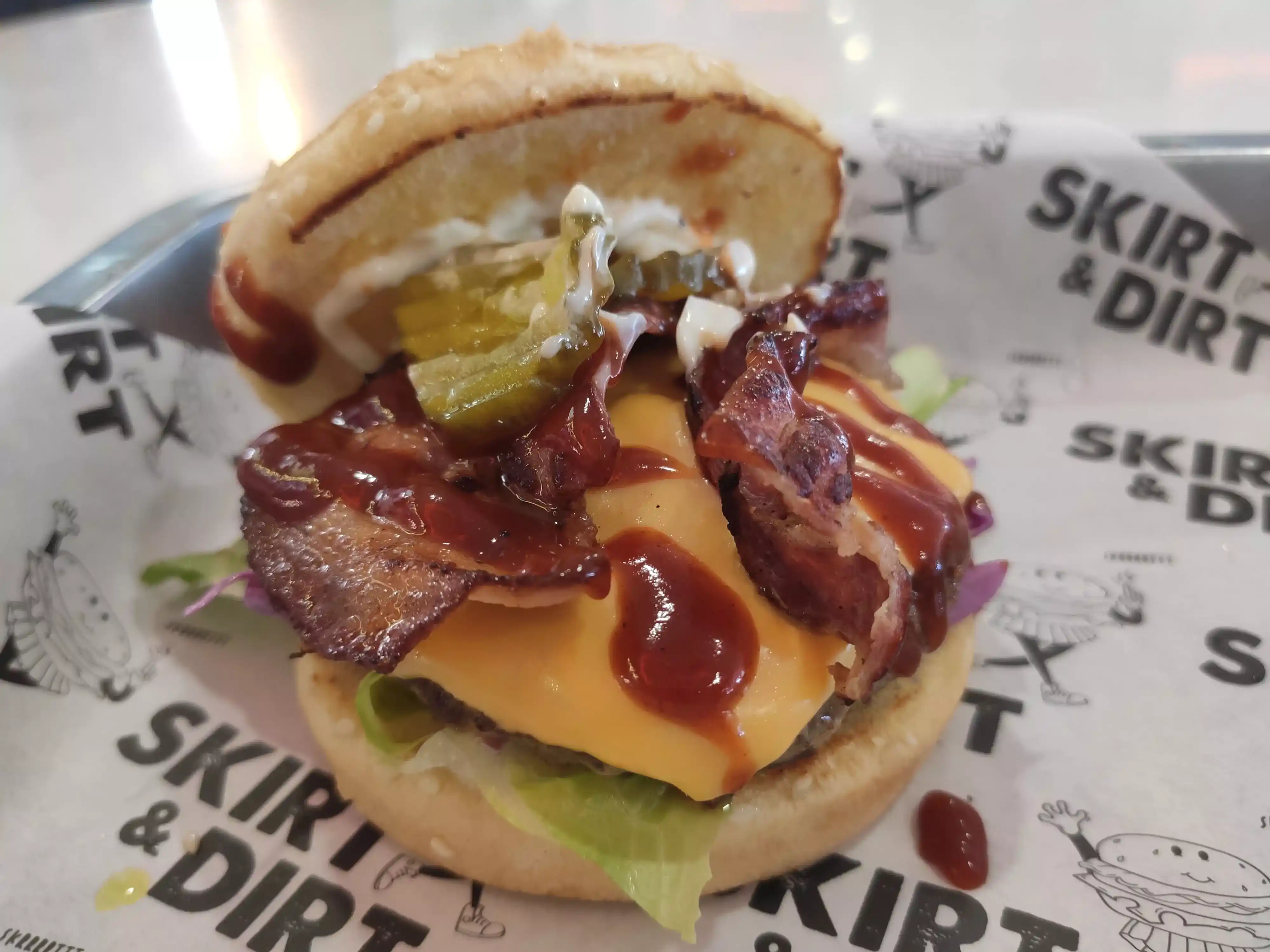 Beware little pigs, this is Big Bad Wolf's Pork Burger made using your flesh. This burger uses a pork loin sausage patty with dill pickles, lemon slaw, bacon strips, american cheese and BBQ sauce sandwiched in between of a toasted bun. It is tasty and juicy with savoury flavours and a tint of sweetness from the BBQ sauce. It is a bit on the salty side for my palate but still enjoyable.
Pork Schnitzel Sandwich
The Pork Schnitzel Sandwich comes with a piece of crispy pork cutlet, a slice of American cheese, rockets and a slice of tomato. It is topped with a sundried tomatoes aioli and balsamic glaze. The pork cutlet on its own tastes a bit bland and the meat could use a bit more tenderness. However when eaten together with the glaze, its flavours get better in a hurry. It is likeable but can be further improved on.
Cheesy Chicken Katsu Burger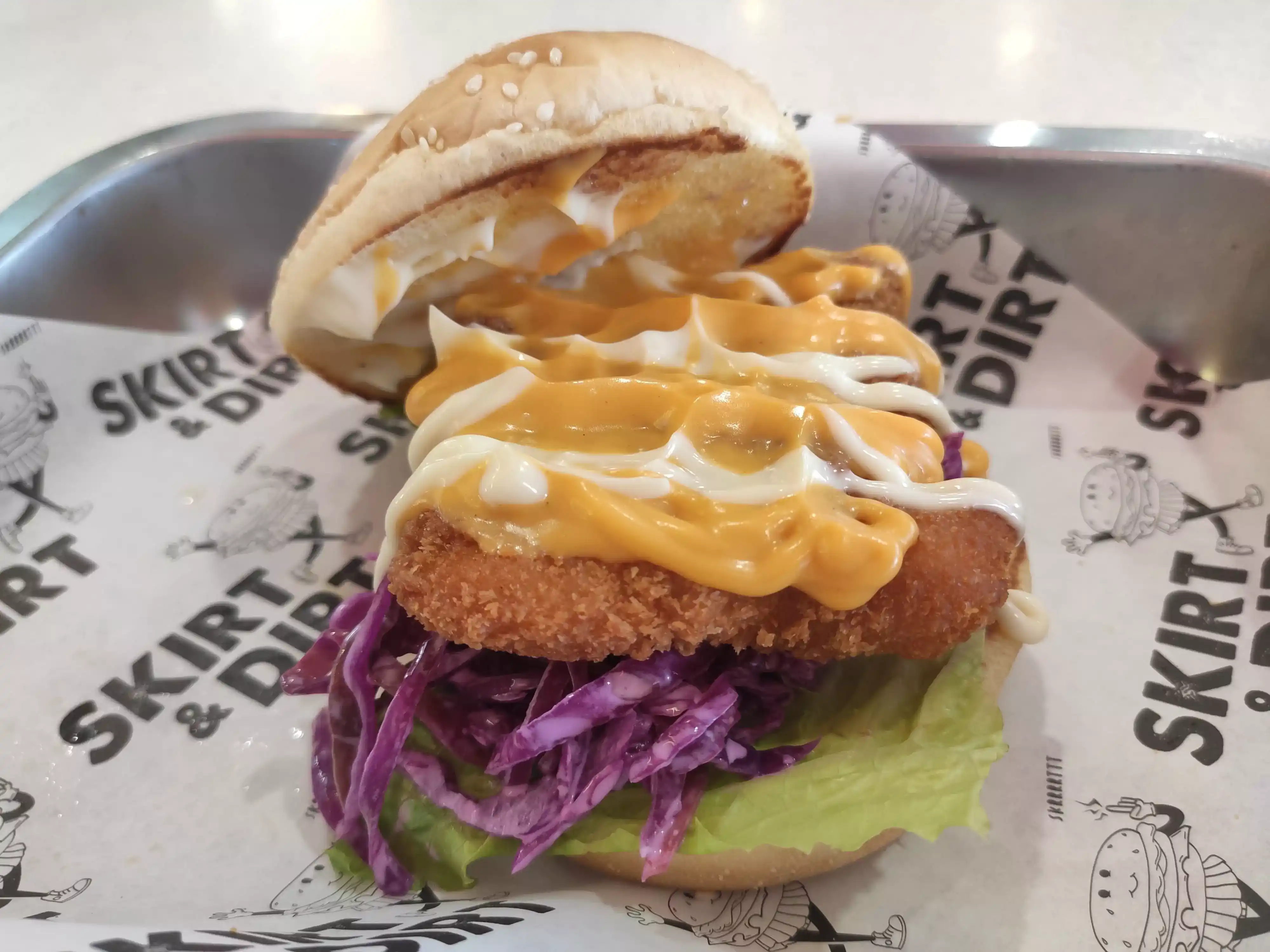 Cheesy Chicken Katsu Burger uses a piece of crispy and juicy breaded chicken patty with lettuce, lemon slaw, cheddar cheese sauce and japanese mayo sandwiched in between a toasted bun. Although it tastes kind of like a fast food chicken burger but it is more like a good fast food burger. Quite nice.
Hawaiian Chicken Burger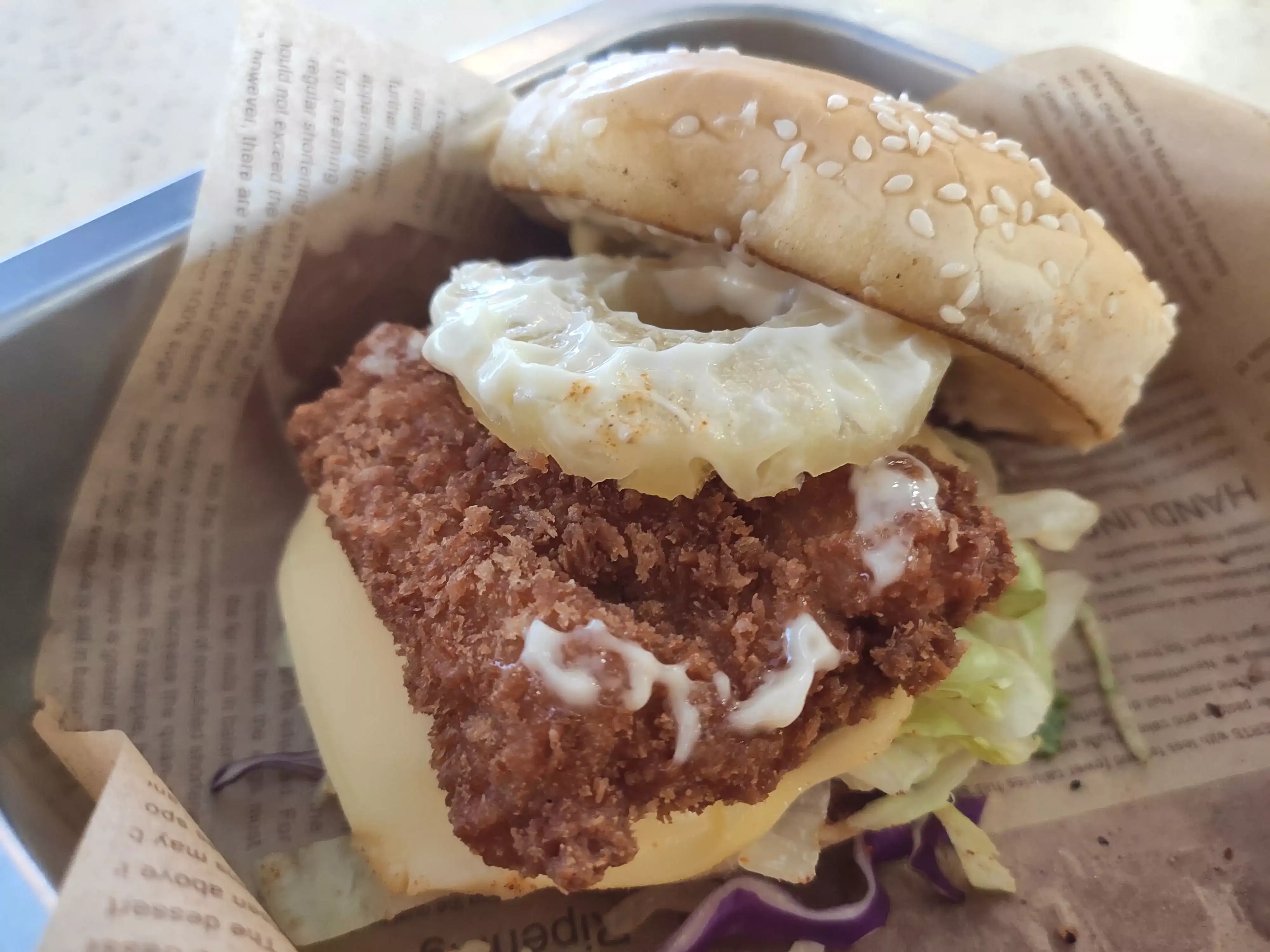 Hawaiian Chicken Burger is a burger of the month. The breaded chicken is crispy and juicy, with a slight spiciness to it. The burger comes with a piece of cheese and a slice of pineapple. It is nice, but tastes kind of ordinary like a fast food joint burger.
Fish Crisp with Tropica Salsa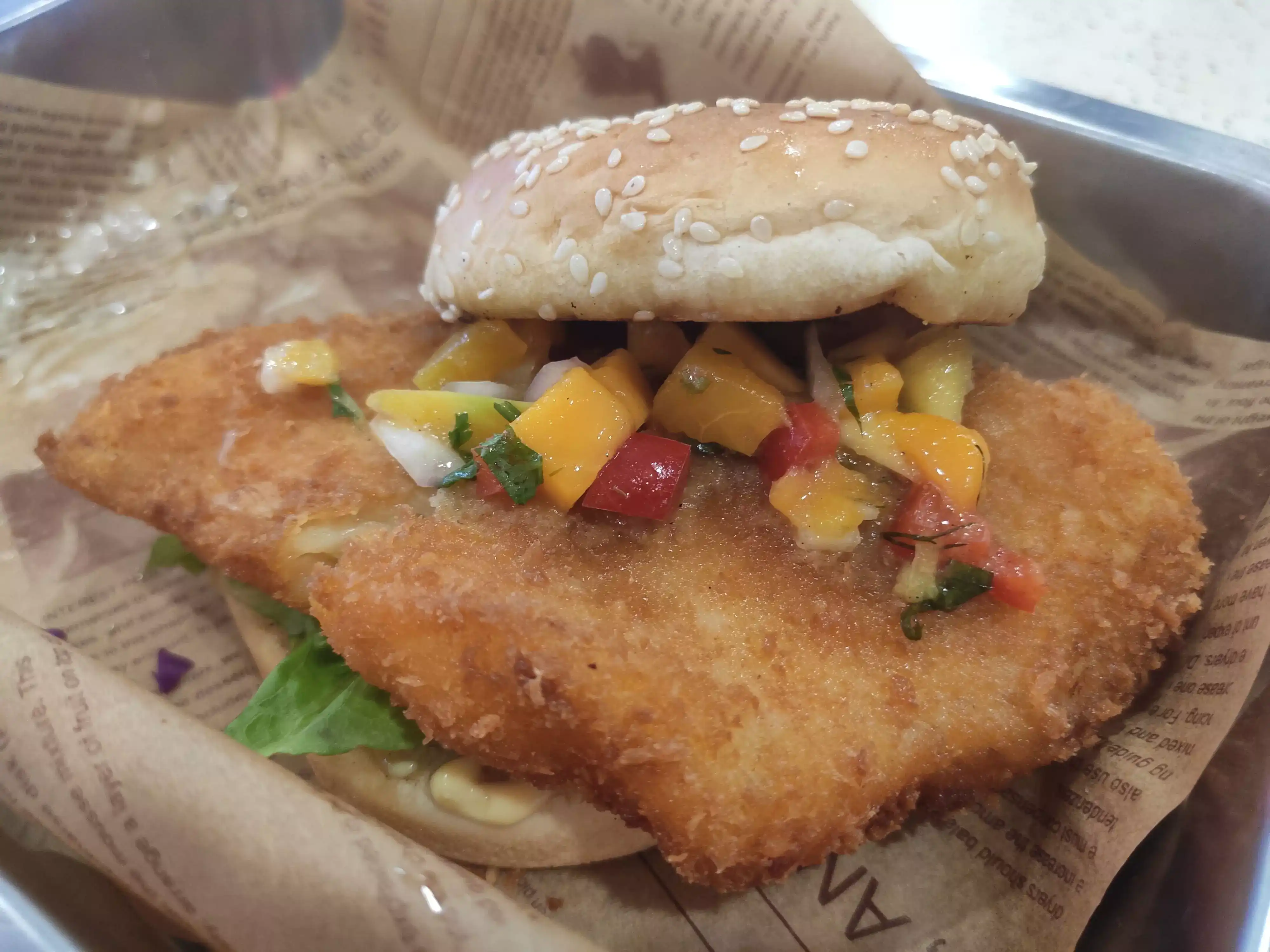 Fish Crisp with Tropica Salsa uses a breaded dory fish crisp that is crispy outside with juicy fish meat inside. It is topped with a piece of lettuce, tropical salsa and Japanese mayonnaise. It is nice.
Duck Confit Burger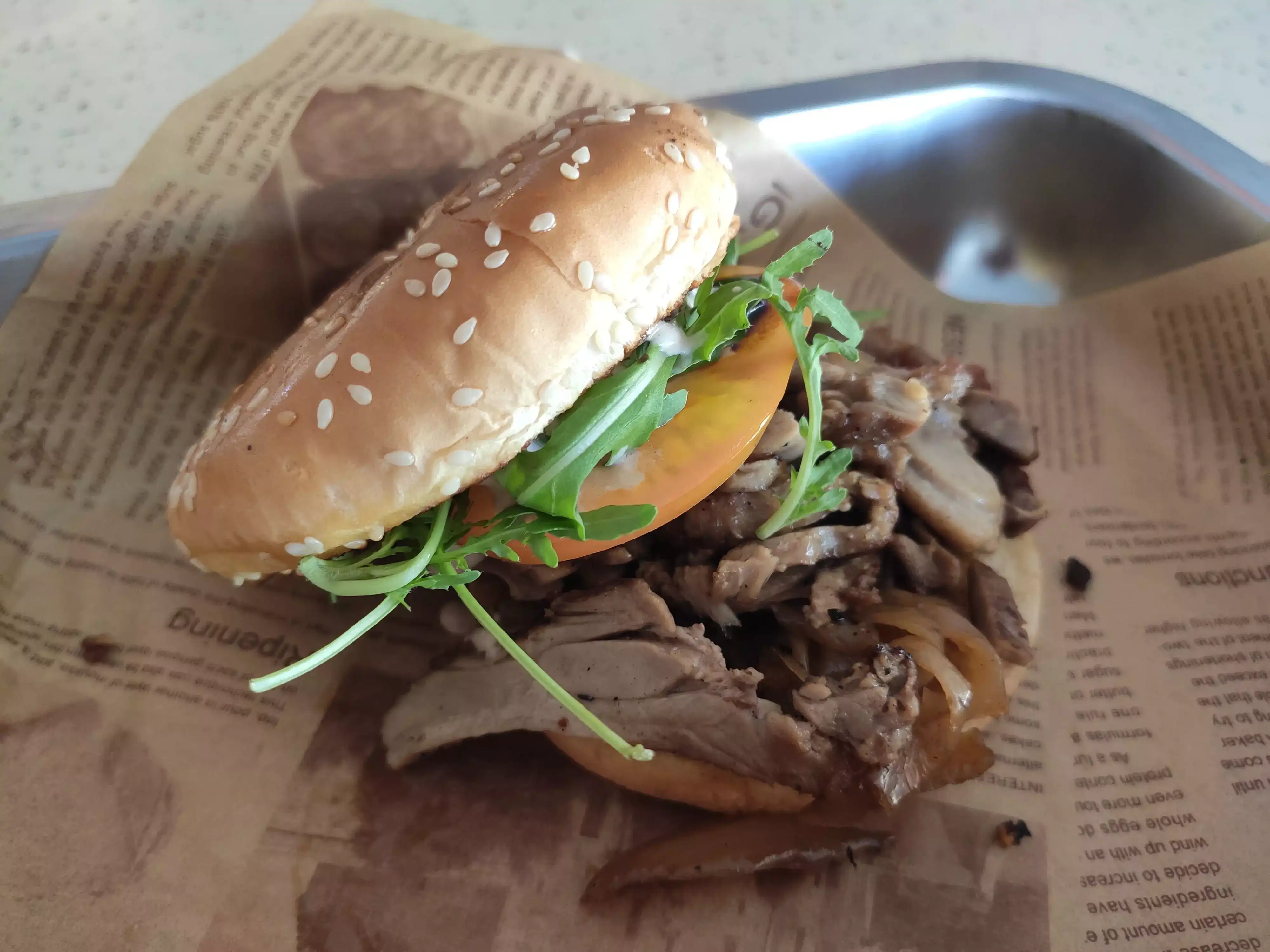 Duck Confit Burger is yet another unusual burger. Slices of duck meat are pan fried until crispy. Sandwiched between the buns with tomato, vegetables and truffle mayonnaise. However it is kind of oily and dry. Tastes alright though.
Dirt Fries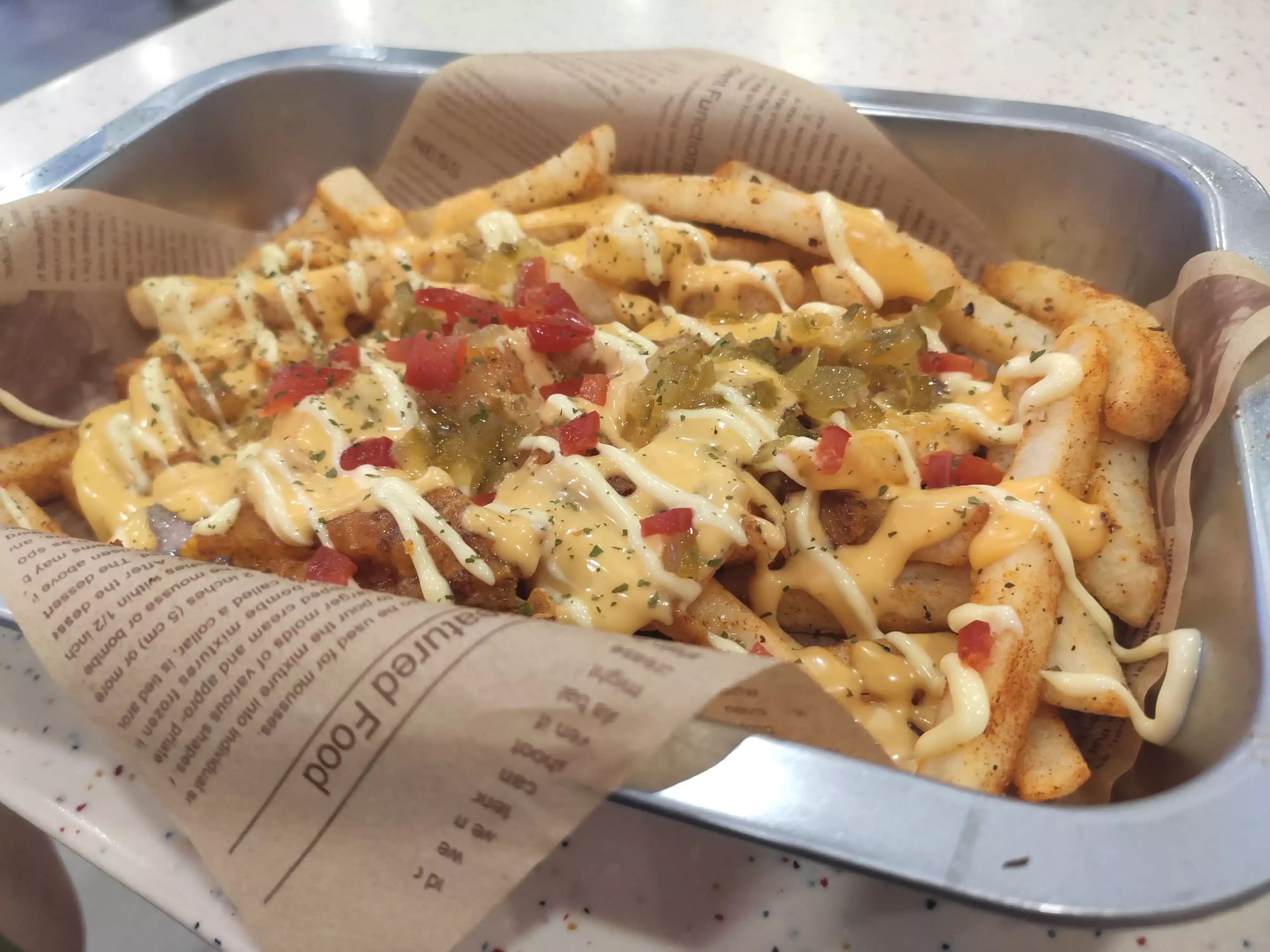 Dirt Fries is another of their signatures. These fries comes with a dash of black pepper and salt, bits of pickled relish and capsicum, topped with some mayonnaise and cheese sauce. It gets interesting when you start digging in. You'll find pieces of crispy cheese, and bacon hidden in the fries. It is nice but some of the fries are soft. It will be a lot nicer if the bacon is crispy and the fries crispier.
Cajun Fries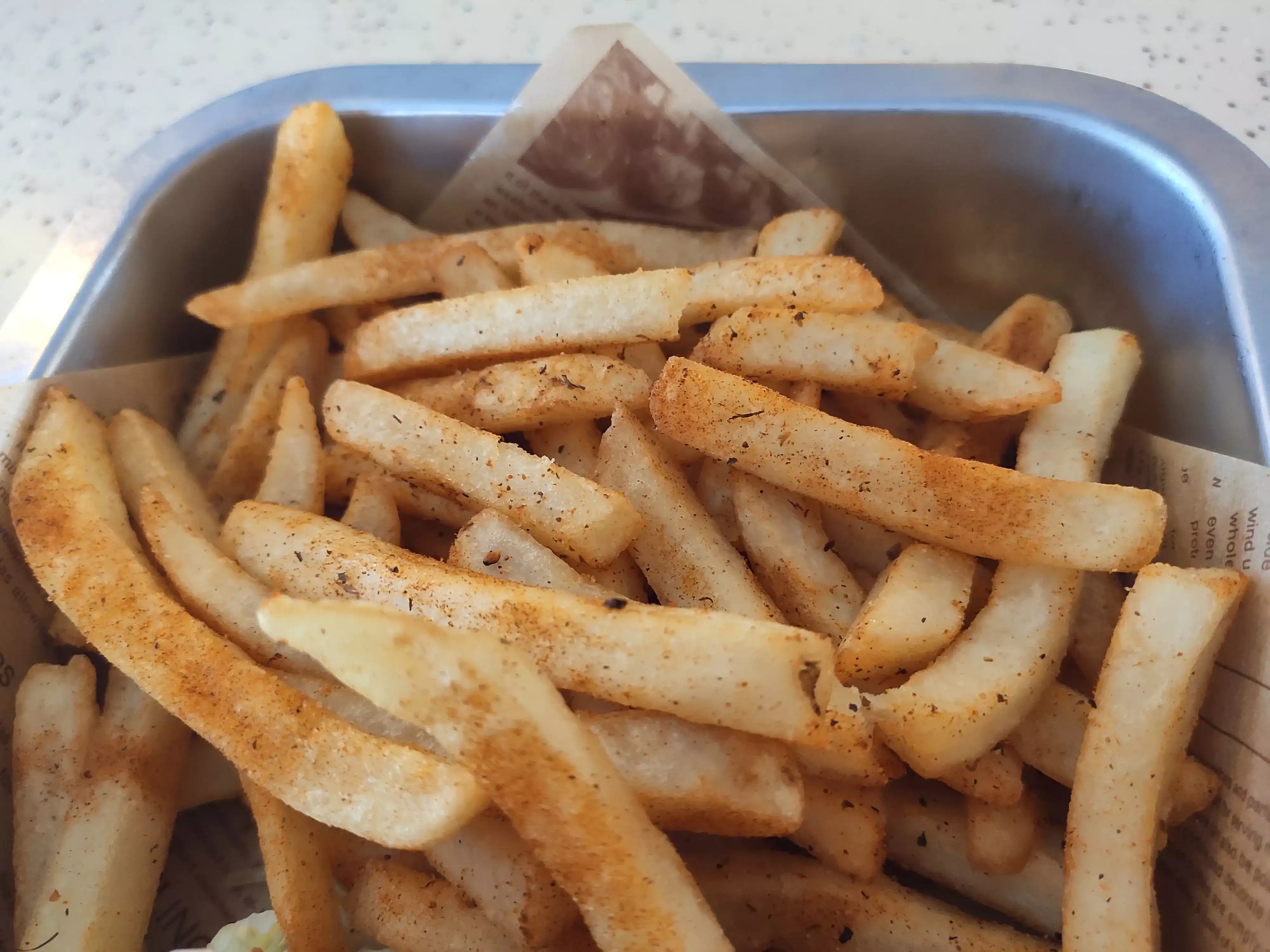 Cajun Fries are their french fries with added cajun seasoning. Flavours are decent, but some of the fries are soft. It will be much nicer with crispy fries.
Corn Soup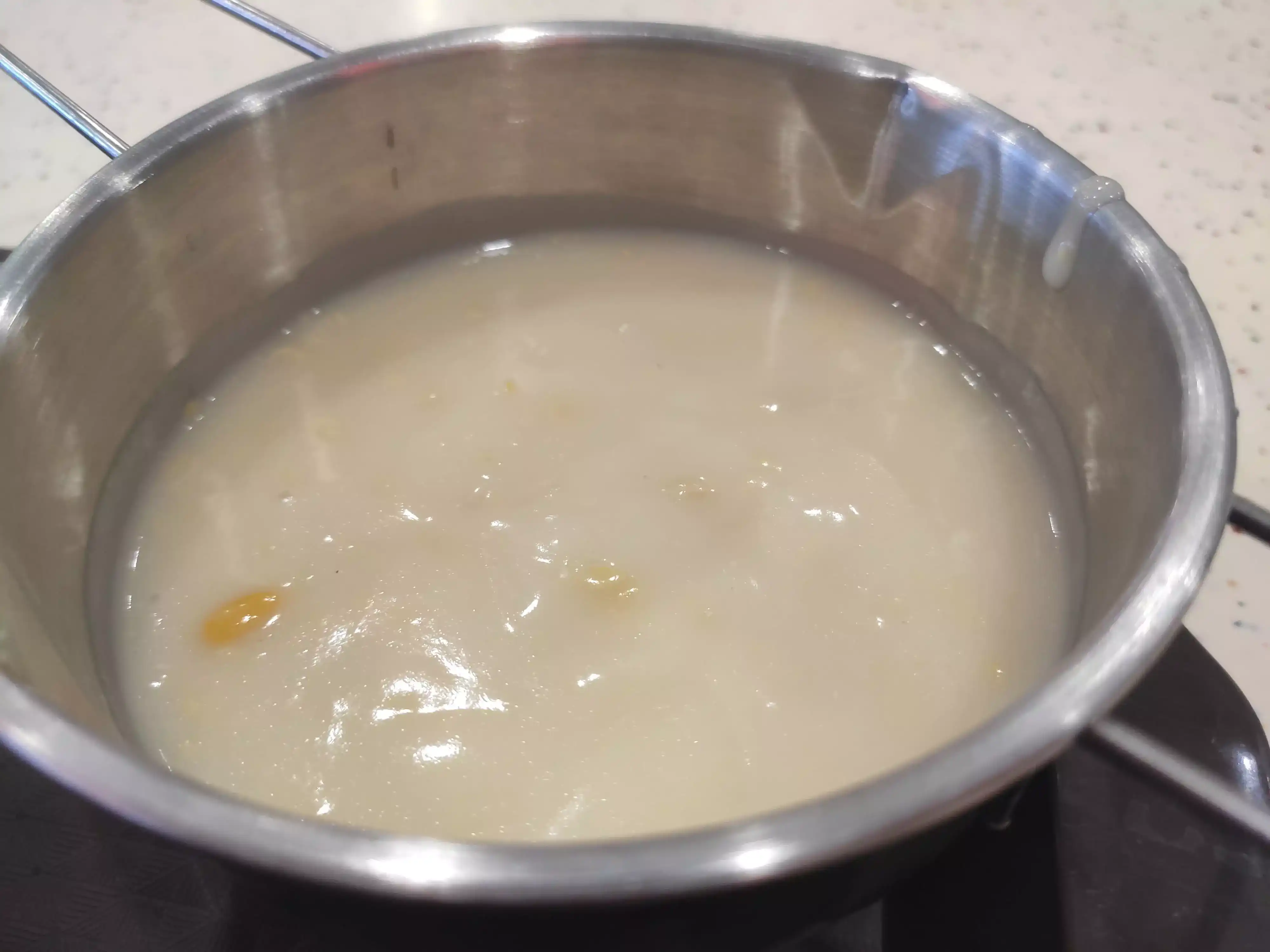 Soup of the day rotates among a few different soup flavours. Shown here is sweet corn cream soup.
Garden Salad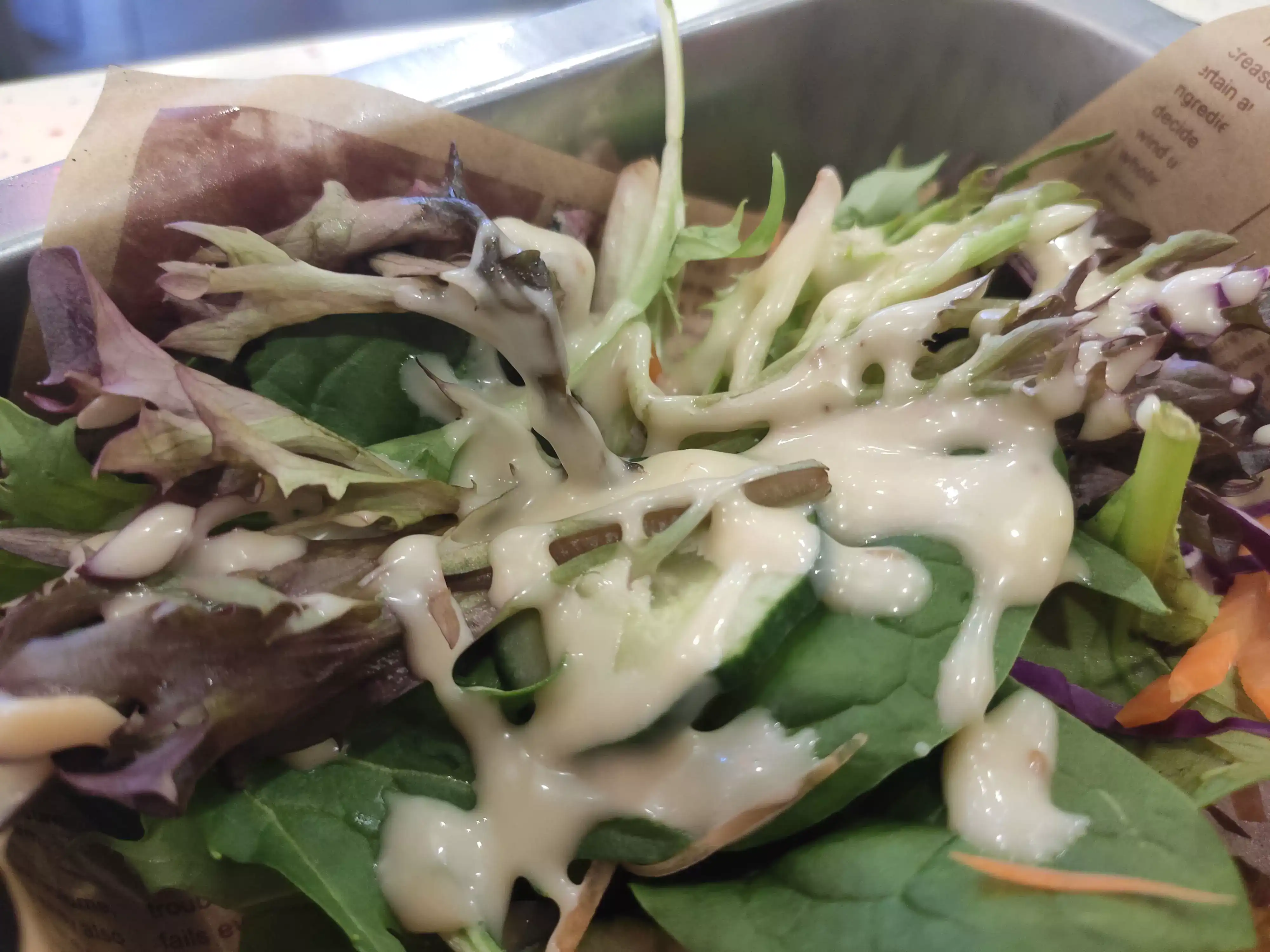 Garden salad comes with several salad dressings on rotation. As shown here is with miso dressing, which is nice.
It costs $68.40 SGD in direct product costs to create this post, done over 8 anonymous visits. All expenses involved in this post are fully paid for by the.fat.guide.
Over here at the.fat.guide, we believe that content should be free. However it takes real money to create content. The expenses incurred in creating this content should ideally be paid for by third party services like advertising and affiliate links, etc and not be borne by you, me or the featured merchant. Please help us to recover our costs involved in the creation of this content by using our affiliate links and advertisers.

If you wish to show direct support, you can buy us a meal or two.
Disclaimer. As unique individuals, we have our own personal preferences and likings. Your experiences and perspectives may vary from mine.
| | | | | | | |