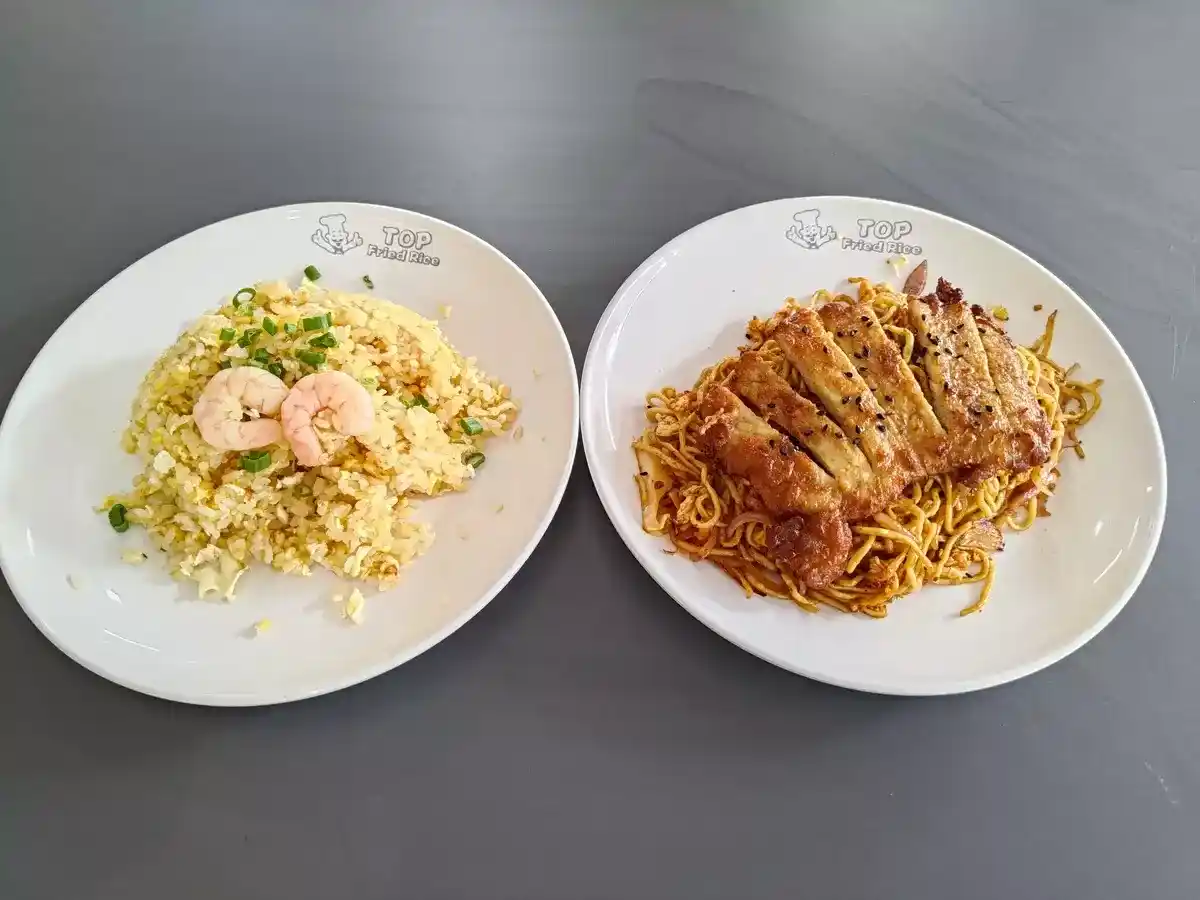 TOP Fried Rice
dishes out fried rice in different flavours and meat options. Fried ramen and udon is available too. Nice wok hei.
Egg Fried Rice
TOP Fried Rice dishes out fried rice in original, chilli, tom yum and mala flavours with add-on options for pork chop, shrimps, beef balls and yakitori.

The egg fried rice has a nice dry texture, wok fried with slivers of eggs and some chopped spring onions. The fried rice is savoury tasting and has nice wok hei. The pork chop has very nice marinated flavours. It is soft, tender, juicy and very flavourful. It is served topped with some black sesame seeeds. As for the egg fried rice with shrimps, the shrimps are of decent size, tastes fairly fresh and has a nice springiness.

They are both good and very likeable.
Chilli Fried Rice
The chilli fried rice above is paired with beef balls. The fried rice has a nice fragrant scent and is spicy. There is also a light note of dried shrimp flavours. It has the same firm and dry texture as the egg fried rice and is nice. The beef balls are deep fried with a mild crisp outside, moist and meaty inside. It has a savory taste and is rather ordinary. I would recommend choosing their pork chop or shrimps instead.
Tom Yum Fried Rice
The tom yum fried rice above is paired with takitori. The fried rice a nice fragrant scent and has a nice firm texture. It tastes savory with a mild note of tom yum. As for the yakitori, it is deep fried instead of grilled. The chicken meat is moist and tender, and has a light crisp outside. It has a savoury taste and a faint tint of sweet. Personally I prefer their pork chop or shrimps over their yakitori.
Mala Fried Rice
The mala fried rice has a very fragrant mala scent. The fried rice has a nice dry texture, is flavourful with tastes of mala. The pork chop is tender and meaty with nice seasoning flavours with a tint of sweet. Nice.
Mala Fried Ramen
Just like their fried rice, the fried ramen comes with choice of original, mala or tom yum flavours and add-on options with pork chop, shrimps, beef balls and yakitori. Above is their mala fried ramen with pork chop.

Similar to the mala fried rice, the mala fried ramen has a nice mala scent and flavours. It is wok fried with some vegetables, onions and egg. The ramen is fairly firm and springy with a nice dry texture and is rather likeable. As for the pork chop, it is soft and meaty with nice flavourings. The pork chop is good.

Fried Udon
The fried udon comes with the same choice of pork chop, shrimps, beef balls and yakitori. Above is with shrimps chosen.

The udon comes with some shredded cabbage, vegetables and onions wok fried with egg. It is springy with nice savoury flavours and tints of wok hei. The prawns tastes fairly fresh and is springy. The fried udon is good too.
It costs $41.90 SGD in direct product costs to create this post, done over 5 anonymous visits. All expenses involved in this post are fully paid for by the.fat.guide.
Over here at the.fat.guide, we believe that content should be free. However it takes real money to create content. The expenses incurred in creating this content should ideally be paid for by third party services like advertising and affiliate links, etc and not be borne by you, me or the featured merchant. Please help us to recover our costs involved in the creation of this content by using our affiliate links and advertisers.

If you wish to show direct support, you can buy us a meal or two.
Disclaimer. As unique individuals, we have our own personal preferences and likings. Your experiences and perspectives may vary from mine.
| | | | | | | |
#01-37
Ayer Rajah Food Centre