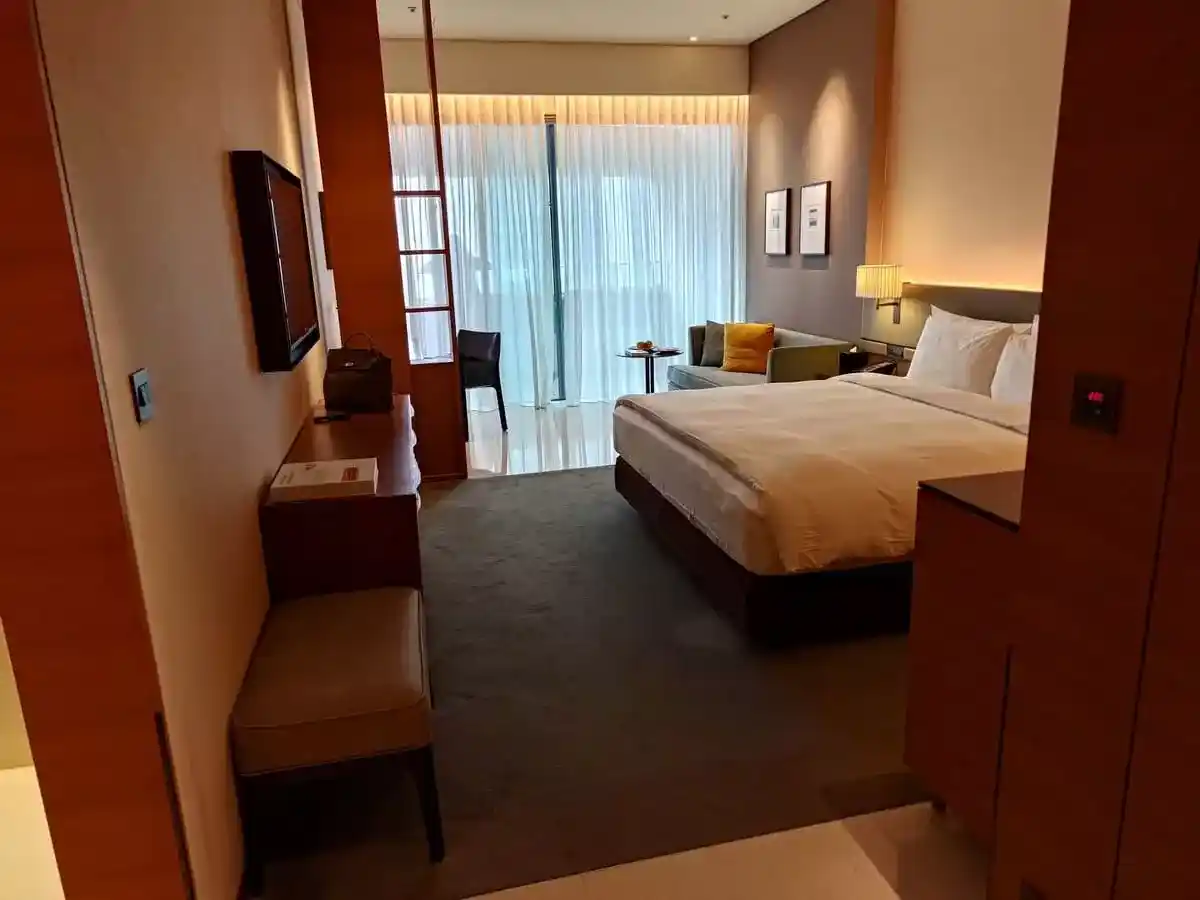 Eslite Hotel
is a boutique hotel located in Songshan Culture and Creative Park overlooking Taipei 101 with lots of books and artworks. A delightful stay.
| | | | | | | |
Check-in, Please
Eslite Hotel is a boutique hotel by Eslite Bookstore, known for promoting and advancing the arts and culture scene through their stores. Eslite Hotel is no different, it is located in Songshan Culture and Creative Park itself with an extrance leading directly into the park.
Lobby
Once you step through the doors, you are greeted by a lobby space with lots of seats and shelves of books. There are literally thousands of books available for browsing.
There are pieces of artwork located throughout the hotel lobby.
Front desk is located on the side of the hotel lobby.
Opposite the front desk is a row of lifts leading up to the guest rooms.
Tap your room key card to access the floor your room is located on.
When the lift door opens at your room's floor, there are more art pieces gracing its walls. On the side are a couple of armchairs. There is also a table filled with magazines and newspapers for your reading pleasure.
Studio King Room
The Studio King Room is rather spacious, with a sofa set and even a balcony!
Tug at the curtains and they electronically sweeps aside, letting you access the balcony. The balcony overlooks Songshan Cultural and Creative Park. You can see Xinyi District with Taipei 101 in the background on one side, and Taipei Arena on another side. The view is fantastic!
There are books and magazines placed throughout the room.
Across the sofa, next to the balcony, is a writing desk with a stationery box. As far as I can tell, there are no electrical and USB sockets at the desk. It is probably about embracing the analogue world of reading and about enjoying the present moment.
A king size bed is provided with a beside table on each side of the bed. There are no electrical and USB sockets by the bedside either. An analogue clock sits on one of the bedside tables.
A coffee machine is provided in room with coffee pods. Taiwanese oolong tea and black tea are provided as well. Comes with the usual mugs and kettle.
Wine glasses and some snacks are provided as well. A mini fridge too.
The bathroom comes with a bathtub and separate cubicles for shower and toilet.
The toilet bowl is a japanese style high tech one that automatically lifts its lid when you get close to it. There is even a control panel on the wall, controlling the various functions of the toilet bowl.
A full set of bathroom amenities are provided, including a Dyson hair dryer.
Toiletries provided are from Aveda.
Opposite the bathroom is a closet that is so large that you can literally step inside. A safe box is located inside as well.
Facilities
Located on the 3rd floor of the hotel is a gym with floor to ceiling windows. There are threadmills, weights, etc available. It is open 24 hours.
Check Out, Please
Eslite Hotel is not exactly located near a MRT station but it is within walking distance from both Taipei City Hall Station and Sun Yat-Sen Memorial Hall Station.

Eslite Hotel is located right next to Songshan Cultural and Creative Park with a shopping mall within the hotel building. There are restaurants and cafes, a food court, shops as well as an Eslite Spectrum bookstore in the mall. It is rather convienient to get food and some shopping done.

I love the serene vibes here, and it had been a really delightful stay
| | | | | | | |
It costs $8105.00 TWD in direct product costs to create this post, done over 1 anonymous visit for 1 night. All expenses involved in this post are fully paid for by the.fat.guide.
This stay was booked on Trip.com.
Over here at the.fat.guide, we believe that content should be free. However it takes real money to create content. The expenses incurred in creating this content should ideally be paid for by third party services like advertising and affiliate links, etc and not be borne by you, me or the featured merchant. Please help us to recover our costs involved in the creation of this content by using our affiliate links and advertisers.

If you wish to show direct support, you can buy us a meal or two.
Disclaimer. As unique individuals, we have our own personal preferences and likings. Your experiences and perspectives may vary from mine.