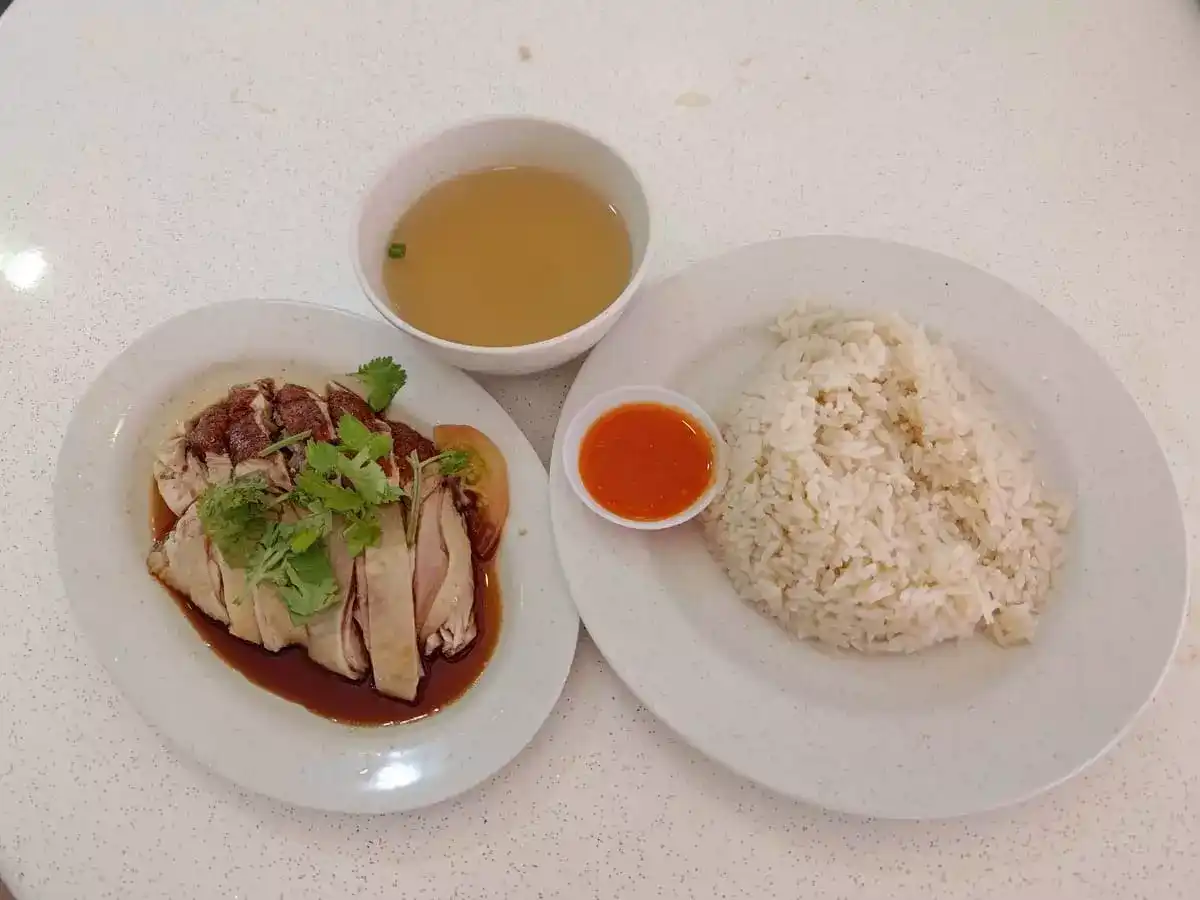 Great Wall Chicken Rice
offers hainanese chicken, roast chicken and chicken cutlet with rice. Tastes decent.
| | | | | | | |
Hainanese Chicken & Roast Chicken
The hainanese chicken has smooth and tender meat with soft and smooth skin. The roast chicken has soft and moist meat with decently flavourful skin. These are served on a plate with a mildly sweet tasting soya sauce seasoning with some cucumber and tomato slices. Do note that the chicken slices are not completely deboned though.

The chicken meat is accompanied by a plate of rice, a bowl of soup and chilli sauce. The rice is firm and fairly flavourful, and the soup has nice vegetables flavours. The chilli sauce is the usual garlicky type for chicken rice.

Overall this is quite a decent plate of chicken rice.
Chicken Cutlet
Chicken cutlet with rice is also available. It has a slightly crispy breaded crust, is meaty and flavourful. It is a nice alternative to their hainanese chicken and roast chicken. Rather decent too.
It costs $9.80 SGD in direct product costs to create this post, done over 2 anonymous visits. All expenses involved in this post are fully paid for by the.fat.guide.
Over here at the.fat.guide, we believe that content should be free. However it takes real money to create content. The expenses incurred in creating this content should ideally be paid for by third party services like advertising and affiliate links, etc and not be borne by you, me or the featured merchant. Please help us to recover our costs involved in the creation of this content by using our affiliate links and advertisers.

If you wish to show direct support, you can buy us a meal or two.
Disclaimer. As unique individuals, we have our own personal preferences and likings. Your experiences and perspectives may vary from mine.
| | | | | | | |
LOCATION
Great Wall Chicken Rice