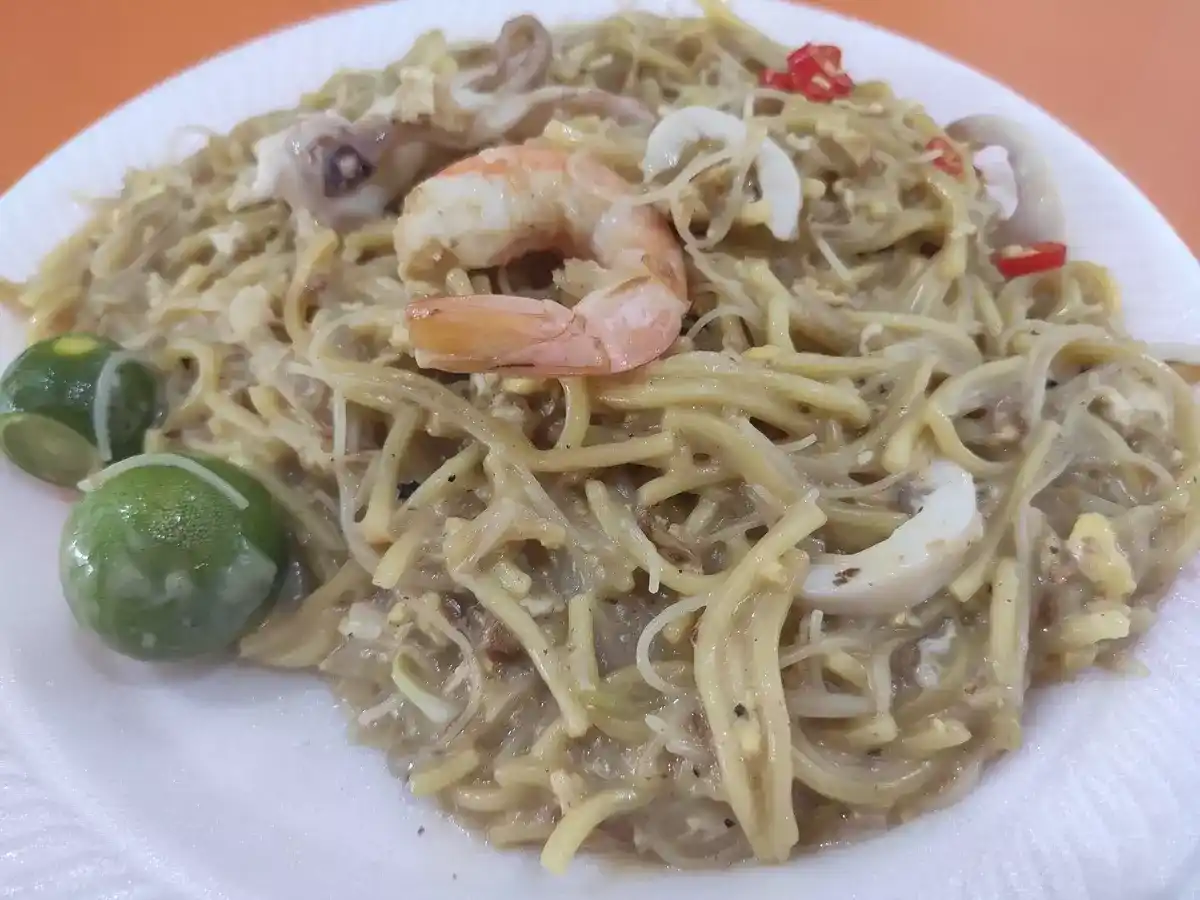 [Closed] Tiong Bahru Yi Sheng Fried Hokkien Mee
is a popular stall selling fried Hokkien mee with a constant queue. Tastes just average though. Overrated.
Fried Hokkien Mee
Tiong Bahru Yi Sheng Fried Hokkien Mee is a very popular stall located in ABC Brickworks Food Centre, with a constant queue of customers waiting for their turn for this fried Hokkien mee. Its fried Hokkien Mee is wetter type with the noodles still wet with broth when served. Squeeze in a dose of lime juice into the stir fried noodles enhances its taste. Contains prawns and sotong slices. Although its flavours are decent, it has a strong alkaline taste coming from its noodles and is missing on sambal chilli which is a let down. Without the sambal chilli to help offset its alkaline taste, this is just average.
In my opinion, the other fried Hokkien mee stall located at ABC Brickworks Food Centre, Havelock Rd Blk50 Fried Hokkien Prawn Mee tastes better.
It costs $4.00 SGD in direct product costs to create this post, done over 1 anonymous visit. All expenses involved in this post are fully paid for by the.fat.guide.
Over here at the.fat.guide, we believe that content should be free. However it takes real money to create content. The expenses incurred in creating this content should ideally be paid for by third party services like advertising and affiliate links, etc and not be borne by you, me or the featured merchant. Please help us to recover our costs involved in the creation of this content by using our affiliate links and advertisers.

If you wish to show direct support, you can buy us a meal or two.
Disclaimer. As unique individuals, we have our own personal preferences and likings. Your experiences and perspectives may vary from mine.
| | | | | | | |
LOCATION
Tiong Bahru Yi Sheng Fried Hokkien Mee