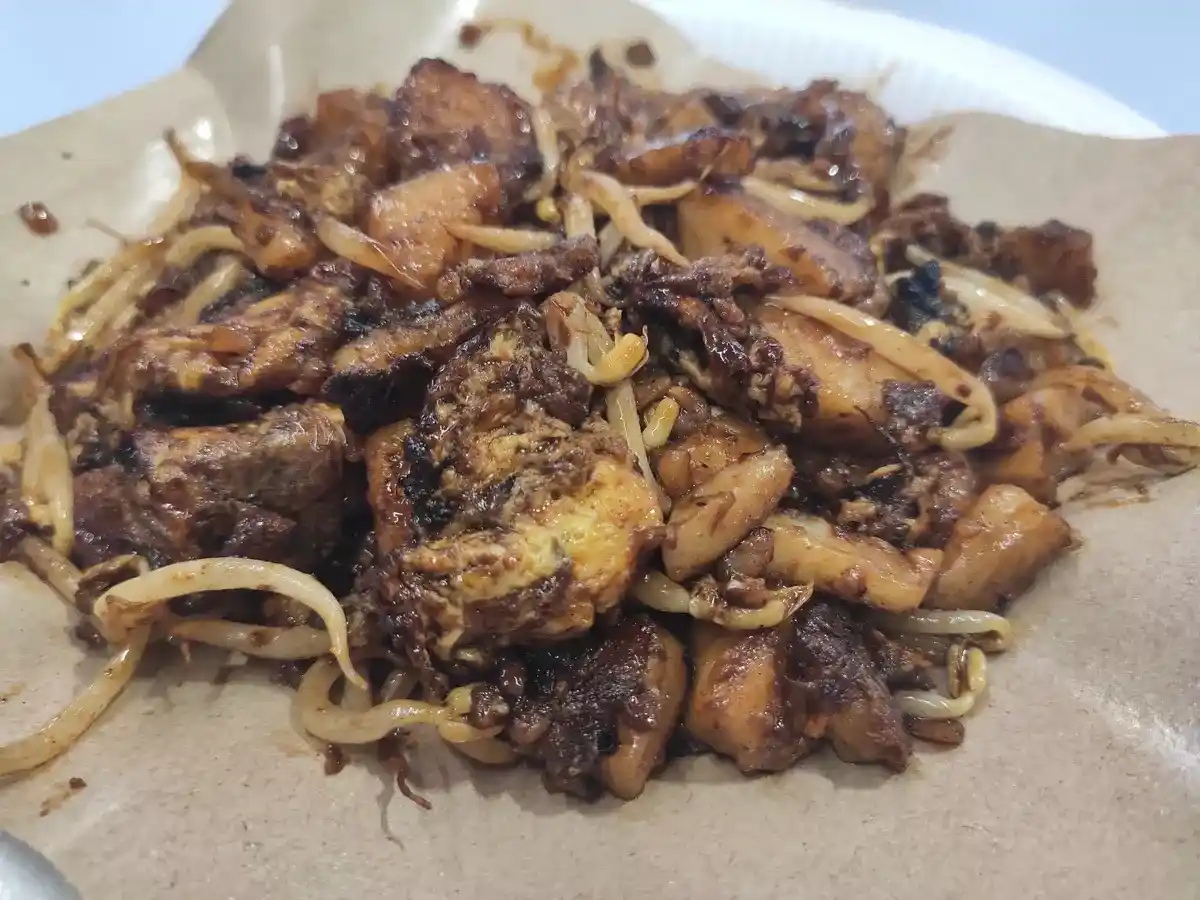 Delicious Fried Carrot Cake
is literally delicious. Serving up fried carrot cake in both white and black varieties. Both are good.
Fried Carrot Cake
Delicious Fried Carrot Cake is kind of different from your usual fried carrot cake as it comes with fried with bean sprouts. Available in both the usual white and black varieties, and you have the option of going without the bean sprouts as well. This stall fries their radish cubes twice on separate pans. The first round is with a large lot of radish cakes, getting them into smaller cubes and cooked to a slightly crispy texture. Then in another pan in smaller portions, fried according to one's orders.
The white version of this fried carrot cake is pan fried with eggs. When the eggs are cooked, bean sprouts are added and left to fry further to make the bean sprouts drier as well as to add some golden crisp to the egg coated carrot cake. Results in a tasty plate of fried carrot cake that is mildly crispy with the fried bean sprouts providing some crunchiness. Nice flavours too.
The black version has sweet black sauce added and tastes like a totally different dish. With bean sprouts added, this tastes more like a char kway teow fried with radish cubes instead of kway teow. The crispy parts of the fried carrot cake turns into lumps of chewy sweetness with the additional of sweet black sauce. I like it.
There are two fried carrot cake stalls located within Redhill Food Centre. The other stall Fu Ming Cooked Food is highly rated among food critics, but in my opinion is definitely way overrated and subpar when compared to Delicious Fried Carrot Cake. A simple way to gauge is to look at the lunchtime crowd in front of both stalls. The more popular one with the neighbourhood crowd is usually the better one. This stall definitely lives up to its name, delicious. Both the white and black versions are delicious in different ways. I like both.
It costs $6.00 SGD in direct product costs to create this post, done over 2 anonymous visits. All expenses involved in this post are fully paid for by the.fat.guide.
Over here at the.fat.guide, we believe that content should be free. However it takes real money to create content. The expenses incurred in creating this content should ideally be paid for by third party services like advertising and affiliate links, etc and not be borne by you, me or the featured merchant. Please help us to recover our costs involved in the creation of this content by using our affiliate links and advertisers.

If you wish to show direct support, you can buy us a meal or two.
Disclaimer. As unique individuals, we have our own personal preferences and likings. Your experiences and perspectives may vary from mine.
| | | | | | | |
LOCATION
Delicious Fried Carrot Cake