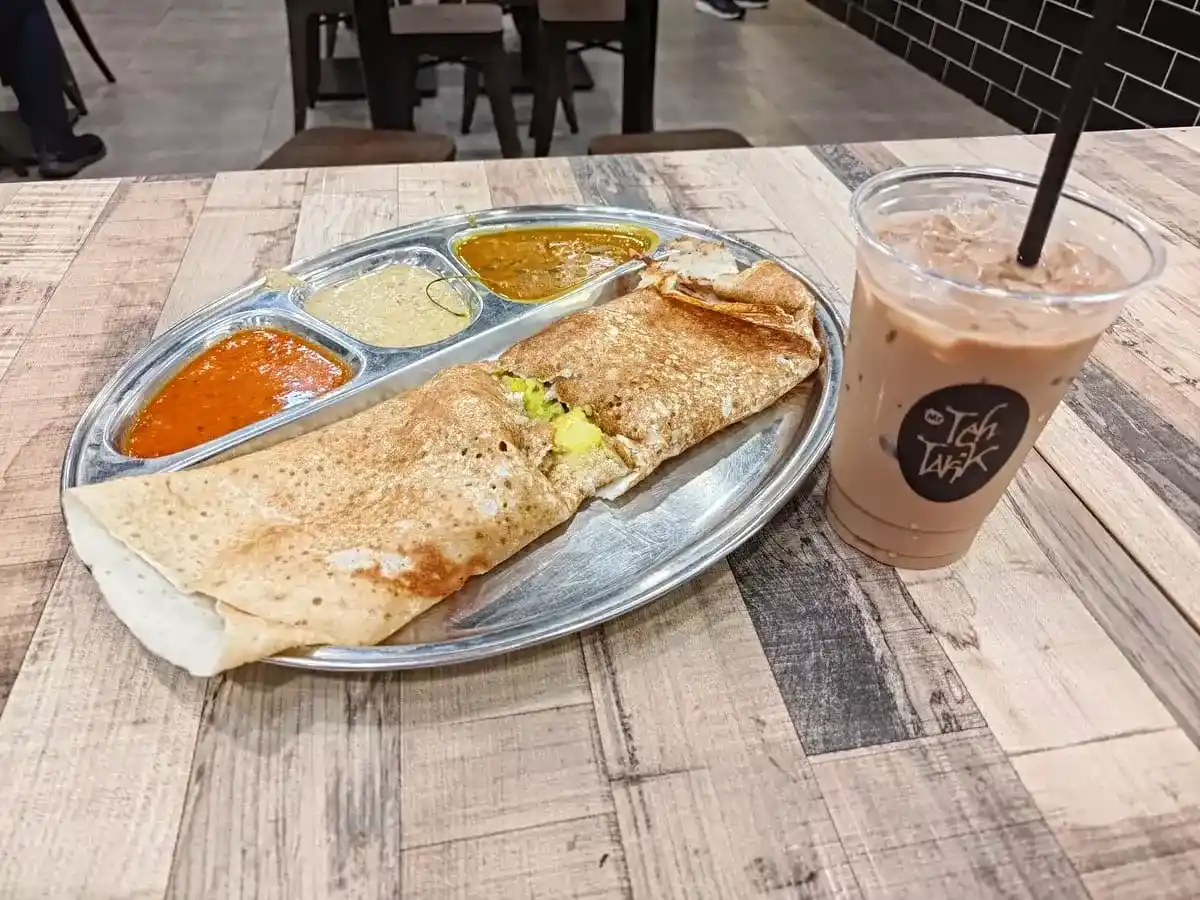 Mr Teh Tarik
is a chain store serving roti prata, thosai, mee goreng, teh tarik, etc. Quite decent.
| | | | | | | |
Roti Prata
Mr Teh Tarik offers a selection of roti prata. Above is their plain prata and egg prata. The prata has crispy outsides and a chewy dough with decent flavours. The egg prata has an additional soft egg filling wrapped in the dough. A mild spicy mutton flavoured curry is served on the side. Decent.
Masala Thosai
The masala thosai has slightly crispy edges, its batter is thin and slightly chewy. There is a fairly flavourful curry potato filling inside. Comes served with a side of curries and lentil. Quite ordinary.
Mee Goreng Chicken 65
This mee goreng comes with a fried egg and a side of chicken 65. The mee goreng uses yellow noodles wok fried with egg, some bean sprouts, some vegetables and chopped chilli. The yellow noodles is firm with a tint of spiciness. As for the chicken 65, it is meaty and juicy with a mildly spicy and savoury flavours. It is bit too salty for my liking though.
Nasi Ayam Penyet
The nasi ayam penyet comes with a piece of fried chicken thigh, a piece of fried tofu, some crackers, cucumber slices, cherry tomatoes, lettuce and sambal chilli, served with rice and a bowl of soup.

The rice is firm and flavourful, and the soup has nice savoury flavours with chopped spring onions and fried shallots added. The fried chicken is lightly coated with cripsy skin and moist meaty meat. The fried tofu is crispy outside and soft inside. The sambal chilli is spicy with a note of sweet.

This is a hearty meal and quite likeable.
Ice Teh Tarik
This cup of ice teh tarik has sweet and strong tea flavours. Quite decent.
It costs $33.90 SGD in direct product costs to create this post, done over 5 anonymous visits. All expenses involved in this post are fully paid for by the.fat.guide.
Over here at the.fat.guide, we believe that content should be free. However it takes real money to create content. The expenses incurred in creating this content should ideally be paid for by third party services like advertising and affiliate links, etc and not be borne by you, me or the featured merchant. Please help us to recover our costs involved in the creation of this content by using our affiliate links and advertisers.

If you wish to show direct support, you can buy us a meal or two.
Disclaimer. As unique individuals, we have our own personal preferences and likings. Your experiences and perspectives may vary from mine.
| | | | | | | |
LOCATIONS
Mr Teh Tarik Express
#B2-22
Changi Airport T3

#01-28
Harbourfront Centre

#01-03
Northpoint City

Singapore 769098
#B1-130/131
Singapore Post Ctr

#B1-17/21/22
Raffles Place MRT

LOCATIONS
Mr Teh Tarik Deli