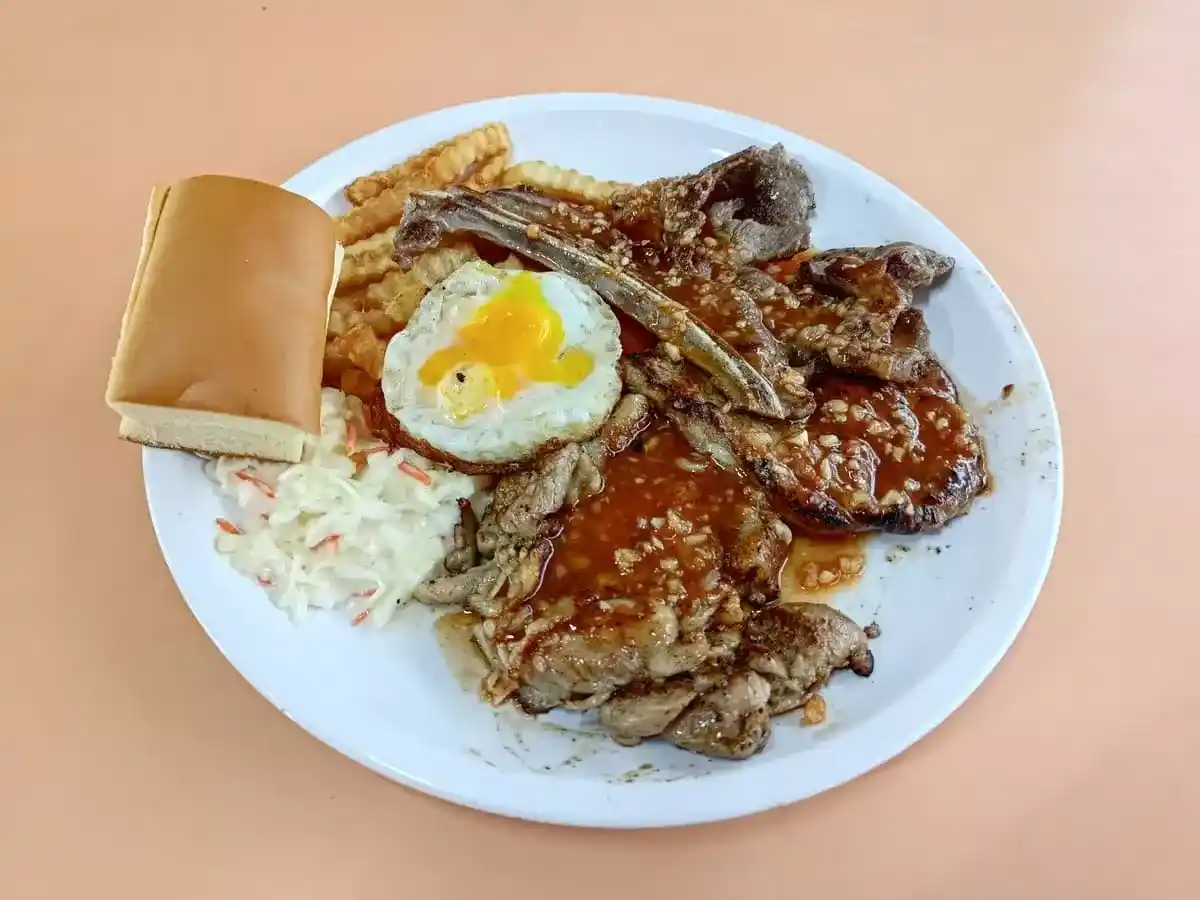 Review :
Western Barbeque
is a popular stall serving western food with the usual choices of meats, grilled or deep fried. Their garlic sauce is absolutely lovely!
| | | | | | | |
Mixed Grill
The mixed grill comes with a stab of lamb chop, a piece of pork chop, a piece of chicken chop, a fried egg, a bun a serving of fries and coleslaw.

The lamb chop is a lamb shoulder cut with some fatty parts. It is meaty with nice flavourings and isn't gamey. The pork chop is meaty with nice seasoning flavours as well. As for the chicken chop, it is grilled from chicken thigh meat. It is meaty with crispy sides but its skin is not crispy though. Nice flavourings too. All 3 meats tastes good!

A garlic sauce is poured onto the meats. This garlic sauce has nice garlic flavours with a note of sweet, and it contains real bits of garlic. This garlic sauce pairs really well with the grilled meats. Absolutely lovely!

A fried egg, serving of fries, coleslaw and bun are included with this plate of mixed grill. The fried egg has soft yolk and soft whites with a crispy underside. The fries are lightly salted, is crispy outside and soft inside. The coleslaw is crunch and juicy with a light sweet taste. The bun is soft and has a cream spread filling.

This mixed grill is truly enjoyable. I love it!
Chicken Cutlet
The chicken cutlet uses chicken thigh meat deep fried with a lightly coated batter. Its soft and juicy meat has nice marinated flavours, and its skin is crispy and flavourful. Comes with fries, coleslaw and a bun. This chicken cutlet is good too.
Fish & Chips
The fish fillet is deep fried until its batter is golden and crispy. Its meat is soft and juicy with really nice seasoning flavours. A dollop of mayonnaise is provided on the side. Personally, I prefer to go without as it does not overpower the lovely marinated flavours of the fish. This fish and chips is very likeable.
Fried Chicken Wings
Fried chicken wings is also available either as a side add-on or as a main with fries, coleslaw and a bun. Just like their chicken cutlet, the chicken wing is lightly coated, deep fried with crispy skin and moist meat. The fried chicken wing comes with nice flavours similar to their other meats. This one is nice too.
It costs $33.00 SGD in direct product costs to create this post, done over 4 anonymous visits. All expenses involved in this post are fully paid for by the.fat.guide.
Over here at the.fat.guide, we believe that content should be free. However it takes real money to create content. The expenses incurred in creating this content should ideally be paid for by third party services like advertising and affiliate links, etc and not be borne by you, me or the featured merchant. Please help us to recover our costs involved in the creation of this content by using our affiliate links and advertisers.

If you wish to show direct support, you can buy us a meal or two.
Disclaimer. As unique indivduals, we have our own preferences and likings. Your experiences and perspectives may vary from mine.
| | | | | | | |
LOCATIONS
Western Barbeque