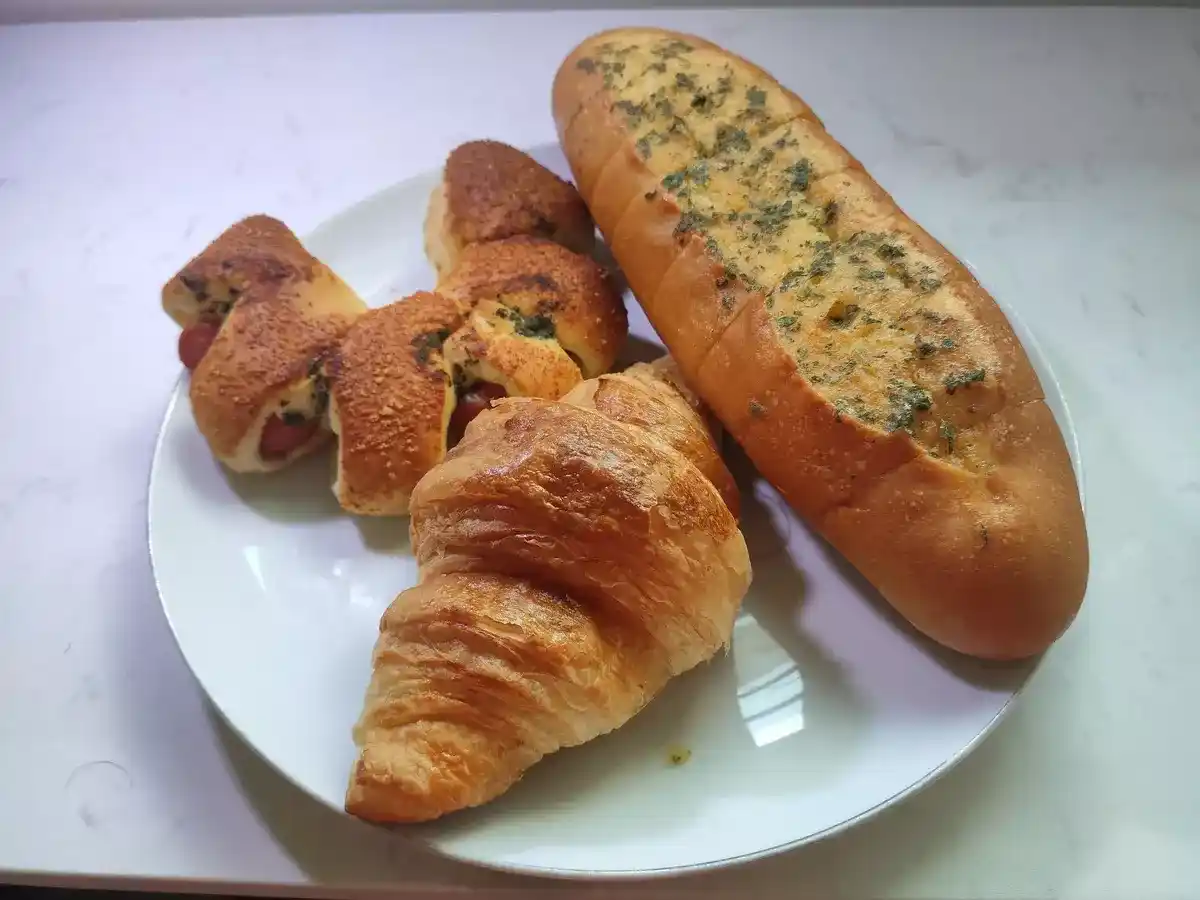 Four Leaves
is a bakery chain with many outlets located throughout Singapore. Since 1981.
Croissant
This croissant has slightly crispy and flaky outsides with a somewhat firm and lightly airy insides. Mild buttery flavours. Quite decent.
Chicken Sausage Donut
The chicken sausage donut has a deep fried dough wrapping a piece of chicken sausage. The fried dough is slightly crispy outside with firm insides. The chicken sausage is quite nicely flavoured. It is nice savoury donut.
Garlic Pork Sausage Crescent
This has a firm and yet soft bread with a pork sausage filling and topped with garlic bits. The bread has a nice garlicky taste and savoury sausage flavours. I like it.
Four Leaves Ham & Egg Soft Sando
This sandwich has a egg salad and ham filling sandwiched in between slices of soft bread. The egg salad has buttery flavours with a hint of pepper. Decent.
Garlic Ficelle
This baguette is has a layer of garlic butter spread at its top. Crispy baguette skin, fairly soft bread dough and nice flavours of garlic butter. This is likeable.
Chicken Curry Pie
This baked curry puff has a thick pastry pie crust that is flaky outside and has a chewy layer inside. Contains a nice flavourful curry potato and curry chicken meat filling inside. Nice.
It costs $12.10 SGD in direct product costs to create this post, done over 2 anonymous visits. All expenses involved in this post are fully paid for by the.fat.guide.
Over here at the.fat.guide, we believe that content should be free. However it takes real money to create content. The expenses incurred in creating this content should ideally be paid for by third party services like advertising and affiliate links, etc and not be borne by you, me or the featured merchant. Please help us to recover our costs involved in the creation of this content by using our affiliate links and advertisers.

If you wish to show direct support, you can buy us a meal or two.
Disclaimer. As unique individuals, we have our own personal preferences and likings. Your experiences and perspectives may vary from mine.
| | | | | | | |
#01-25
Bukit Panjang Plaza

#B1-32
Causeway Point

#B1-27
Compass One

#01-44/45
IMM

#B1-04
Northpoint City