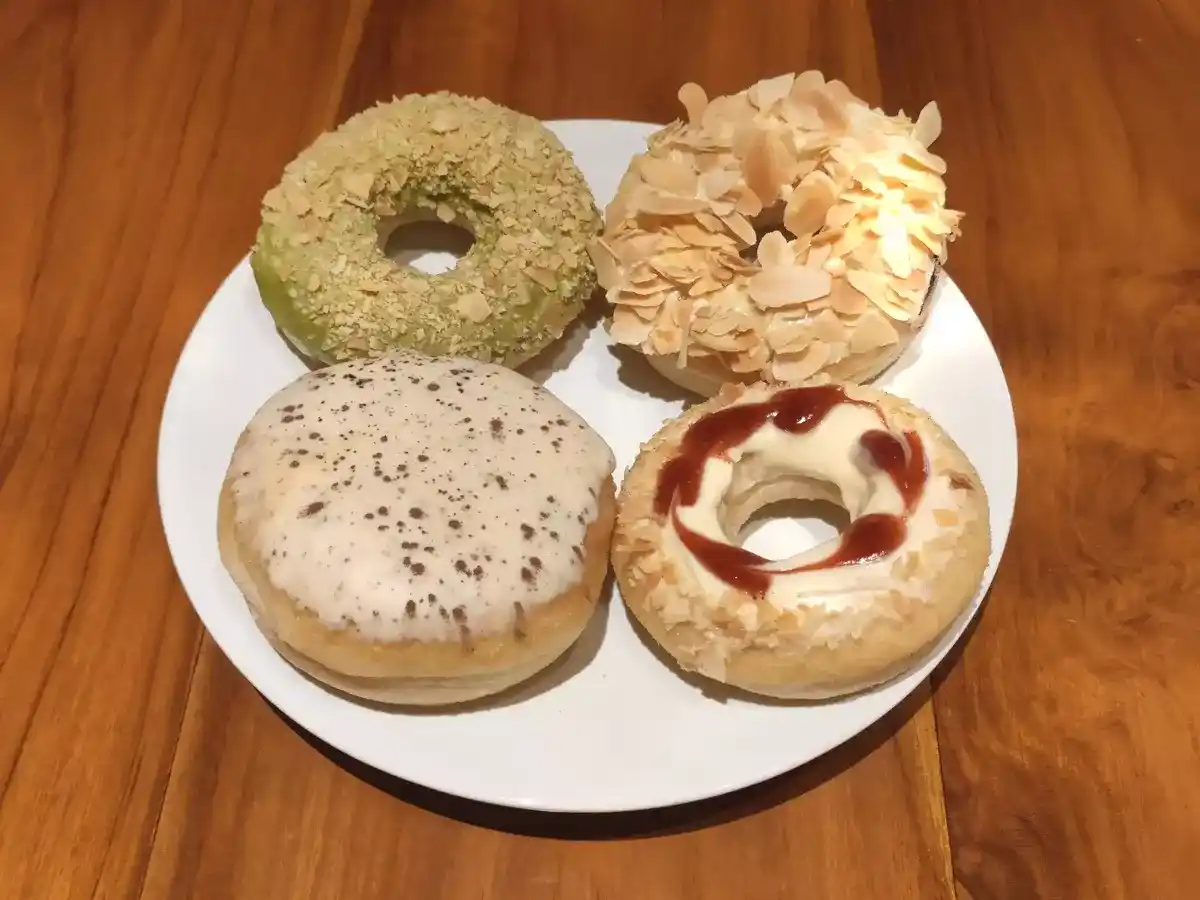 J.CO Donuts & Coffee
is a chainstore that serves a large selection of donuts. Sweet!
Alcapone
The Alcapone donut has a white chocolate coating and topped with sliced toasted almonds. The donut has a nice firm texture and the almonds are crunchy. It has a nice sweet taste and is not overly sweet. I like this.
Cheese Cakelicious
The Cheese Cakelicious donut has a whipped cream cheese filling and is topped with cookie crumbs and white chocolate garnish. Its filling tastes rather nice with a slightly sweet taste. Quite likeable.
Forest Glam
The Forest Glam donut is dipped in dark forest chocolate and topped with dark chocolate flakes, sugar icing powder, and garnished with sweet cherries. The dark forest chocolate gives this donut a nice rum taste. Sweet!
Katy Berry
The Katy Berry donut has a white chocolate coating and is topped with crushed roasted almonds and garnished with strawberry jam. The white chocolate is has a nice crunch to it and the strawberry jam flavours matches with the white chocolate rather well. This is a sweet donut but tastes nice.
Mr Green Tea
The Mr Green Tea donut is dipped in green tea chocolate and topped with crushed toasted almonds. It is sweet with a note of green tea flavours. Nice.
Tira Miss U
The Tira Miss U donut is filled with tiramisu cream and dipped in tiramisu chocolate. Some chocolate powder is sprinkled on top. It tastes more like coffee than tiramisu. This one is passable.
It costs $13.20 SGD in direct product costs to create this post, done over 2 anonymous visits. All expenses involved in this post are fully paid for by the.fat.guide.
Over here at the.fat.guide, we believe that content should be free. However it takes real money to create content. The expenses incurred in creating this content should ideally be paid for by third party services like advertising and affiliate links, etc and not be borne by you, me or the featured merchant. Please help us to recover our costs involved in the creation of this content by using our affiliate links and advertisers.

If you wish to show direct support, you can buy us a meal or two.
Disclaimer. As unique individuals, we have our own personal preferences and likings. Your experiences and perspectives may vary from mine.
| | | | | | | |