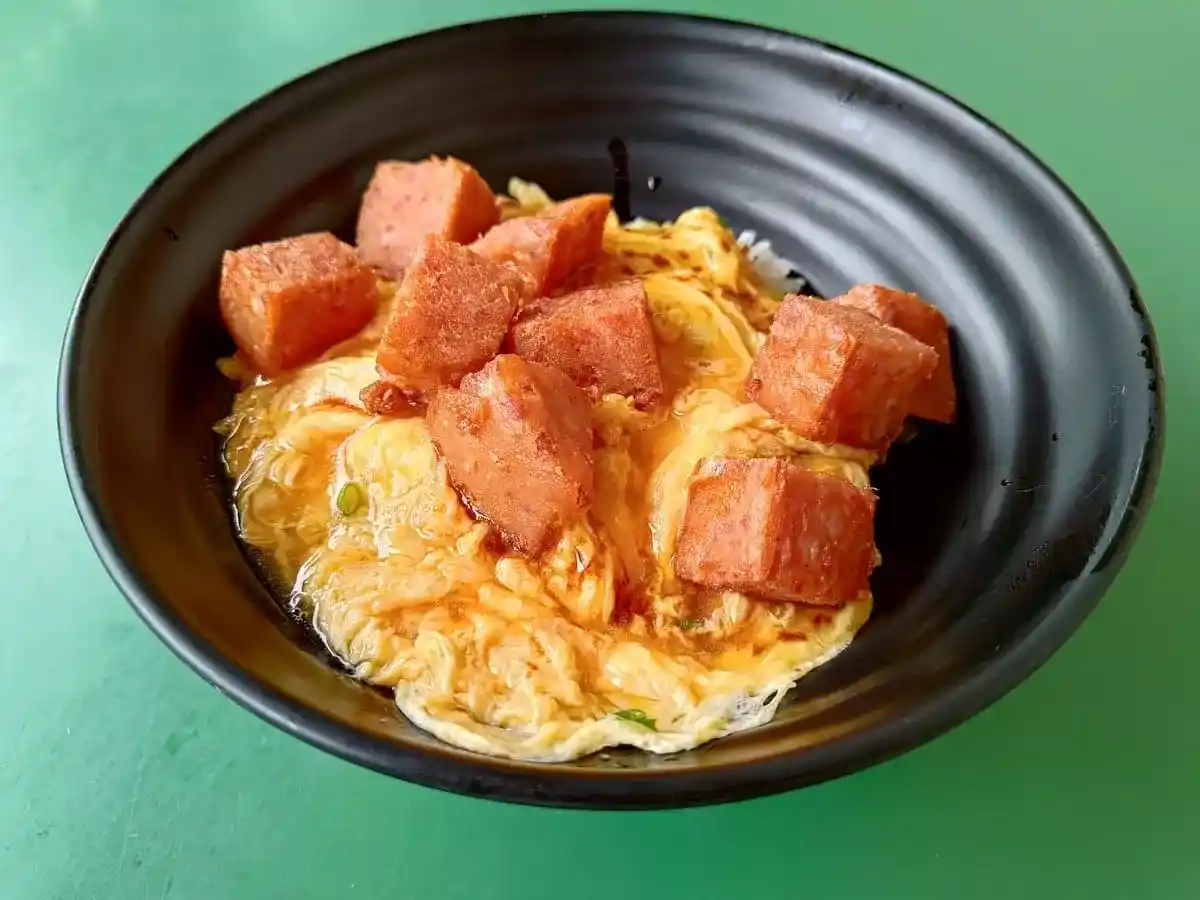 Danlao
serves absolutely lovely smooth and runny scrambled egg rice with choce of mains. Their chicken cutlet is good!
| | | | | | | |
Tomato
This bowl of rice has a chunks of tomato and cherry tomatoes with a tomato sauce topped on to the soft and smooth scrambled eggs and topped with some chopped spring onions. The tomatoes are soft and flavoured, and its tomato sauce blends really well with the scrambled eggs. It reminds me of the tomato stir-fried eggs in Hong Kong. Tasty.
Luncheon Meat
Deep fried cubes of luncheon meat are topped on this bowl of scrambled egg rice. The luncheon meat has a nice crisp outside and soft inside. Scrambled egg is soft and runny, and contains some chopped spring onions. Some soya sauce added on to it. This bowl of scrambled egg rice with luncheon meat is nice! I like it!
Chicken Cutlet
A piece of fried chicken cutlet is paired with this bowl of scrambled egg rice. The chicken cutlet is tender and juicy with crispy and airy skin. It is very flavourful with nice har cheong gai flavourings. Good!

The scrambled egg is smooth and runny, contains some chopped spring onions. It is flavourful with a hint of wok hei. As for the rice, it is has a nice firm texture with some soya sauce added.

This serving of scrambled egg rice with chicken cutlet is absolutely lovely!
Char Siew
The char siew are thinly sliced and has a slightly sweet tasting sauce added. These thin slices of pork are blow torched and burnt to a light char, a la japanese style blow torched chashu. The end results, a soft and meaty char siew with a slight tint of sweet. The char siew paired with the smooth scrambled egg and rice, is rather likeable.
Prawns
The prawns are wok fried together with eggs and chopped spring onions. Smooth runny eggs and springy fresh tasting prawns, topped with some soya sauce. This totally reminds me of the stir-fried eggs with prawns in Hong Kong. One word. Good!z
Chilli
This chilli tastes more like Hong Kong style XO sauce than regular fried chilli oil. As far as I can tell, it contains bits of fried chilli and shallots, and probably contains even more stuff in it. It is slightly spicy and slightly sweet with a subtle chewy texture from the various bits and pieces in it. It compliments the various combo of scambled egg rice really well. This chilli is so good that it is worth a good rating on its own. Highly recommended!
It costs $28.00 SGD in direct product costs to create this post, done over 5 anonymous visits. All expenses involved in this post are fully paid for by the.fat.guide.
Over here at the.fat.guide, we believe that content should be free. However it takes real money to create content. The expenses incurred in creating this content should ideally be paid for by third party services like advertising and affiliate links, etc and not be borne by you, me or the featured merchant. Please help us to recover our costs involved in the creation of this content by using our affiliate links and advertisers.

If you wish to show direct support, you can buy us a meal or two.
Disclaimer. As unique individuals, we have our own personal preferences and likings. Your experiences and perspectives may vary from mine.
| | | | | | | |