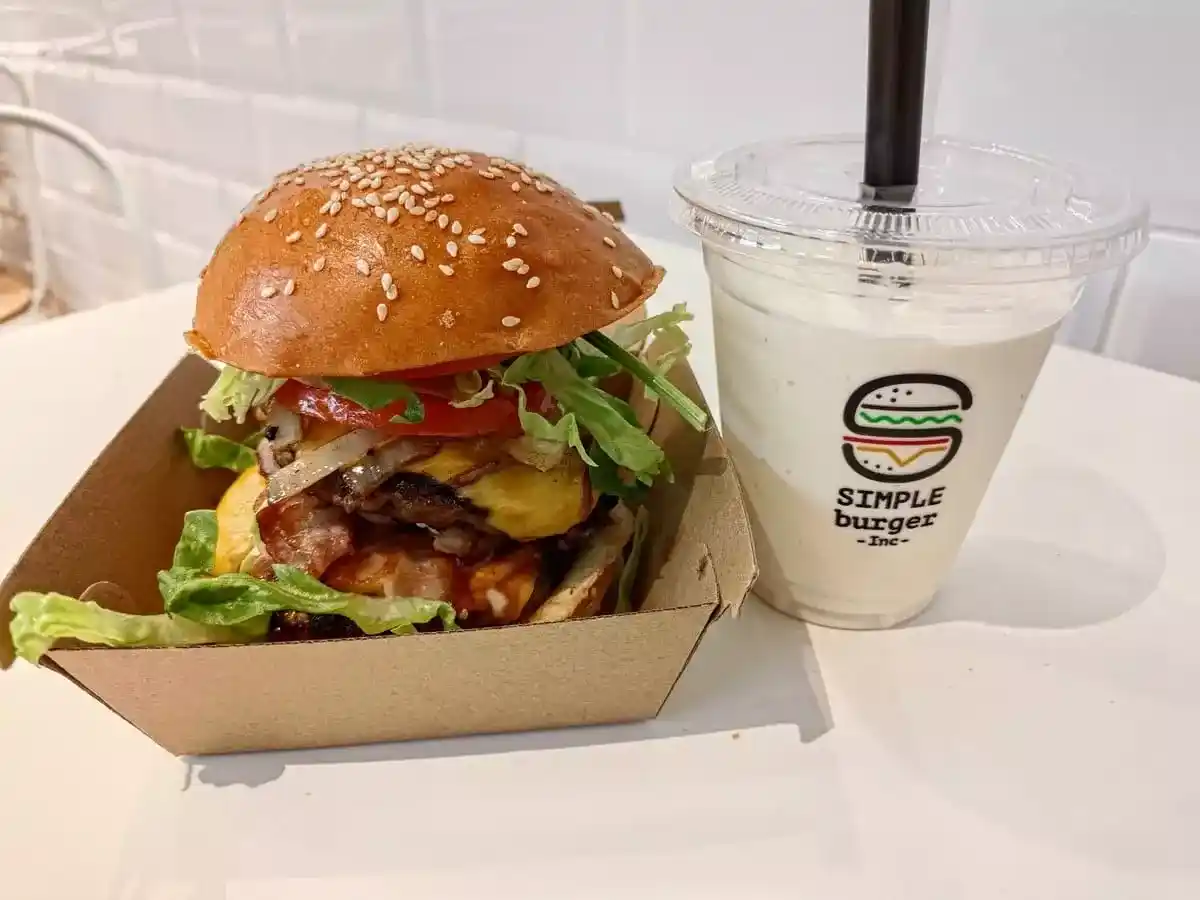 SIMPLEburger Inc
is a burger joint serving customisable burgers, fries, milkshakes, etc. Burgers are flavourful and juicy.
| | | | | | | |
SIMPLEburger Inc does customisable burgers with choice of beef, pork, chicken and pork patties, with options for cheese, bacon, egg, etc. There is a garnish bar where you can add whatever garnishes to your burger.
Beef Burger
The beef burger has a nicely grilled patty that has crispy edges and juicy flavourful meat. The patty is sandwiched in between a nice firm burger bun, and you can add whatever garnishes to your liking. Very likeable.
Double Bacon Cheese Burger
The double bacon cheese burger comes with two beef patties with sauted onions, cheese and bacon slices. The beef patties are nicely grilled with nice crispy edges while retaining their juiciness. The sauted onions are crunchy and the bacon is meaty and savoury. The melted cheese gives this burger nice cheesy flavours. This burger is good! Recommended!
Pork Burger
The pork patty used in nicely grilled with slightly crispy edges with soft and juicy insides. It has nice savoury tastes with a slice of cheese. The pork patty is sandwiched in between a firm burger bun with your preference of garnish toppings. Tastes nice.
Fish Burger
The fish burger has a crispy lightly breaded patty with moist fish meat inside. It is sandwiched in between a firm bun with cheese and mayonnaise added, and topped with your choice of garnishes. Tastes decent.
Fries
The fries are very nicely to a nice crisp with a nice firm texture. They are lightly salted with options for added cheese sauce and even with cheese, chilli beans and minced meat baked to a lovely melted crisp. Nice.
Curly Fries
The curly fries has very crispy outsides with soft potato insides. Nicely flavoured too. I like it!
Rosti
The rosti contains some mixed beans in its potato filling. It is deep fried with crispy outsides and soft crunchy insides. Rather nice.
Vanilla Milkshake
The vanilla milkshake is sweet wih nice vanilla flavours and tastes fairly milky. It is rather nice.
Berry Milkshake
The berry milkshake is sweet, milky with nice berry flavours. Quite likeable.
Cocoa Milkshake
The cocoa milkshake is sweet and chocolatey. It topped with some grated cocoa bits. A good choice for chocolate lovers.
Banana Milkshake
This milkshake has banana added to its blend. It is sweet with tiny blended bits of banana, giving it nice banana flavourings.
Blackforest Milkshake
This blackforest milkshake has nice blackforest flavourings with crunchy cherry bits and topped with some cocoa flakes. It is very sweet tasting milkshake that is suitable for those with a sweet tooth!
It costs $90.50 SGD in direct product costs to create this post, done over 5 anonymous visits. All expenses involved in this post are fully paid for by the.fat.guide.
Over here at the.fat.guide, we believe that content should be free. However it takes real money to create content. The expenses incurred in creating this content should ideally be paid for by third party services like advertising and affiliate links, etc and not be borne by you, me or the featured merchant. Please help us to recover our costs involved in the creation of this content by using our affiliate links and advertisers.

If you wish to show direct support, you can buy us a meal or two.
Disclaimer. As unique individuals, we have our own personal preferences and likings. Your experiences and perspectives may vary from mine.
| | | | | | | |
LOCATIONS
SIMPLEburger INC