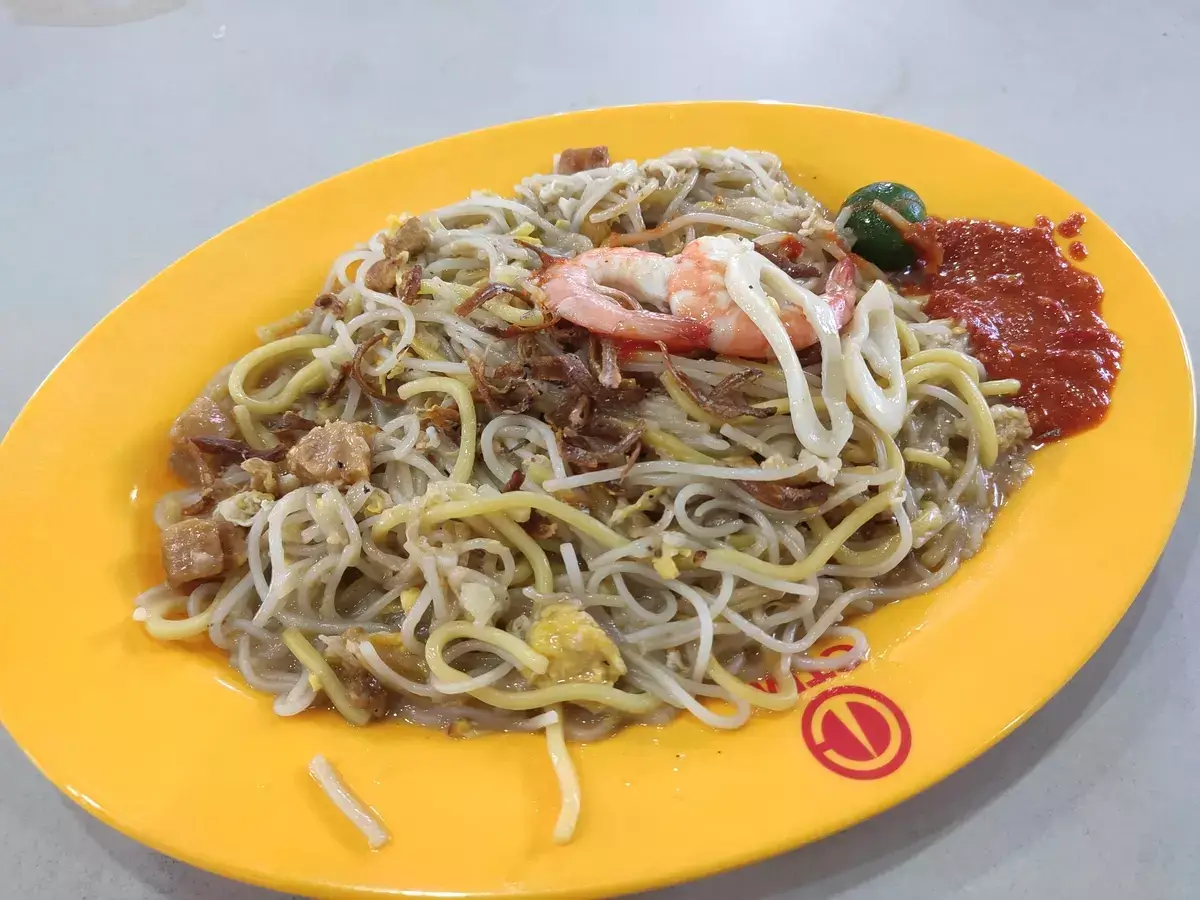 Sumo Fried Hokkien Prawn Mee
serves fried hokkien mee, fried carrot cake and friedv oyster omelette. Tastes good!
Fried Hokkien Mee
This plate of fried hokkien mee comes with the usual prawns and sotong slices, topped with something uncommon, ikan bilis. A mixture of yellow noodles and mee hoon is wok fried with eggs and pork lard in a broth. Prawns and sotong slices are then added. It is topped with crispy ikan bilis.

This fried hokkien mee is the wetter type. Its mixture of yellow noodles and mee hoon is firm and springy, It is flavourful with a tint of wok hei. The crispy ikan bilis when eaten together with the noodles gives a nice contrast. The prawns are of decent size and tastes decent. The sotong is soft and quite decent as well. Comes served with a limey chilli sauce with a slight note of sweet, and it mixes rather well with the fried noodles.

This fried hokkien mee is nice! I like it!
Fried Carrot Cake
The usual black and white versions of fried carrot cake is served here as well. The fried carrot cake uses small soft radish cubes pan fried with eggs and chye poh.

The white version is done flat style like a pancake. Its egg coating is pan fried until a golden crisp. Crispy outside and soft inside. Nice savoury flavours and an option dried shrimp flavoured chilli paste can be added to the side. This is a very popular choice and is really good!

The black version of fried carrot cake has sweet black sauce added giving it a slightly sweet taste on top of its savoury flavours. It isn't as crispy as the white ones but the crispy parts are really nice. Personally I like the white ones better here.
Fried Oyster Omelette
The fried oyster omelette over here is yet another popular choice. It is pan fried with a mixture of thinly spread eggs and starch until it is crispy. Although thin and crispy, the there is still some chewiness to the starchy parts. Also, it seems that some chye poh is added, making it really flavourful. Some plump and juicy oysters are then added to it. Comes with a slightly limey and sweet tasting chilli dip that goes rather well with the oysters.

This fried oyster omelette is good! Recommended.
It costs $18.00 SGD in direct product costs to create this post, done over 4 anonymous visits. All expenses involved in this post are fully paid for by the.fat.guide.
Over here at the.fat.guide, we believe that content should be free. However it takes real money to create content. The expenses incurred in creating this content should ideally be paid for by third party services like advertising and affiliate links, etc and not be borne by you, me or the featured merchant. Please help us to recover our costs involved in the creation of this content by using our affiliate links and advertisers.

If you wish to show direct support, you can buy us a meal or two.
Disclaimer. As unique individuals, we have our own personal preferences and likings. Your experiences and perspectives may vary from mine.
| | | | | | | |