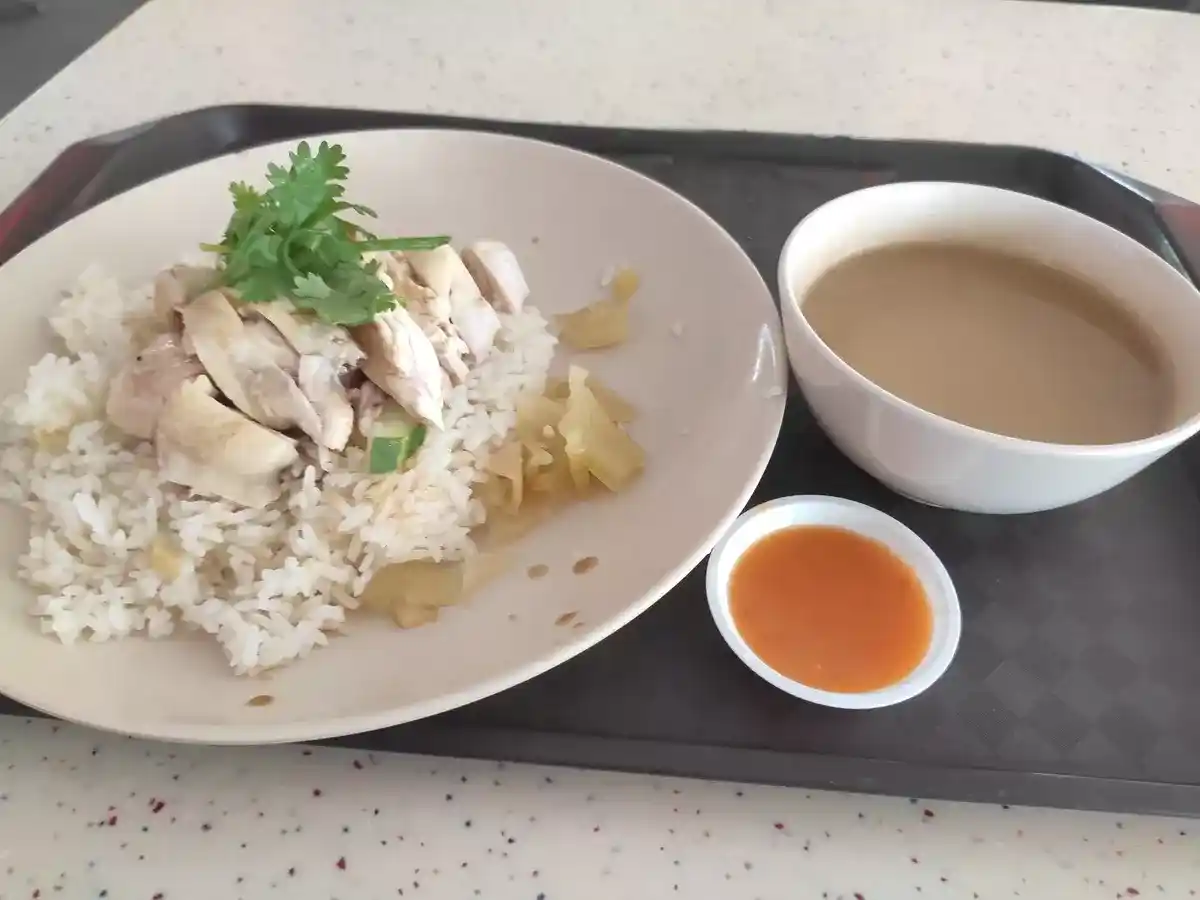 Tiong Bahru Hainanese Boneless Chicken Rice
sells wonderfully tasty chicken rice with options for steamed chicken, roast chicken and chicken cutlet. Sides are available as well.
Hainanese Chicken Rice
Tiong Bahru Hainanese Boneless Chicken Rice serves up hainanese chicken rice that is truly delicious. Three choices are available: steamed Hainanese chicken, roast chicken and chicken cutlet. All comes deboned with a serving of fragrant chicken oil cooked rice and a bowl of salted vegetables flavoured chicken soup on the side.

The steamed Hainanese chicken is boiled in a specially prepared soup and cooled by going through an ice bath. This results in a chicken with tender and juicy meat with a really smooth layer of chicken skin. Absolutely delicious.

Its roast chicken is first dipped and boiled in a herbal soup, air dried and finally roasted. This makes the roast chicken full of tasty flavours, especially its skin. Very good too.

The chicken cutlet has nice flavours too. Seasoned with spices and breaded before deep frying. However it has lost much of its crisp and is just mildly crispy. Comes with a lemon flavoured salad dressing on the chicken cutlet. The slice of lemon on its side is a nice touch. This is quite a popular option and sells out rather quickly.

This is definitely a good place for some tasty chicken rice.
Ngo Hiang
Some sides are available here too. This ngo hiang is delicious! It has a nice crispy skin that is thin, wrapping up juicy chewy meat filings inside with tasty flavours. The accompanying chilli dipping sauce compliments its flavourings very well. Highly recommended.
Salad You Tiao
The salad you tiao is stuff with squid paste inside. It is crispy outside and soft chewy inside. Comes topped with a lemon taste salad dressing. Tastes not bad.
It costs $17.00 SGD in direct product costs to create this post, done over 3 anonymous visits. All expenses involved in this post are fully paid for by the.fat.guide.
Over here at the.fat.guide, we believe that content should be free. However it takes real money to create content. The expenses incurred in creating this content should ideally be paid for by third party services like advertising and affiliate links, etc and not be borne by you, me or the featured merchant. Please help us to recover our costs involved in the creation of this content by using our affiliate links and advertisers.

If you wish to show direct support, you can buy us a meal or two.
Disclaimer. As unique individuals, we have our own personal preferences and likings. Your experiences and perspectives may vary from mine.
| | | | | | | |