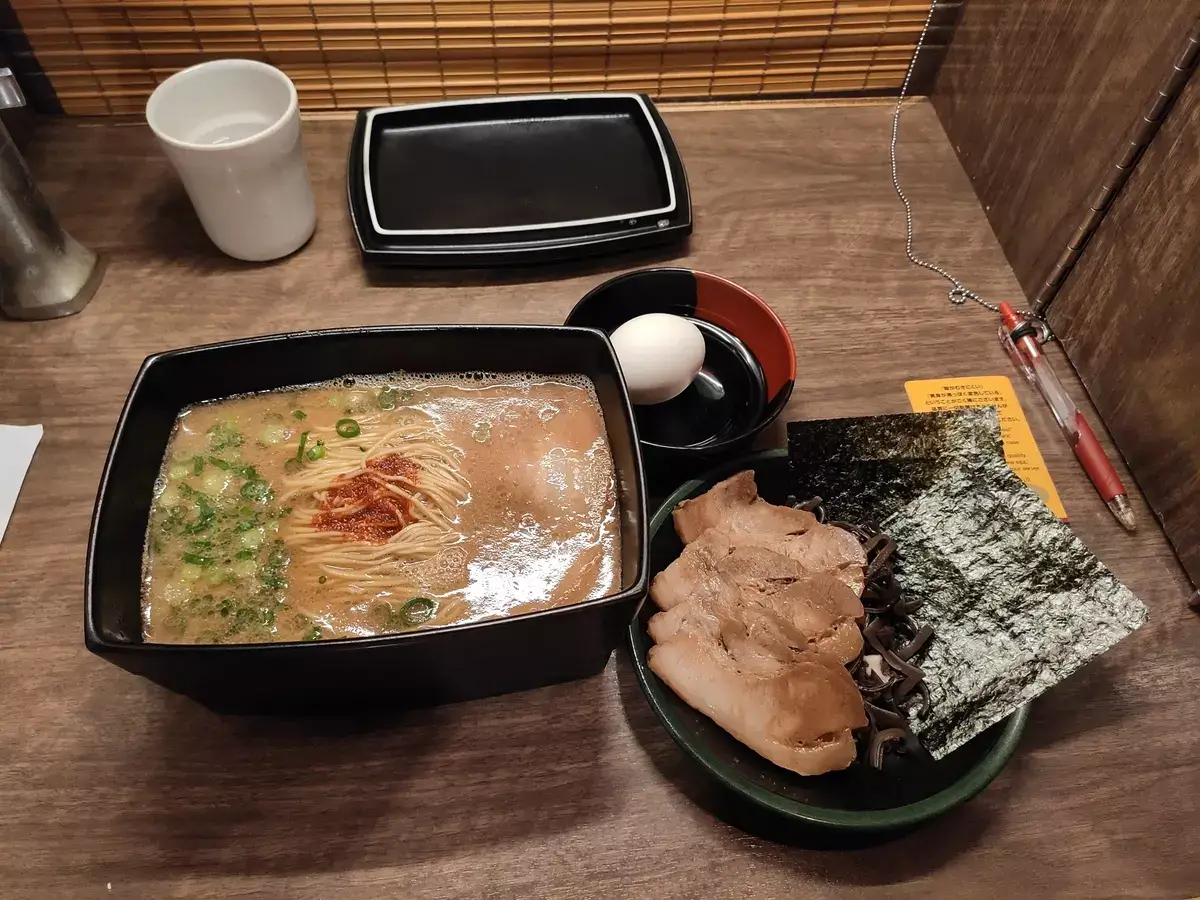 Kamadare Tonkotsu Ramen
From my understanding, the Kamadare Tonkotsu ramen is served in only 2 stores located in Fukuoka. One in Tenjin and the other in Hakata.

The Kamadare Tonkotsu ramen set comes with a serving of ramen, a bowl with chashu, black fungus and seaweed, and an uncracked ajitsuke tamago is served separately.
For the ramen, you can custom it to your liking if you like it extra firm, firm, medium, soft or extra soft. You can also customise the soup, light medium or strong. There are options for richness, garlic, green onion and spicy red sauce. Everything seen above is at their default value with medium flavoured soup, medium noodle texture and mild spicy chilli sauce.

The medium flavoured soup is very flavourful, and the medium texture noodles is firm and springy. The noodles tastes really good with the soup.The chilli sauce is mildly spicy. Personally, I think can do without the chilli sauce and just enjoy its original flavours.

The chashu is of a slightly thicker cut. It is very soft and literally melts in mouth! Tastes really good when soaking in the flavourful ramen broth. As for the ajitsuke tamago, it is soft and flavourful with a very slight hint of savoury. It also has a slightly runny yolk. It is good!

This bowl of Kamadare Tonkotsu ramen tastes absolutely amazing! Highly recommended when you are in Fukuoka.
It costs ¥ 1,620 JPY in direct product costs to create this post, done over 1 anonymous visit. All expenses involved in this post are fully paid for by the.fat.guide.
Over here at the.fat.guide, we believe that content should be free. However it takes real money to create content. The expenses incurred in creating this content should ideally be paid for by third party services like advertising and affiliate links, etc and not be borne by you, me or the featured merchant. Please help us to recover our costs involved in the creation of this content by using our affiliate links and advertisers.

If you wish to show direct support, you can buy us a meal or two.
Disclaimer. As unique individuals, we have our own personal preferences and likings. Your experiences and perspectives may vary from mine.
| | | | | | | |