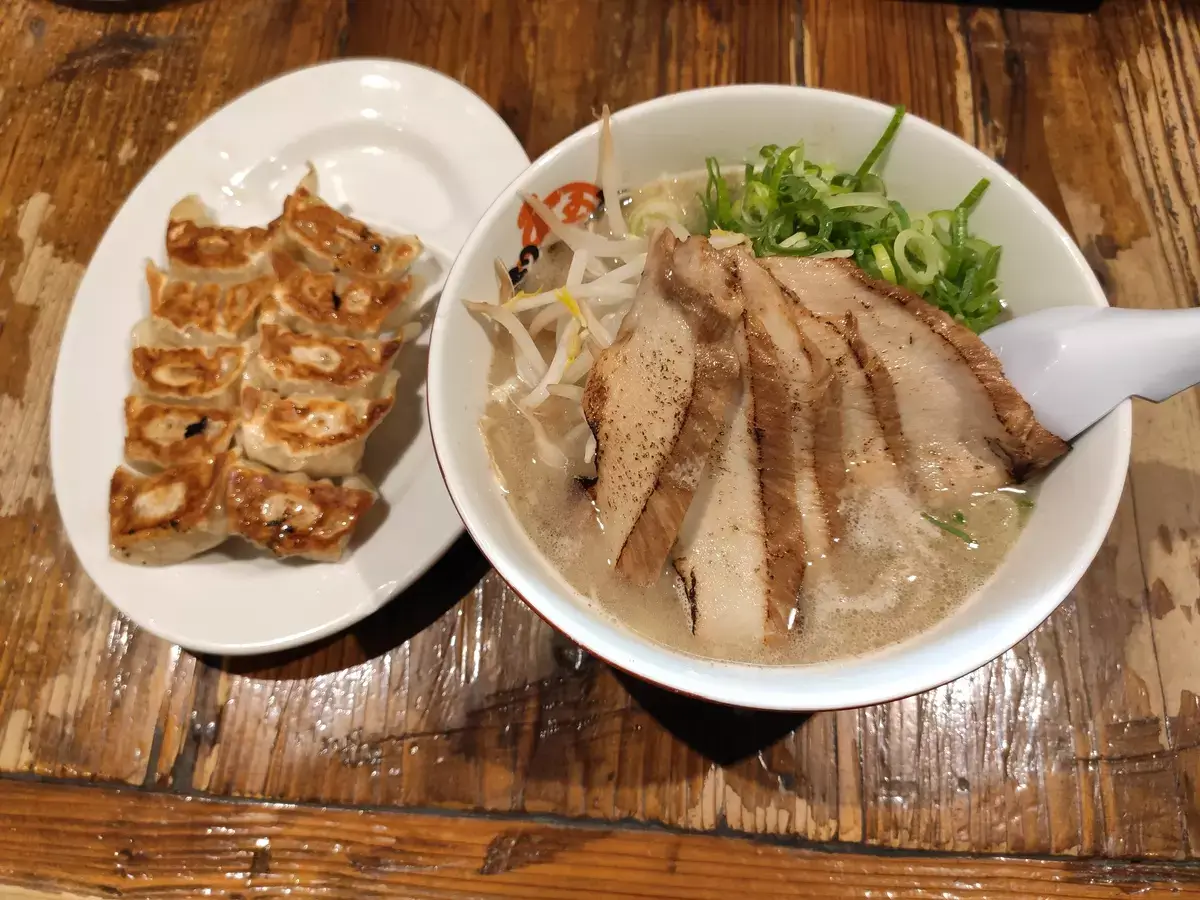 Roasted Pork Chashu Ramen
This bowl of ramen comes with noodles, bean sprouts, chopped spring onions and blowtorched chashu slices, served in a nice tasty soup.

The soup is simmered with hind legs of a pig for hours, giving this soup a rich and vivid taste. The noodles are house-made using wheat. It is firm and springy, and tasty too! As for the chashu, these are thinly sliced pieces of pork belly with its cut surface flamed with a blowtorch. It is very flavourful. Its meat is soft and tender with some fatty parts. It is literally melts in my mouth! Amazingly good!

It is no wonder that this roasted pork chashu ramen is the bestseller in the store. I totally agree!
Gyoza
This bite-sized gyoza has a very thin skin wrapping a pork filling. Its skin has crispy undersides with a chewy body. Its pork filling is flavourful and literally melts in in mouth! This is goyza is wonderfully good, and a must-have add-on. Both thumbs up!
Order System
Just like many japanese eateries, you place your order from a vending machine. A small ticket with your order is dispensed from the machine and you pass it to the staff upon entering the store.
It costs ¥ 1,800 JPY in direct product costs to create this post, done over 1 anonymous visit. All expenses involved in this post are fully paid for by the.fat.guide.
Over here at the.fat.guide, we believe that content should be free. However it takes real money to create content. The expenses incurred in creating this content should ideally be paid for by third party services like advertising and affiliate links, etc and not be borne by you, me or the featured merchant. Please help us to recover our costs involved in the creation of this content by using our affiliate links and advertisers.

If you wish to show direct support, you can buy us a meal or two.
Disclaimer. As unique individuals, we have our own personal preferences and likings. Your experiences and perspectives may vary from mine.
| | | | | | | |