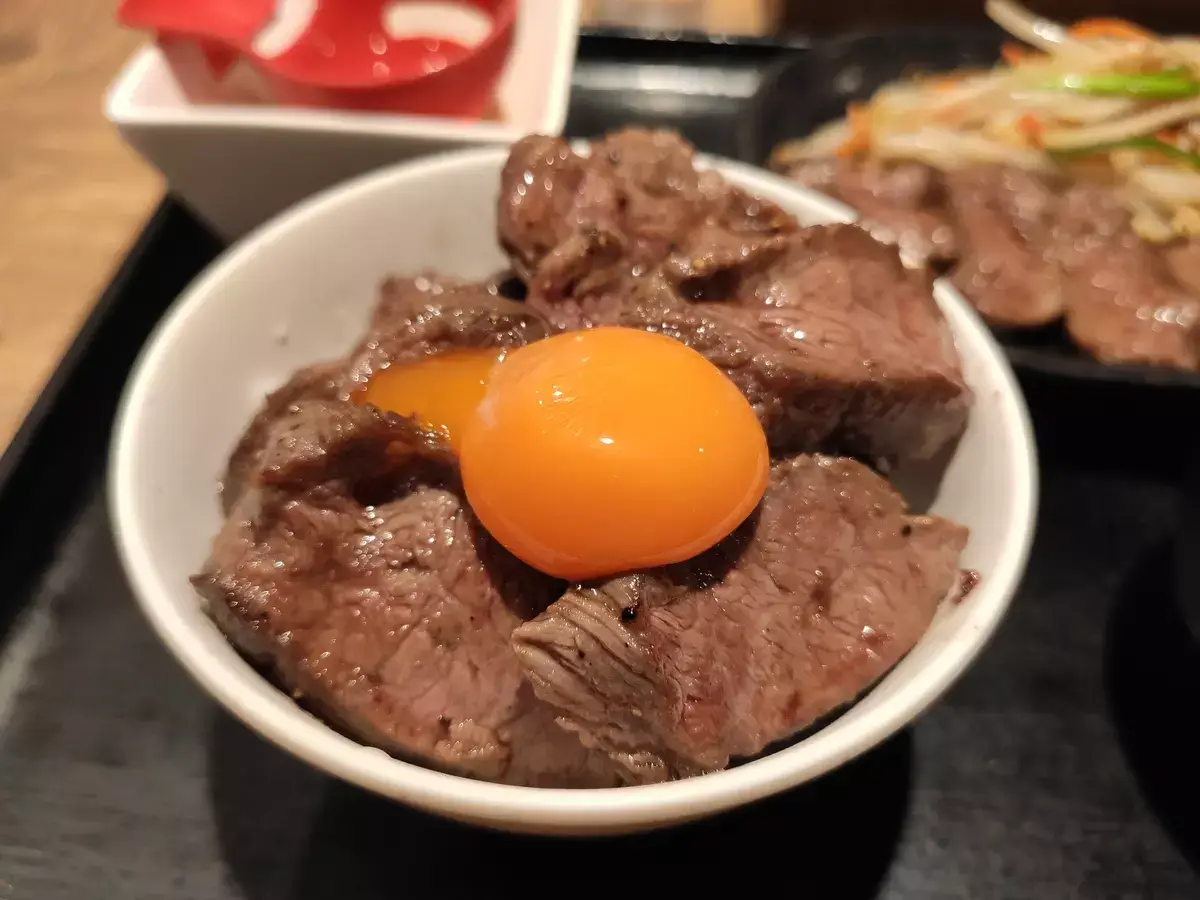 Beef Teppanyaki
Tenjin Harumon serves teppanyaki with selection of meats and innards. Seen here is their beef teppanyaki set which comes with beef, bean sprouts, rice, miso soup and a raw egg.
The beef and bean sprouts are cooked on a metal plate in front of you.
The beef and bean sprouts are served on a plate together with a bowl of japanese rice and miso soup.
According to the given instructions, the correct way to eat this is: put the stabs of beef slices on top the the rice. Next, crack the raw egg and filter away the egg whites. Then deposit the raw egg yolk on top the the beef. The end result can be seen above.

The beef is tender and juicy and nicely flavoured. The bean sprouts contains carrot shreds and spring onions. It is crunchy and flavourful. The miso soup contains seaweed and beancurd skin. It has nice miso flavours and doesn't taste salty at all.
Some seasoning sauces are also provided: japanese soya sauce, japanese pink salt, miso sauce and steak sauce. You can add them to your own liking. The beef tastes really good with both miso sauce and steak sauce. Yummy!
It costs ¥ 2,180 JPY in direct product costs to create this post, done over 1 anonymous visit. All expenses involved in this post are fully paid for by the.fat.guide.
Over here at the.fat.guide, we believe that content should be free. However it takes real money to create content. The expenses incurred in creating this content should ideally be paid for by third party services like advertising and affiliate links, etc and not be borne by you, me or the featured merchant. Please help us to recover our costs involved in the creation of this content by using our affiliate links and advertisers.

If you wish to show direct support, you can buy us a meal or two.
Disclaimer. As unique individuals, we have our own personal preferences and likings. Your experiences and perspectives may vary from mine.
| | | | | | | |