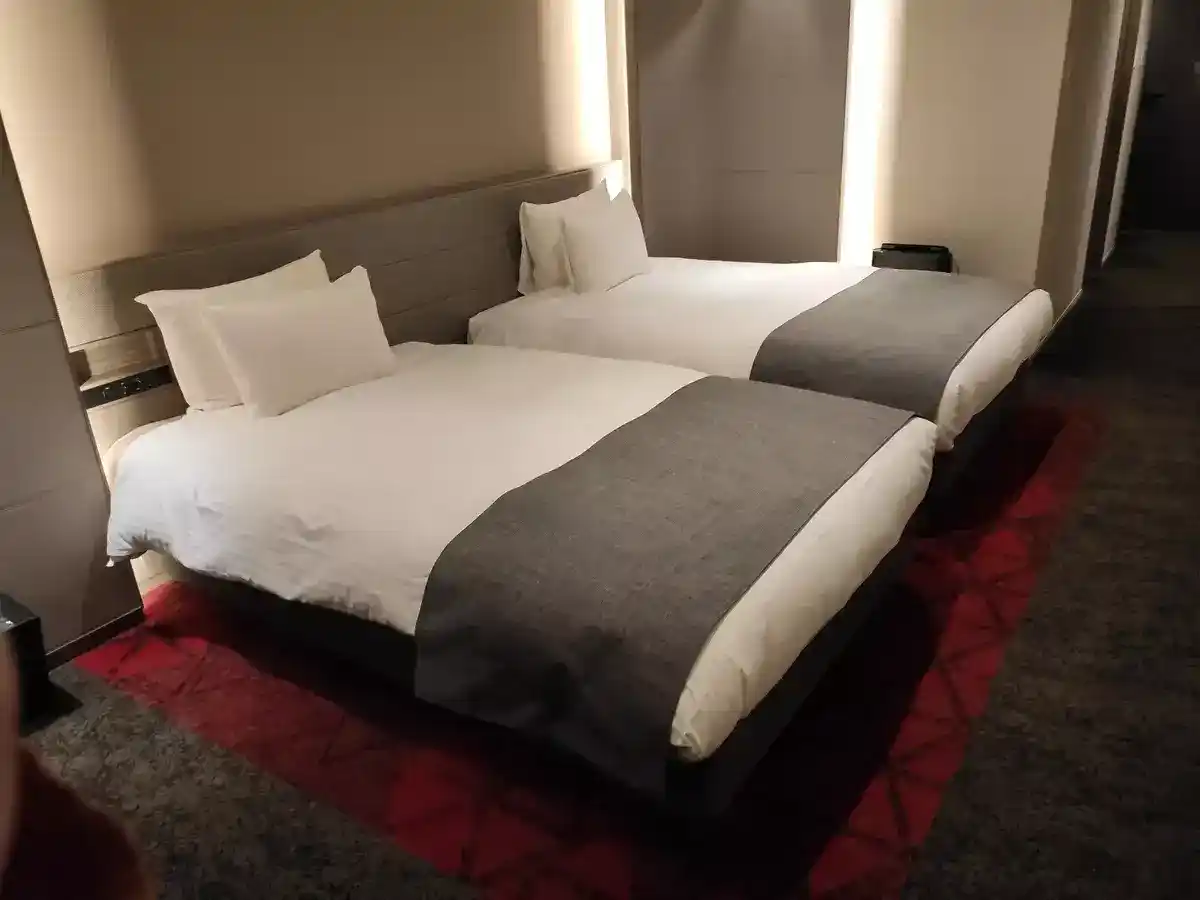 Check-in, Please
Hotel JAL City Fukuoka Tenjin is conveniently located next to Asakasa subway station and about a 8 mins walk away from Tenjin shopping area. Once you get through the doors, you can see a stairways, as a centrepiece, leading to the 2nd floor where the hotel lobby is. Behind the stairways is a lift lobby that you can use to access the upper floors.
Lobby
Take the lift behind the stairways to 2nd floor and it opens up to a large lobby area where the front desk is located.
The front desk is a long counter where you can do your check-in and check-out. The hotel lobby has large expansive windows letting in natural lighting, and has lots of sofa and chairs for lounging around.
Located at a corner of a hotel lobby is a small convenience store where some snacks and drinks are sold. An interesting thing to note, tap the key card at the lift and your room floor is automatically selected.
You have to tap your room key card in the lift to gain access to the floor your room in on. Obviously, to unlock the door and gain access into your room too.
Superior Twin Room
The room assigned this time is a twin room which comes with 2 semi-double beds. The room is considered large by japanese standards.
There are 2 pillows provided on each bed and 1 of them is a japanese sobakawa pillow which is really comfy and nice to sleep on. At the headboard is a control panel for the room as well as an AC socket and USB socket. There is a box where you can put your gadgets while juicing up.
Running across the width of the room is a desk for 2. On one side is a pantry and the other side is a mini fridge.
The pantry comes with the usual glasses and cups for your tea and coffee. A Nespresso coffee machine and coffee pods is provided.
Underneath the pantry are a chest of drawers. One contains laundry bag and bathrobe. The other is a safe box.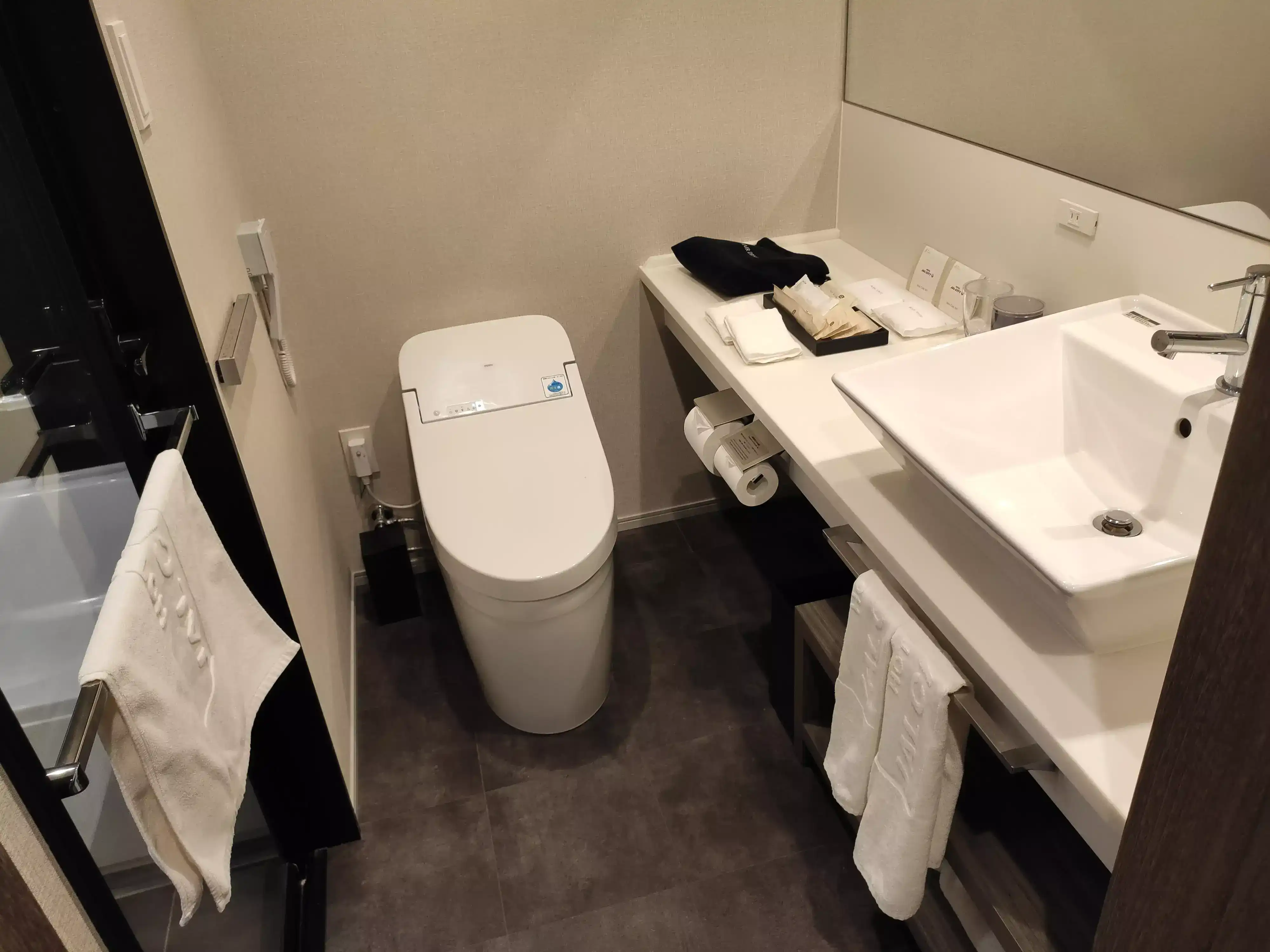 The toilet and bathroom are in separate compartments. A complete set of toiletries are provided next to the wash basin.
The bathroom has a shower area and a bathtub.
The shampoo, conditioner and body soap in the bathroom are from DHC. The face and hand soap at the wash basin is from Kao.
A TV and air purifier are provided in the room. At the closet area next to the door is a bottle of fabric feshener.
Check Out, Please
Hotel JAL City Fukuoka Tenjin is located in a relatively quiet neighbourhood and yet is conveniently located next to a subway station and a short walk away from the bustling streets of Tenjin. The rooms are large in size, feels both comfy and cozy. This is definitely a nice hotel to stay at. I enjoyed my stay here.
It costs ¥ 29,992 JPY in direct product costs to create this post, done over 1 anonymous visit for 1 night. All expenses involved in this post are fully paid for by the.fat.guide.
This stay was booked on

Agoda.
Over here at the.fat.guide, we believe that content should be free. However it takes real money to create content. The expenses incurred in creating this content should ideally be paid for by third party services like advertising and affiliate links, etc and not be borne by you, me or the featured merchant. Please help us to recover our costs involved in the creation of this content by using our affiliate links and advertisers.

If you wish to show direct support, you can buy us a meal or two.
Disclaimer. As unique individuals, we have our own personal preferences and likings. Your experiences and perspectives may vary from mine.
| | | | | | | |