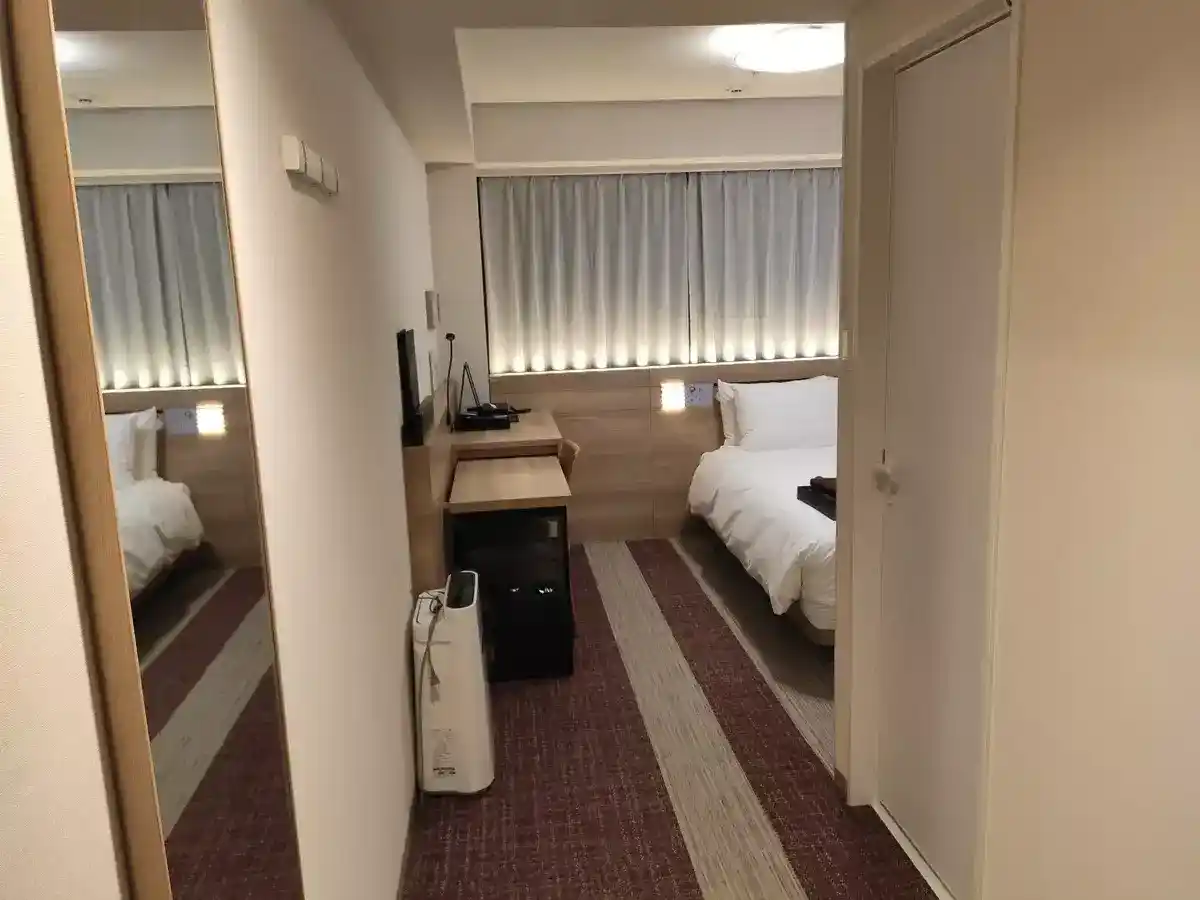 Check-in, Please
Richmond Hotel Tenjin Nishidori is located right in the middle of Tenjin shopping area, and a short 3 mins walk away from Tenjin Station. Its location is literally surrounded by malls and shops, and lots of eateries too. The main store of the famous Ichiran Ramen is just aross the road.
Lobby
The front desk is located on the 2nd floor of the hotel where you can get your check-in done. Next to the front desk is a louging area with some comfy sofas with shelves of reading materials. If you are in a leisurely mood, you can probably chill around here exploring their magazines and books.
Double Room
The double room is slightly larger in size compared with a regular japanese hotel room.
There is a small writing desk in the room. There are just a couple of AC sockets and no USB socket for charging your devices, but daijoubu desu. Pull out the drawer and you can find a USB charger with multiple connectors for various devices. How thoughtful of them!
Adjoining the desk is a small cabinet that is used as a pantry where you can find a mini fridge. Open the cabinet door and the usual coffee, tea bags as well as kettle can be found there.
A double bed sits in the room, and it is interesting to note that both regular pillows and japanese sobawaka pillows are provided. At the headboard is tiny box shelf with an AC socket and a USB socket. You can place your device on the shelf while charging.
The bathroom is also slightly larger in size compared with a regular japanese hotel. As with most japanese bathrooms, it comes with a bathtub and shower.
The regular set of amenities like toothbrush, tooth paste, cotton buds, comb, etc are all provided.
Toiletries from Mikimoto Cosmetics are used here.
A TV hangs on the wall opposite the bed, and an air purifier sits next to the desk.
Check Out, Please
Richmond Hotel Tenjin Nishidori may not be luxurious but it is comfy and its location in Tenjin is excellent. It is literally in the heart of Tenjib where everything is. It is a good choice for staying in Tenjin area.
It costs ¥ 17,456 JPY in direct product costs to create this post, done over 1 anonymous visit for 1 night. All expenses involved in this post are fully paid for by the.fat.guide.
This stay was booked on

Agoda.
Over here at the.fat.guide, we believe that content should be free. However it takes real money to create content. The expenses incurred in creating this content should ideally be paid for by third party services like advertising and affiliate links, etc and not be borne by you, me or the featured merchant. Please help us to recover our costs involved in the creation of this content by using our affiliate links and advertisers.

If you wish to show direct support, you can buy us a meal or two.
Disclaimer. As unique individuals, we have our own personal preferences and likings. Your experiences and perspectives may vary from mine.
| | | | | | | |