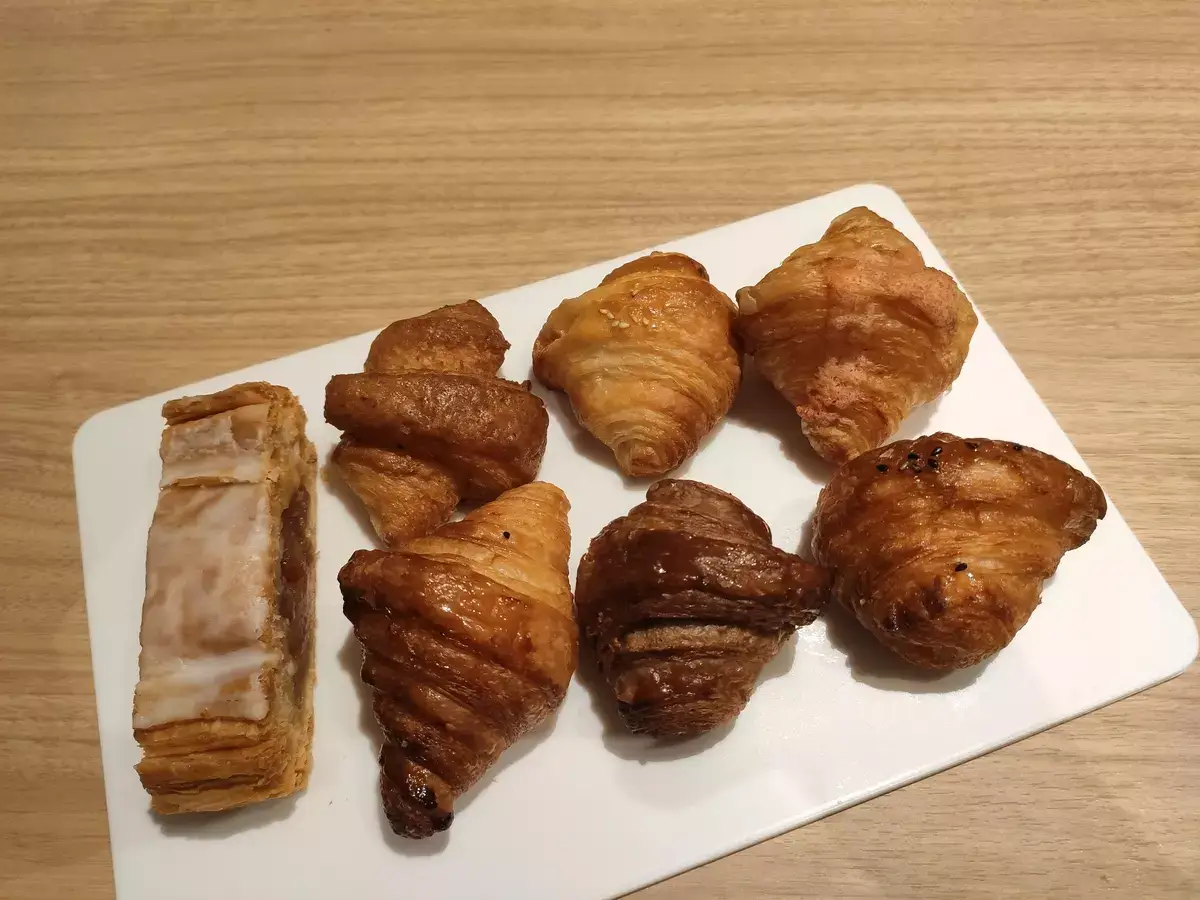 Plain
According to their sign, the crossiants are made using wheat flour, yeast, salt, sugar with vegetable oil, eggs and milk. The croissants are still handmade and freshly baked in store.

This plain croissant is crispy and flaky outside, airy inside. It is slightly caramelised outside gicing it a nice faint note of sweet. It is a popular choice with the crowd and it is good!
Chocolate
Just like the plain croissant, the chocolate croissant is crispy and flaky outside, airy inside with a soft chocolate filling giving it nice chocolatey flavours. The chocolate croissant is another crowd favourite. It really good!
Sweet Potato
The sweet potato croissant is an interesting flavour. Similar to the plain croissant, it is crispy, flaky and airy. Contains a sweet potato filling that is soft and sweet. This is a hugely popular choice. Highly recommended!
Almond
This almond croissant is crispy outside and chewy inside. It has a mildly sweet taste and a faint tint of almond flavours. As far as I can tell, there isn't any almond flakes or almond bits. Still a rather decent croissant.
Rice
The rice croissant has a firm and chewy texture but it isn't crispy like the others. It has a slight sweet taste with a hint of rice flavours. It is decent but pales in comparison with the other flavours.
Mentaiko
This is another interesting flavour. The mentaiko croissant has a spread of mentaiko baked on the croissant, giving it a slightly savoury taste. Just like the other croissants, it is crispy, flaky and fairly airy.

An interesting note about the store. The croissants are sold by weight (per 100g) instead of per piece. You can order any quantities that you want, it is weighed and charged accordingly.

In my opinion, these mini croissants are a must-try if you are in Fukuoka. They are good!
Apple Pie
According to the sign, this apple pie is made using flour, butter, skimmed milk powder, apple, salt, eggs, cinnamon and sugar.

The apple pie has a flaky crust that is topped with a layer of sugar coating. Its apple filling is soft and crunchy with a sweet taste. It is likeable, though personally I would recommend going for their mini croissants.
It costs ¥ 569 JPY in direct product costs to create this post, done over 1 anonymous visit. All expenses involved in this post are fully paid for by the.fat.guide.
Over here at the.fat.guide, we believe that content should be free. However it takes real money to create content. The expenses incurred in creating this content should ideally be paid for by third party services like advertising and affiliate links, etc and not be borne by you, me or the featured merchant. Please help us to recover our costs involved in the creation of this content by using our affiliate links and advertisers.

If you wish to show direct support, you can buy us a meal or two.
Disclaimer. As unique individuals, we have our own personal preferences and likings. Your experiences and perspectives may vary from mine.
| | | | | | | |