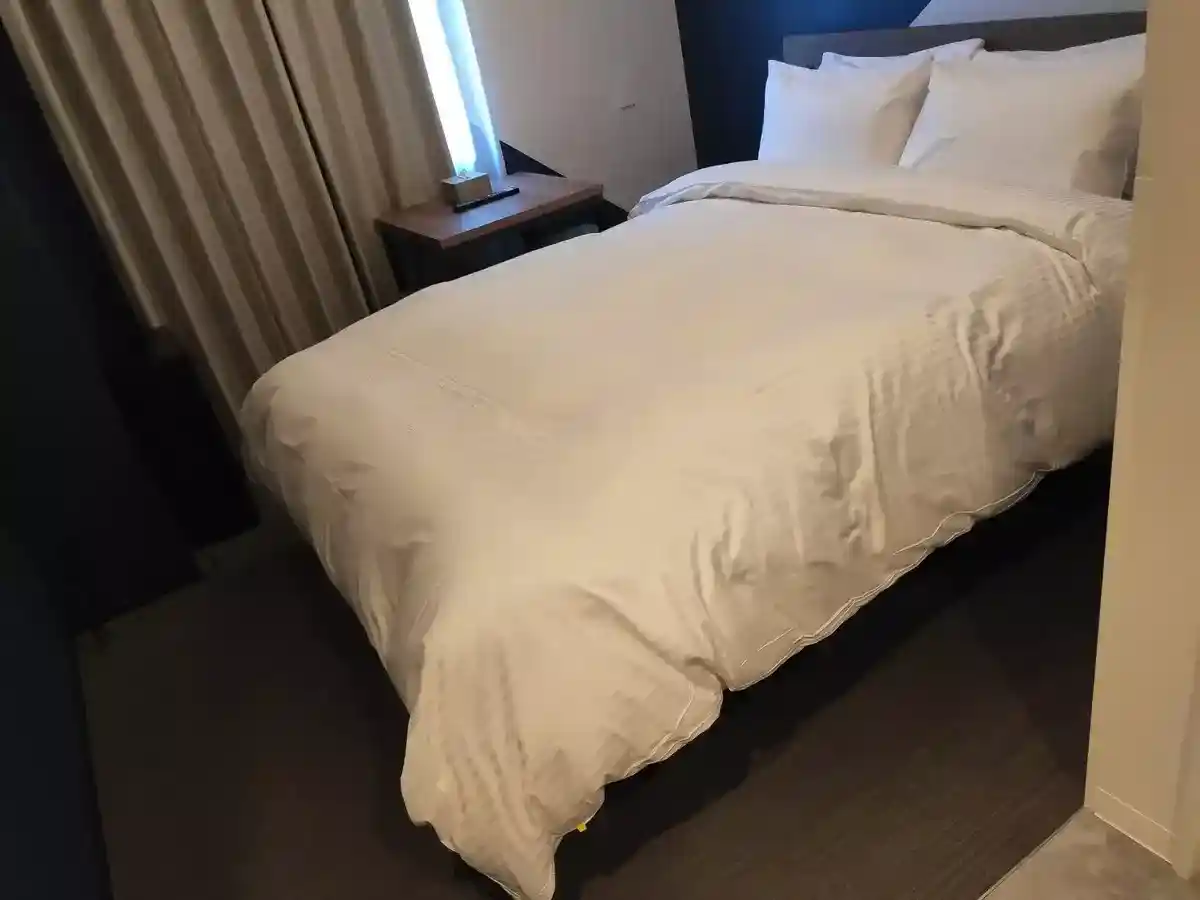 Check-in, Please
Prince Smart Inn Hakata is a no-frills hotel that is located about a 5 mins walk away from Hakata Station where there are lots of food and shopping. The hotel lobby and front desk are both located on the 2nd floor, and accessible by the lift.
Lobby
On the 2nd floor is where the front desk and hotel lobby is located. In the bright sunlit lobby are some chairs and tables to hang around. At a corner near to the lift lobby,there is a tiny front desk where a couple of hotel staff are. However, your check-in is done using self-service terminals with assistance from the hotel staff.
These self service terminals allows you to complete your check-in (and check-out) process. Just follow the instructions on the screen, scan your passport and it spits out your room key card. There is a shelf stocked with amenities like toothbrush, toothpaste, bathrobe, bottled water, cups, etc that you can help yourself to.

Now it gets a little interesting when you want to store your luggage in the hotel. Instead of the usual bellboy taking your bags, you use the same self service terminals to request for luggage storage. It then prints out a QR code receipt in which you can use at a row of smart storage lockers on the side.
With the QR code receipt from the self-service terminal, you can scan it at the console at the smart lockers. You can select which locker you want to use for storing your bags while you are away.
Your selected locker compartment unlocks and pops open. Store your luggage in it and close it. The console will then generate another QR code receipt for retrieval when you are back.
Standard Double Room
When you first enter the room, the lights turn on automatically by themselves. There is no need to slot your key card or flip any switches. The standard double room is a little larger than the usual petite sized japanese hotel rooms, though it feels a little cramp. The wash basin, toilet and shower compartments are all housed individually.
Take note that there is no wardrobe in the room. There are 2 hooks, one by the door and one by the bed, where you can hang your clothes.
It is a standard size double bed. On both sides of its headboard are a panel. Slide open the panel and there is an AC socket and a USB socket.
A TV with a smart clock is located opposite the bed. At the corner of the room is an air purifier.
There is a small table with a couple of chairs by the side of the windows. A safe box and a mini fridge can be found under a shelf besides the room door.
The wash basin is located on a shelf next to the doorway area. A hand and face foam soup from Orange Rose is provided.
Opposite the wash basin are 2 compartments. One housing the toilet and one for the shower.
Check Out, Please
Prince Smart Inn Hakata is quite conveniently located, just a short walk from Hakata Station and a couple of convenience stores located just downstairs. Located directly on the first floor of the building is a japanese rice burger store Comecome Burger, and a short walk across the street is the original Hakata Ikkousha ramen store.

Also if you are someone that appreciates technology, Prince Smart Inn Hakata is an interesting choice. Otherwise, it is just probably another regular no-frills japanese hotel in a decent location.
It costs ¥ 7,603 JPY in direct product costs to create this post, done over 1 anonymous visit for 1 night. All expenses involved in this post are fully paid for by the.fat.guide.
This stay was booked on

Agoda.
Over here at the.fat.guide, we believe that content should be free. However it takes real money to create content. The expenses incurred in creating this content should ideally be paid for by third party services like advertising and affiliate links, etc and not be borne by you, me or the featured merchant. Please help us to recover our costs involved in the creation of this content by using our affiliate links and advertisers.

If you wish to show direct support, you can buy us a meal or two.
Disclaimer. As unique individuals, we have our own personal preferences and likings. Your experiences and perspectives may vary from mine.
| | | | | | | |