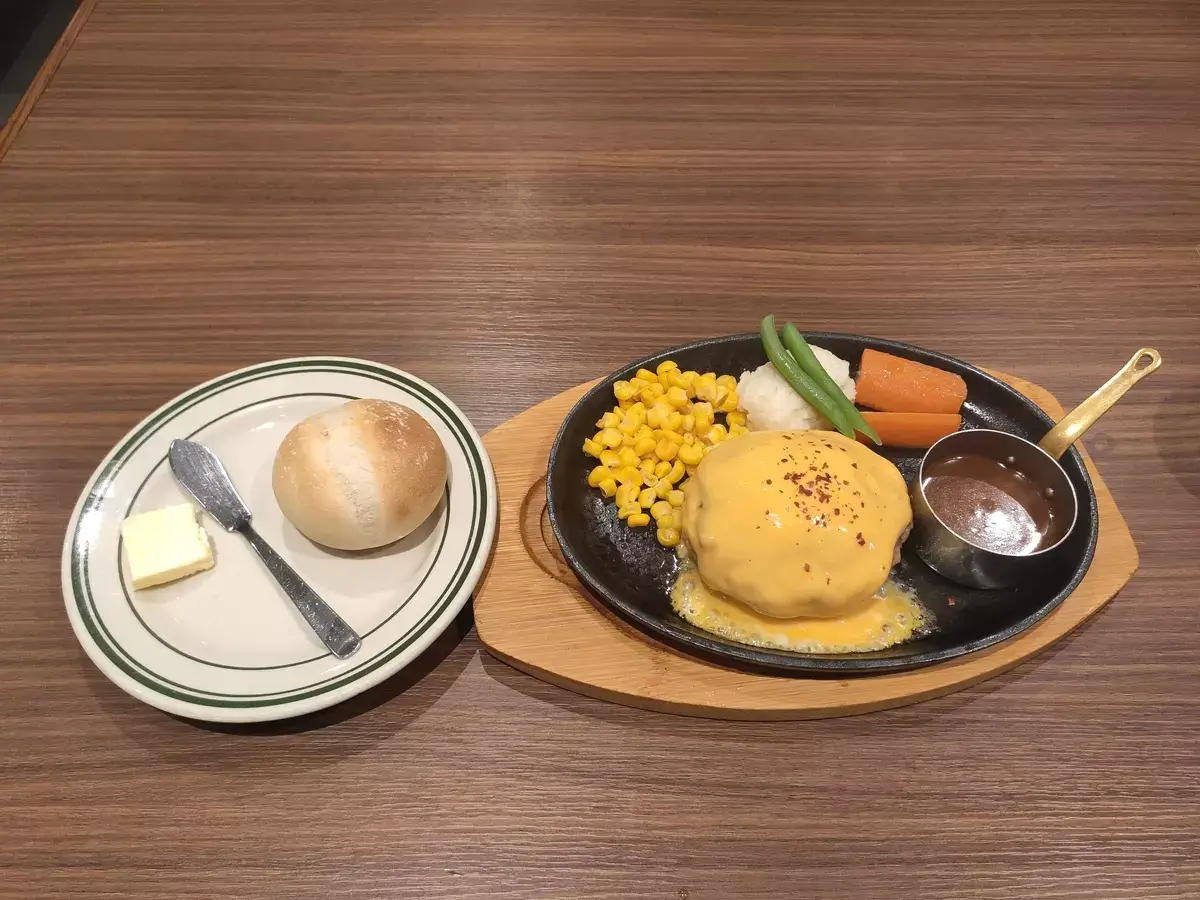 Hamburg Steak
Grill Omiya specialises in grilled hamburg steak with various sauces and optional toppings. You can choose from demi-glaced sauce, japanese grated radish sauce, fresh tomato sauce and garlic bbq sauce. Optional toppings available are: sunny side egg, cheese and garlic butter. There is also an option to make it a set which includes a serving or rice or bread, salad, soup and a dessert. Above is their hamburg steak with demi-glaced sauce and added cheese, and I have chosen bread to go along with it.

The hamburg steak is soft and juicy and very flavourful. The added cheese is nicely melted and sticky. As for the demi-glaced sauce, it is really nice with a note of sweet. The hamburg steak with demi-glaced sauce is very good! Served on the sides are some sweet corn, mashed potato, sweet tasting carrots and long beans.

The bread is crispy outside, firm and chewy inside. Comes with a stab of butter. This bun is nice rather nice too.
Soup
The set comes with a soup. Egg soup is served in a cup. The egg soup is very flavourful with slivers of eggs and a slight hint of savoury. Very nice!
Salad
The set also comes with a salad. This salad comes with a large assortment of vegetables. As far as I can tell, it comes with lettuce, cabbage, tomato, cucumber, radish leaves, carrots, onions and grated peanuts. It is tossed in a vinegar, salt and tomato sauce salad dressing. Tastes absolutely delicious!
Gelato
Finishing off this meal is a scoop of muscat grape flavoured gelato. This gelato has nice intense flavours of japanese muscat grapes. What a lovely way to end this meal on a high note! Absolutely enjoyable!
It costs ¥ 2398 JPY in direct product costs to create this post, done over 1 anonymous visit. All expenses involved in this post are fully paid for by the.fat.guide.
Over here at the.fat.guide, we believe that content should be free. However it takes real money to create content. The expenses incurred in creating this content should ideally be paid for by third party services like advertising and affiliate links, etc and not be borne by you, me or the featured merchant. Please help us to recover our costs involved in the creation of this content by using our affiliate links and advertisers.

If you wish to show direct support, you can buy us a meal or two.
Disclaimer. As unique individuals, we have our own personal preferences and likings. Your experiences and perspectives may vary from mine.
| | | | | | | |