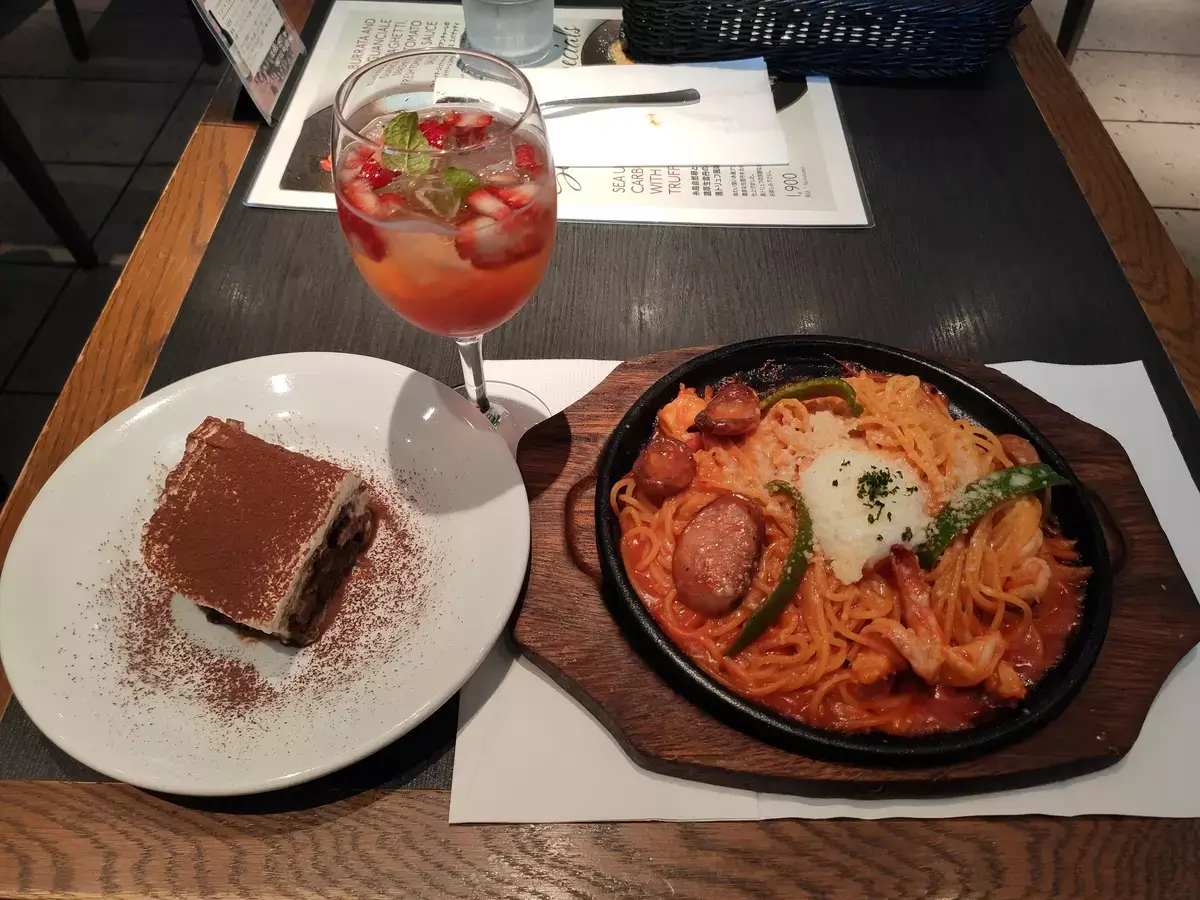 Naporitan
Unknown to many, Japan serves some of the best pasta ever. Above is a japanese style spaghetti, Naporitan. This version of Naporitan is served on a hot plate with sausage, prawns, green pepper and egg with tomato sauce and some onion bits.

The pork sausage comes from Raizan. It is very nicely flavoured with a tint of sweet. The prawns are of decent size and tastes rather fresh. The soft cooked egg is made from organic eggs from Itoshima. You can mix the egg well with the spaghetti and tomato sauce, and it is extremely flavourful. The crunchy bits of onions gives an additional nice texture and taste to it. This is so good…. One more thing to note, although the spaghetti comes with a tomato sauce, it doesn't drip. I like this. Highly recommended!
Plenty Of Cheese Carbonara
This carbonara comes with chunks of bacon, a soft cooked egg and topped lots of cheese. The bacon is meaty with nice savoury flavours. The egg is an organic one from Itoshima. The spaghetti is firm and springy and contains some onion bits, and the sauce is creamy. Really nice!
Orange Cheesecake
This cheesecake has a firm texture with nice flavours of cheese and orange, and isn't too sweet. It is topped with some sugar powder. On the sides are a dollop of fresh cream, a raspberry and a slice of orange. The orange is sweet and juicy. Nice!
Tiramisu
This tiramisu is soft and creamy. It has nice flavours of cocoa and is moist inside. Just the way I like it. Very likeable.
Hakata Amaou Sparkling Wine
Hakata amaou is a special type of strawberry grown in Fukuoka, known as king of japanese strawberries. It is large, sweet and juicy, and succulent. This glass of cocktail uses sparkling wine with chunks of amaou strawberries added. It is nice bubbly drink with a sweet note. Very nice!
Biwa Soda
Besides alcholic cocktail, soda version is available as well. This glass of biwa soda uses biwa from Nagasaki. It has sweet flavours of soda with a mellow taste of biwa. Decent.
It costs ¥ 5,330 JPY in direct product costs to create this post, done over 2 anonymous visits. All expenses involved in this post are fully paid for by the.fat.guide.
Over here at the.fat.guide, we believe that content should be free. However it takes real money to create content. The expenses incurred in creating this content should ideally be paid for by third party services like advertising and affiliate links, etc and not be borne by you, me or the featured merchant. Please help us to recover our costs involved in the creation of this content by using our affiliate links and advertisers.

If you wish to show direct support, you can buy us a meal or two.
Disclaimer. As unique individuals, we have our own personal preferences and likings. Your experiences and perspectives may vary from mine.
| | | | | | | |