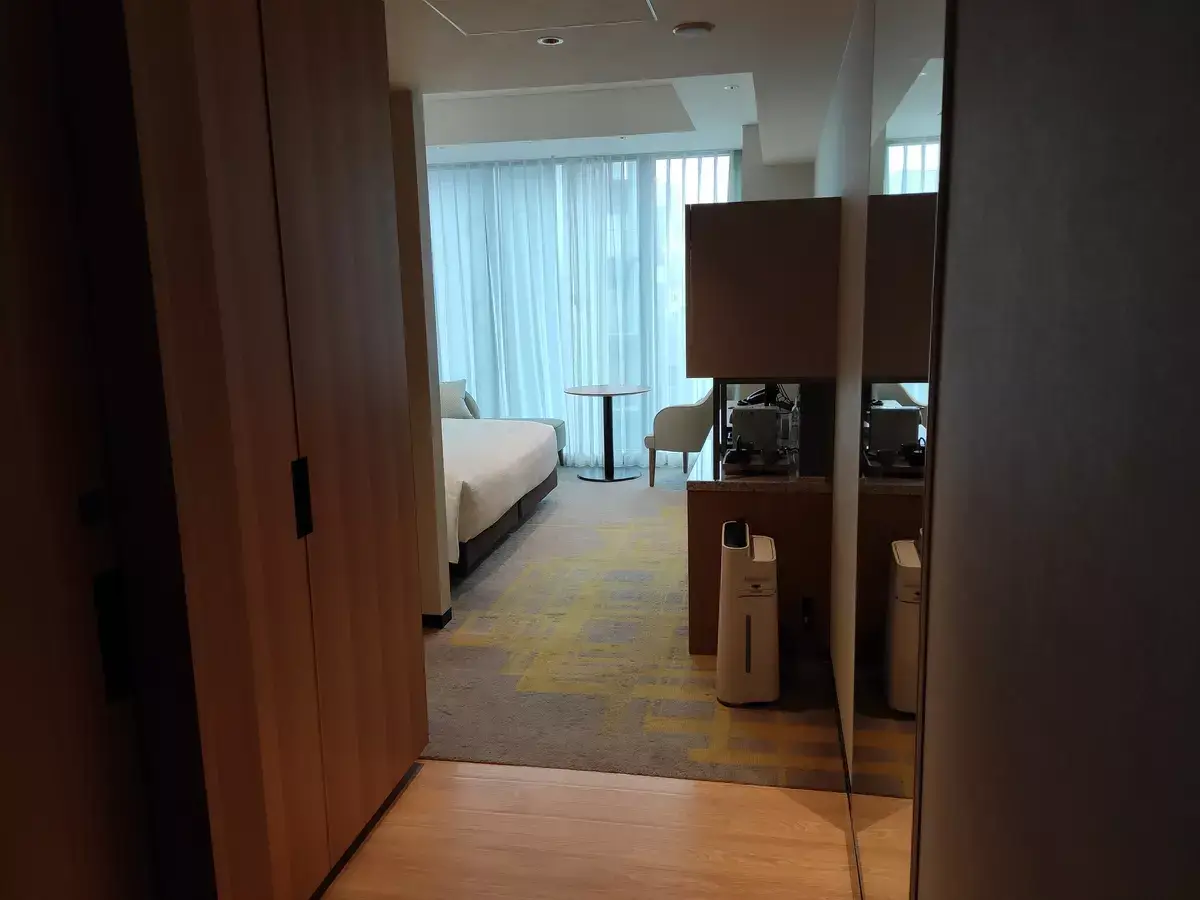 Check-in, Please
Miyako Hotel Hakata is a 5-star hotel that is located next to Hakata Station. There is an entrance at its basement that is linked directly to the train station.
Lobby
The hotel lobby and front desk is located on the 3rd floor. You can take the lift up to access it.
The hotel lobby area is spacious with plenty of seats. It has large expansive windows letting in natural lights. On one side of the hotel lobby is the front desk where you check-in.
To access your room, tap the room key card in the lift and it automatically selects the floor that your room is located. In the lift is a stool where you can rest while waiting for the lift to reach your selected floor. How thoughtful!
Superior King Room
When you step into the room, the lights turn on by themseleves. There is no need to slot your key card anywhere or flip any switches. The superior king room is large by japanese standards. Separate bathroom and toilet, as well as lounging sofa and chair by the side of the windows.
A large king size bed sits in the room. By the windows are: a sofa, a chair and a table where you can lounge about.
The bedside table comes with a row of AC and USB sockets. A smart panel sits on top which acts as a clock and a control panel for the room.
Opposite the king size bed is a desk with a TV and a cabinet housing a pantry. On the floor next to it, is an air purifier.
The pantry comes with the usual mini fridge and bottled water. A Nespresso coffee machine with coffee pods is provided as well.
A kettle and ice bucket can be found in one of the drawers. In another drawer is a set of coffee cups and saucers.
A selection of tea bags are provided. There is even a japanese tea set. Nice.
That's not all. A complete set of drinking and wine glasses are available, including a couple of champagne glasses. Impressive!
The toilet and bathroom are housed in separate rooms. The toilet has a small wash basin and one of those intellegent toilets. When you are close to it, the lid lifts up automatically. When you leave it for a while, the lid shuts itself. Comes with the usual bidet and heated toilet seat.

Sitting in between the toilet and bathroom doors is the wardrobe. Rather large in size with the usual bathrobes, ironing board, etc.
The bathroom has separate areas for wash basin and bathing. The bathing are has a large bathtub and a separate shower area. The shower area comes with a tub and a stool for you to clean up à la japanese style before soaking in the bathtub.
The bathroom cabinet is well stocked with various bathroom amenties.
Comes with bathroom toiletries from Miller Harris.
Facilities
Located on the top floor of the hotel is Spa Lucida, which comes with a steam room and outdoor pool.
Take the lift up to the 13th floor and there is where Spa Lucida is located. Check-in at the reception desk to ensure that you follow the house rules and dress code.
After the reception desk is a locker area where you can safekeep your belongings in locker boxes. You are also expected to change your footwear to the ones provided on the shelves. Next to the locker room is a steam room.
Check Out, Please
This is a truly enjoyable stay at Miyako Hotel Hakata. Cozy and comfy environment. Very well located among all the hustle and bustle of Hakata and yet has a nice peaceful vibe with understated tones of luxury. The hotel linked directly to Hakata Station where there are lots of shopping and food places. Definitely a good choice!
It costs ¥ 30,150 JPY in direct product costs to create this post, done over 1 anonymous visit for 1 night. All expenses involved in this post are fully paid for by the.fat.guide.
This stay was booked on

Agoda.
Over here at the.fat.guide, we believe that content should be free. However it takes real money to create content. The expenses incurred in creating this content should ideally be paid for by third party services like advertising and affiliate links, etc and not be borne by you, me or the featured merchant. Please help us to recover our costs involved in the creation of this content by using our affiliate links and advertisers.

If you wish to show direct support, you can buy us a meal or two.
Disclaimer. As unique individuals, we have our own personal preferences and likings. Your experiences and perspectives may vary from mine.
| | | | | | | |