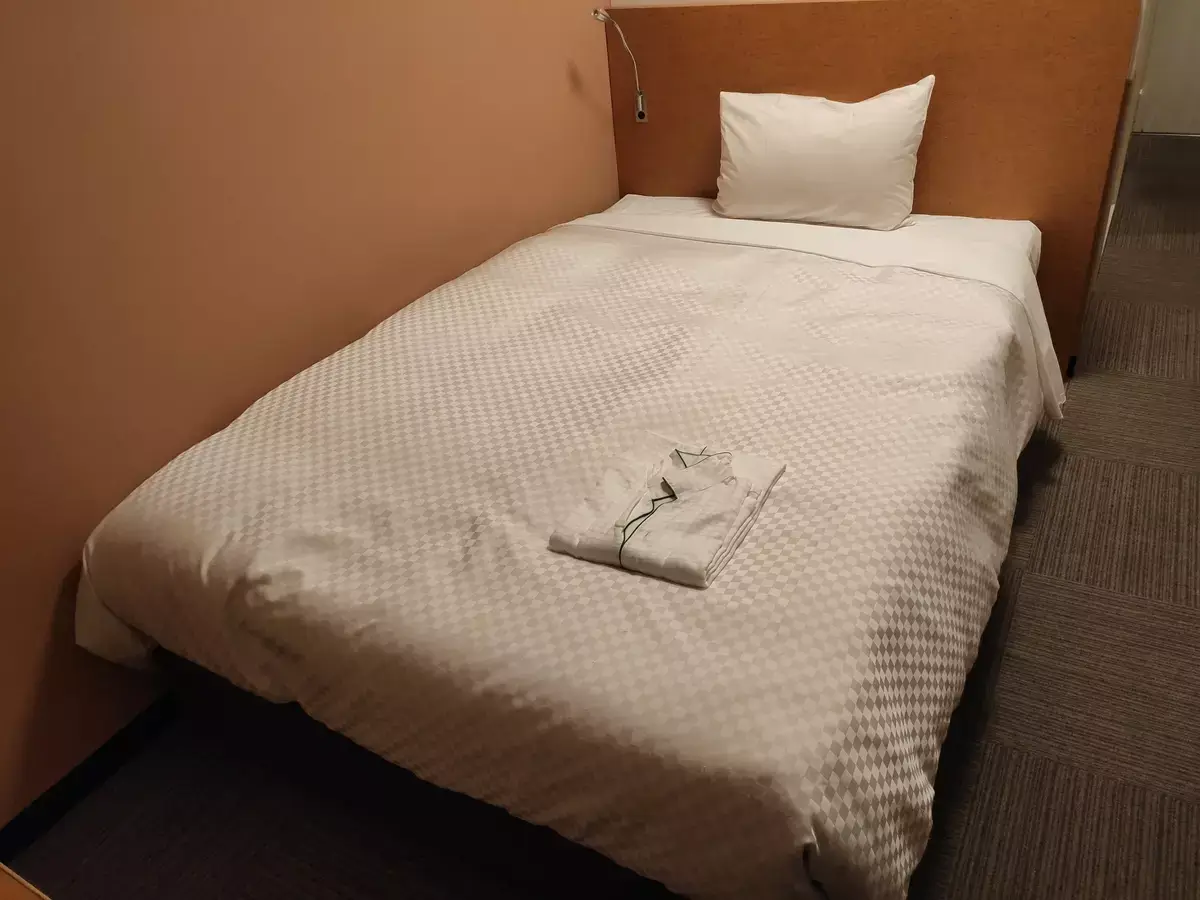 Check-in, Please
Hotel Century Art is a smallish no-frills hotel located directly next to Hakata Station. Literally just a 1 min walk away from all the food and shopping in Hakata Station. Not to mention the convenient transportation links.
Lobby
There is not much of a hotel lobby. Just a small front desk near the entrance, a small lift lobby with an amenities corner for you to take your required amenities like toothbrush, tooth paste, tea bags, etc. Do note that bottled water is not provided. However it is a non-issue with a couple of convenience stores just a min walk away.
Single Room
This is the regular type of no-frills japanese hotel room that is smallish in size but still has everything within the room.
There is no wardrobe. However there is a small shelf next to the door with a clothes rack. Comes with a bottle of fabric refreshener as well. At the bottom of the shelf is a mini fridge.
A semi-double bed is provided in the room. This is rather standard in japanese no-frills hotels. It is slightly larger than a single bed but smaller than a double bed.
There is a small L-shaped desk in the room and a chair. It is suffice to use a laptop on. On the other side of the desk is a small TV facing the bed. Do note that there is no USB sockets, just the regular AC ones is available.
The bathroom is a pretty standard one for japanese hotels. Although small in size, it still comes with a bathtub.
Comes with a face and hand soap foam from Fiesta. Bathroom toiletries from Aromad'or.
Check Out, Please
Hotel Century Art is just your average run-of-the-mill japanese no-frills hotel. However it is very well located, just a min walk to Hakata Station. You can find lots of shops and food in the neighbourhood all within a short walk away. Its convenient location makes it a good choice if you are going to be out the whole day and back only for a good night's rest. Like rating because of its location.
It costs ¥ 6,343 JPY in direct product costs to create this post, done over 1 anonymous visit for 1 night. All expenses involved in this post are fully paid for by the.fat.guide.
This stay was booked on

Agoda.
Over here at the.fat.guide, we believe that content should be free. However it takes real money to create content. The expenses incurred in creating this content should ideally be paid for by third party services like advertising and affiliate links, etc and not be borne by you, me or the featured merchant. Please help us to recover our costs involved in the creation of this content by using our affiliate links and advertisers.

If you wish to show direct support, you can buy us a meal or two.
Disclaimer. As unique individuals, we have our own personal preferences and likings. Your experiences and perspectives may vary from mine.
| | | | | | | |