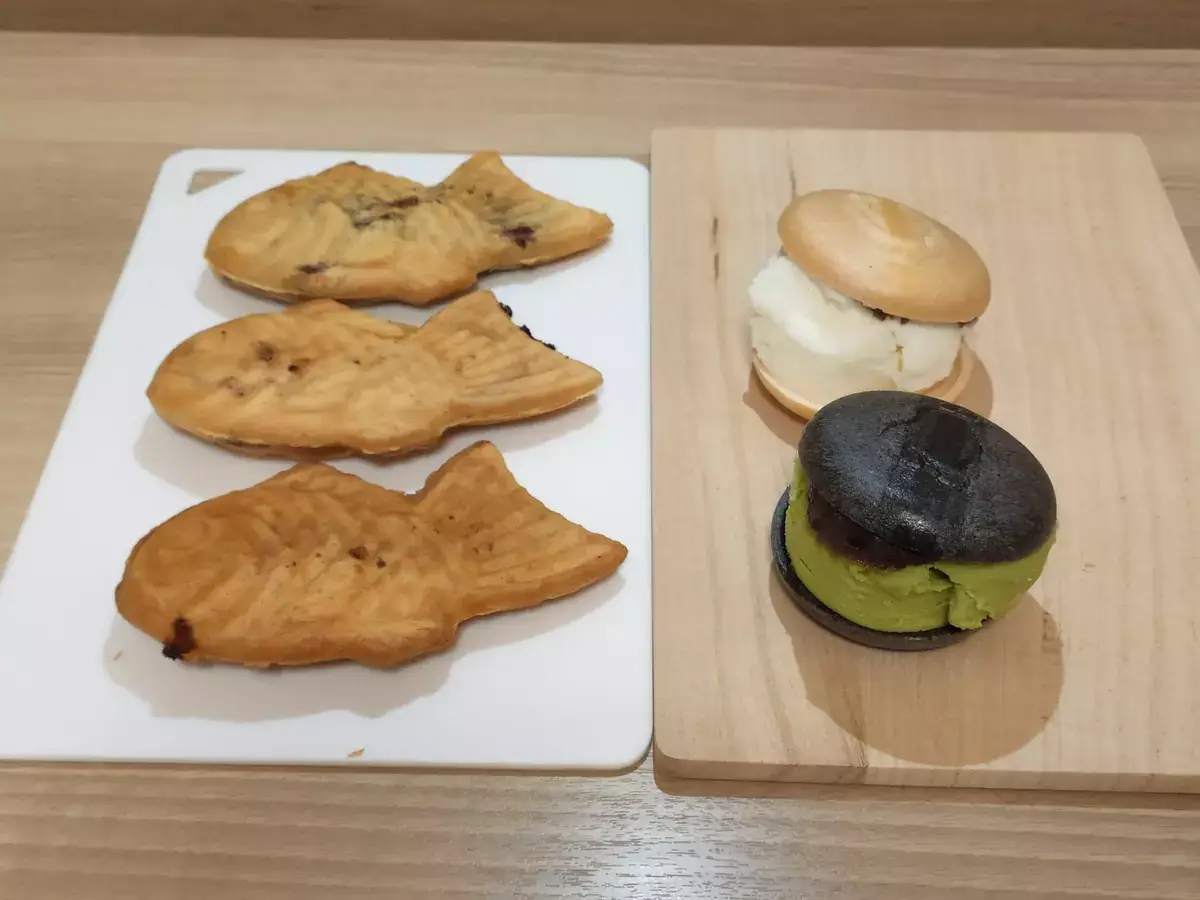 Taiyaki
Naruto Taiyaki Honpo does 3 flavours of taiyaki: azuki, naruto kintoki and custard. The taiyaki has a thin, firm and crispy batter coating with choice of filling.

The azuki red bean paste filling is made using azuki from Hokkaido. It is soft and not overly sweet. The naruto kintoki filling is made from japanese sweet potatoes. It tastes nice and has a mild note of sweet. As for the custard filling, it is very soft and creamy with nice eggy and sweet flavours. All 3 are likeable, though personally I like the one with custard filling a little bit more.
Monaka
Besides taikayi, monaka is available as well. There are 2 flavours, milk and matcha. They are available either on its own or with azuki bean paste added. The monaka has a crispy wafer sandwiching an ice cream and a layer of azuki bean paste.

The milk ice cream has nice milky flavours and is slightly sweet. The matcha ice cream has very nice green tea flavours and mildly sweeet too. The azuki red bean paste is soft with a light note of sweet, and goes really well with the ice cream. I like this, especially the matcha ones. Tastes good!
It costs ¥ 1,332 JPY in direct product costs to create this post, done over 1 anonymous visit. All expenses involved in this post are fully paid for by the.fat.guide.
Over here at the.fat.guide, we believe that content should be free. However it takes real money to create content. The expenses incurred in creating this content should ideally be paid for by third party services like advertising and affiliate links, etc and not be borne by you, me or the featured merchant. Please help us to recover our costs involved in the creation of this content by using our affiliate links and advertisers.

If you wish to show direct support, you can buy us a meal or two.
Disclaimer. As unique individuals, we have our own personal preferences and likings. Your experiences and perspectives may vary from mine.
| | | | | | | |